A perfect place to become social, conversate, and try new cuisine is the dining room. The type of space you design reflects your personality and the messages you like to convey to everyone who dines there.
Whether it is the comfort of the chairs or intimacy through lighting, each decision enhances your dining experience. So, make sure to put some consideration into your wall décor choice with Buddha wall art at NicheCanvas .
Wall décor is the perfect way to beautify the dining space without much clutter. The following are some ideas to make your dining room walls rock:
Try a Tapestry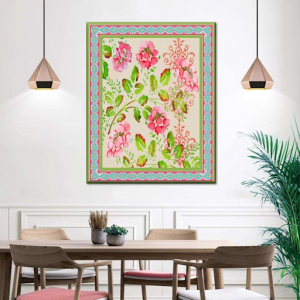 ElephantStock
When it comes to wall décor, try experimenting with something new or unique. For example, instead of focusing only on color, play with texture and pattern by installing an abstract piece of tapestry.
Tapestry is a beautiful way to add a touch of creativity other than classic prints.
Gallery Walls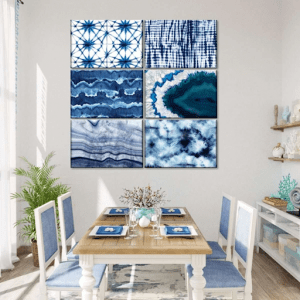 ElephantStock
Artwork is an excellent wall décor idea, whether you decorate a dining room or any other room. Various paintings, pictures, or drawings create a great gallery wall if they complement each other.
For instance, you can dedicate art to one theme, like a group of landscape paintings, book illustrations, or posters of animals. Or you can hang dining room wall art of the same color, such as black and white artworks.
Moreover, art pieces of the same size are not necessary. For example, large artworks surrounded by smaller pictures look incredibly good. Also, you can create gallery walls with items of the same material, like wood, metal, etc.
Decorate Walls with Mirrors
Mirrors bounce back the light in the room. So, decorating the dining room walls with mirrors is an incredible way to make the space look spacious.
You can hang the antique framed mirrors on the entire wall in a group. Or add an oversized round mirror over the fireplace or lean one with full length against the wall. They will give a lovely look to the dining space.
Black and White Photos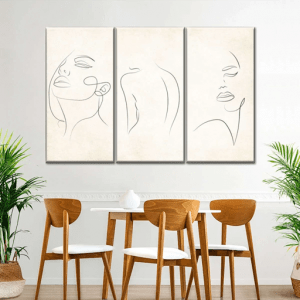 ElephantStock
Clean grey, white, or black provides a neutral backdrop during colorful meals. The black and white framed pictures look amazing against the white or neutral-colored walls. They give a super cool look to modern dining areas.
Plate Decorations
One of the old traditions to decorate the dining room wall is to hang plates. It is a contemporary art form that provokes creativity and experimentation.
For example, you can produce an illusion of collage or painting by making borders around them. Or contrast the plates keeping the background dark or vice versa.
Wooden decorations, Cladding, or Panels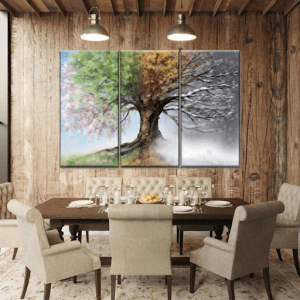 Wooden Accents are architectural elements that can make the dining room space look warm and can bring character to the room. It includes various artistic variations or styles.
In addition, wooden decorations have unique qualities such as excellent thermal isolation and longevity. It makes a dining area look trendy and brings elegance to the space.
Patterned Wall
Create thin and vertical stripes on the dining room wall to make it look taller. Or you can make the horizontal lines to make the dining room look wider.
You can make different patterns on the dining room wall based on your predicted look for a room. In addition, bright colors or colors like white and cream will make a space look bigger.
Brick Walls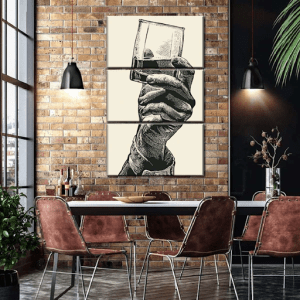 Bricks are in trend these days. They are simple constructive materials but can give an aesthetic look to the modern dining rooms. Creating a brick wall and combining it with metal framings or contemporary vibes will make the interiors look astonishing.
It is a great way to stay in touch with nature or its elements. Its raw look will add a unique charm to the space.
Accent Wallpaper
If you have some creative skills, you must try this trick to decorate the dining room walls.  You can keep the space look stylish yet clean using hand-painted wallpaper on a dining room wall.
It can transform the space instantly and add a contemporary touch to the dining area. You just have to follow a simple trick,i.e., keep the wallpaper design even and simple.
The good thing is you can create this wallpaper at minimum costs with just a gallon of paint and sponge.
Decorate Walls with Glassware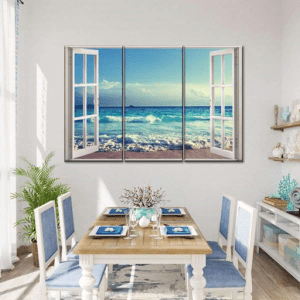 ElephantStock
If you have built-in shelves on the dining room walls, then decorate it with glassware or some collectibles like antique vases. The collection of vintage and modern items will draw attention and make a wall look fantastic.
In addition, you can upscale the dining space with quality and elegant-looking glassware.
Bonus Tips
To give a modern look to the traditional dining room, try experimenting with some dramatic materials like darker woods, matt metallics, etc. In addition, you can soften the dining space look using different textures and twists.
Whether your dining table is simple or has a contemporary design, add modern chairs to give a whole new look to the dining room. Choosing white ones is the safest option, and it adds a wow factor.