Our software industry is filled with a number of PDF editors, free and paid both. Both types of PDF editors have their respective share of pros and cons. However, if you talk about free PDF editor, you'll have to keep in mind several things.
To start with, free PDF editors are not absolutely free. It means that you'll be paying money here and there or you'll be compromising on various functionalities just to use the basic service of a free PDF editor.
For example, many free PDF editors would place watermarks on the PDFs, show multiple ads, they'd limit the file size. Plus, there would be many limitations in the file processing, making the free PDF editor absolutely worthless.
On the other hand, if you talk about paid PDF editors, they are extremely costly. Such paid PDF editors would be ripping you off by taking a hefty amount from you in the name of a few extra editing features!
So, what to do in such a case? Which PDF editor to select? Whether you should go for a paid or a free one?
Well, UPDF is the key to all doors! UPDF is your answer! UPDF is a great free PDF editor that is truly free.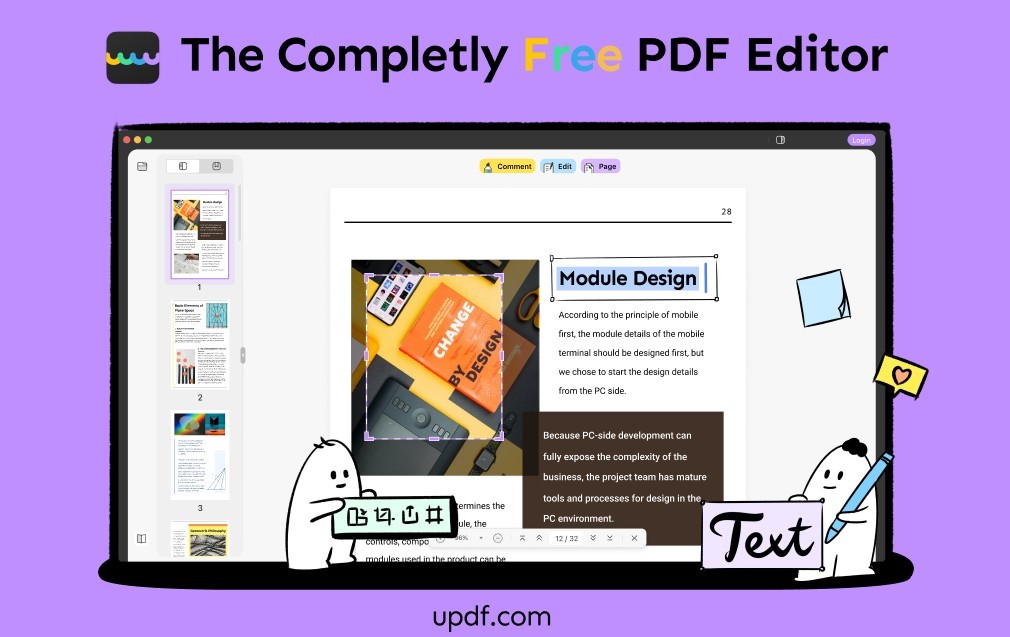 How UPDF Helps You Go Digital and Paperless
Not everyone in this world has time to research and run tests in order to judge a PDF editor. So, we've done the research work for you. UPDF is definitely worth your time and effort. Here you can have a look:
PDF Text and Image Editing
Text and image editing on PDFs should be very effortless. Hence, UPDF has made sure that it provides easy tools for text and image editing on PDFs. Moreover, there are several types of fonts and colors through which you modify the text according to your own choice.
Adding, cutting, pasting, or deleting the text has been made very straightforward as well.
Plus, in terms of image editing, you can cut off and add images to the PDFs just in a simple way.
An annotation is an important option that lets you annotate on the same PDF document so that you can deliver your thoughts in the right manner. In annotation, you're able to highlight a specific portion of the PDF and deliver your thoughts regarding the same topic. Hence, providing clarity on each point.
There are several shapes available for annotation such as circles, rectangles, or even arrows.
You can underline, highlight, or strike out the text while adding text boxes and sticky notes.
Through all such options, you'll be able to communicate your thoughts in a precise way.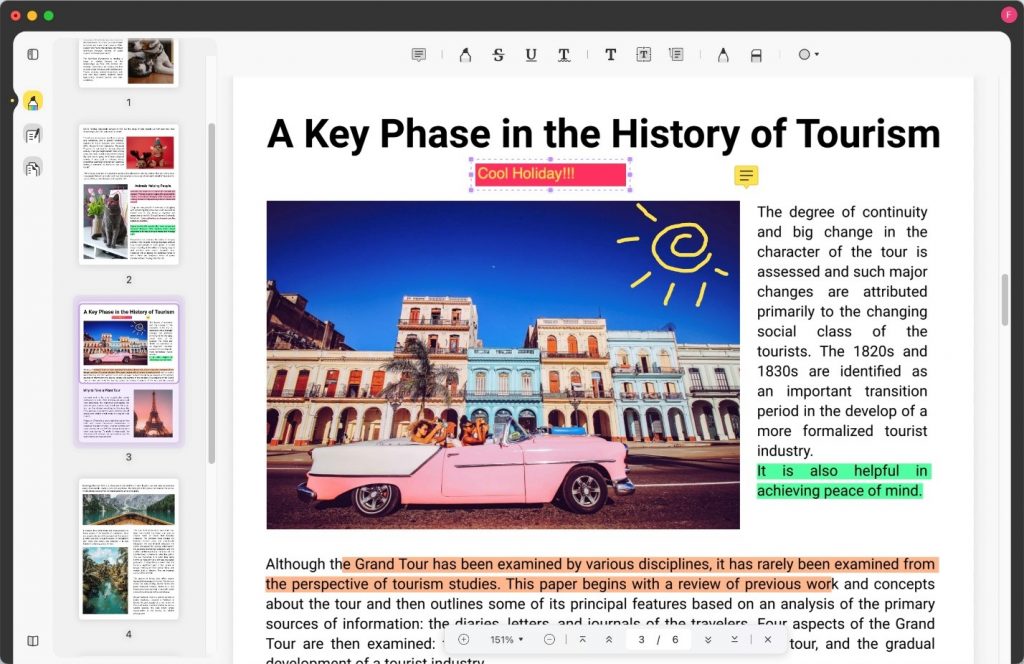 Organizing and keeping the PDF documents in one place is very critical. As you work on a particular PDF document, you'll need to make sure that you keep the documents organized. UPDF also gives you the option to keep the PDF documents organized to maintain the workflow and edit PDF pages easily.
There's an option to bookmark. So, in such a way, you'll instantly get the PDF document that you're searching for!
You can rearrange the PDF documents and even delete them if you no longer require them.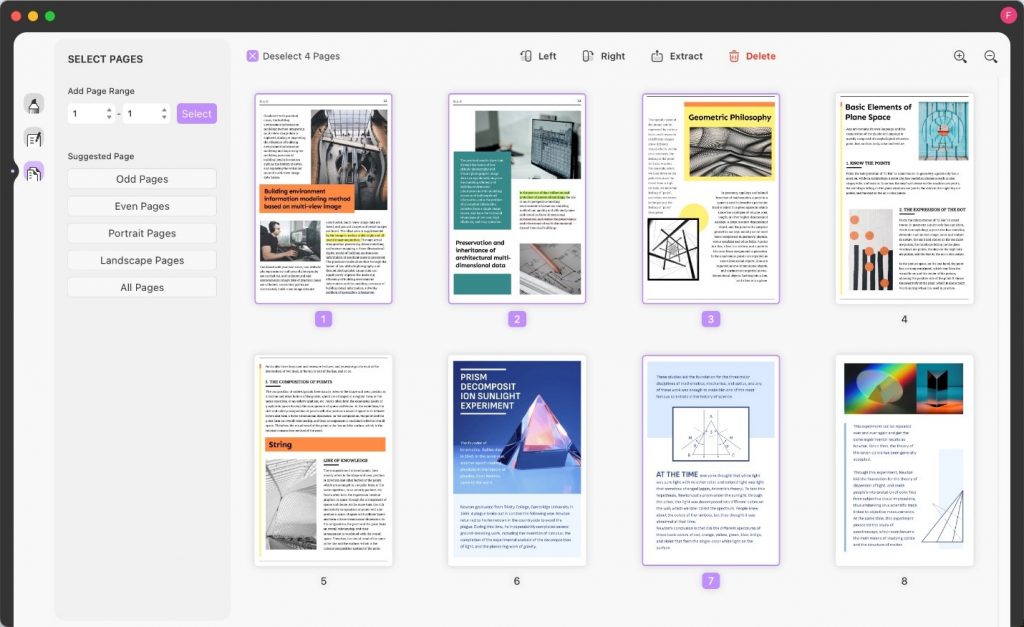 Viewing and Reading PDF Documents
Viewing and reading PDF documents is one of the most important features that is needed by all PDF editors. UPDF has the option of viewing and reading. Plus, there are tools to edit and view PDF documents that are too effortless to use. Also, you get the option to open a number of PDF documents in tabs.
Hence, you'll be able to view several PDFs at once and work on them simultaneously.
On the other hand, you can also set the layout of the PDF document according to your own wish. Sometimes, the screen size doesn't do justice to the PDF document. So, you can change the layout to suit your screen size.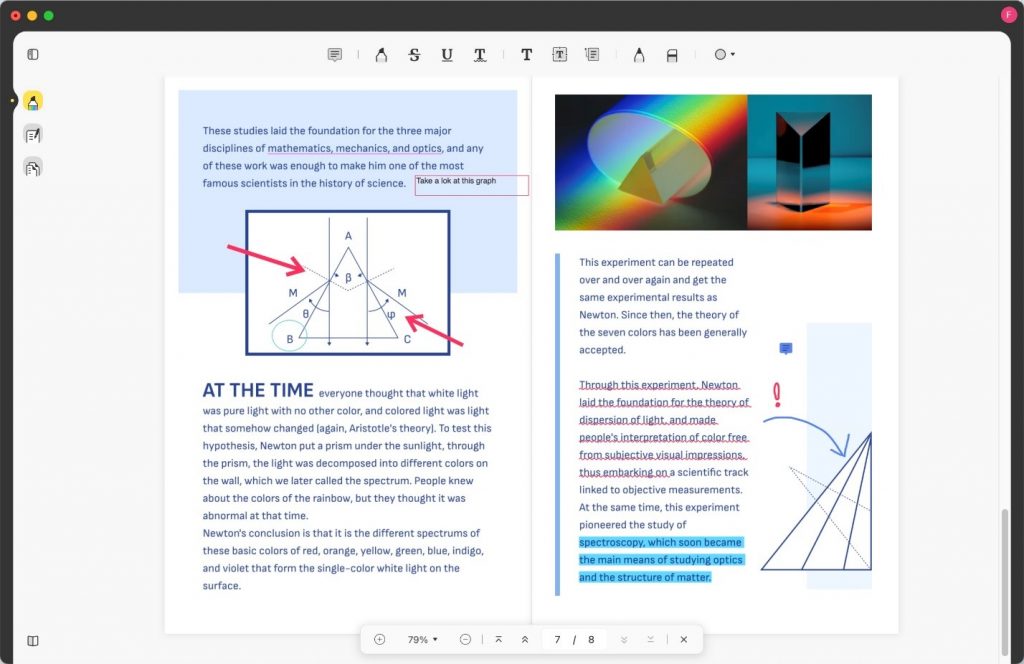 Flawless Advantages of UPDF
As the free PDF editor is superb, so does its advantages! In order to know more we can have a glance at them down below:
UPDF is a real free PDF editor. Other free PDF editors on the internet are just pure scams. Some would start displaying several ads, some would place watermarks or limit the file size and some would ask you to buy the membership. Hence, they're not really free. Only UPDF is real free PDF editor!

The user interface of UPDF is amazing and so easy to use. The navigations are easy to reach as well. Also, the controls are pretty simple. So, when you'll have a look at the website, you'll immediately get familiarized with the functionalities of this amazing free PDF editor.

Also, this PDF editor is superb in terms of speed. Even if you throw a large file towards UPDF, the response would be the same; extremely fast, extraordinary in response, and robust in performance.

There are a number of options available in UPDF that can't be found on other free PDF editors. The features are so amazing that you'll even prefer to pay for the service.

UPDF is supported by all sorts of operating systems. Operating systems like Windows, Mac, iOS, or Android all support UPDF. So, without any worry, you can opt for any OS as UPDF will run perfectly on them.
The Bottom Line
UPDF is a perfect PDF editor that is truly free. Moreover, the developers are even working hard to bring a number of new features like OCR, PDF conversion, creating and filling PDF forms, PDF tools for signs, and much more! Already, free PDF editing software is high in demand.
Once these options are launched, you'll see the triumph of UPDF skyrocketing. So, just don't waste any more time and head toward the website of UPDF. Just use it for once and you'll understand how different UPDF is from other free PDF editors available on the internet.