Artificial Intelligence (AI) has made big moves in 2023 while reshaping various industries, especially education. It helps solve tough problems and make smart decisions effectively. AI is changing how we think about learning and teaching, moving beyond the usual ways teachers and students interact. There are prominent examples of AI in education. From helping students learn online and catching copied work to giving tips on choosing careers, AI is quickly becoming a big part of the EdTech world.
As an experienced e-learning solution provider, Geniusee has extensive EdTech expertise. We can help you create customized AI-based solutions, just like the leading EdTech players do. Let's find out what is key to success. Ready to bet AI had a hand in it!
Case Study 1: Knewton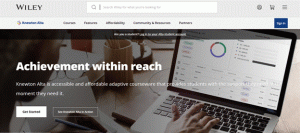 Photo credits: original
Knewton stands out in the EdTech market by focusing on tailor-made learning solutions. Established in 2008, the company has created an AI-based platform that meticulously examines student learning behaviors, delivering personalized guidance to enrich their educational experience.
Knewton elevates personalized learning by implementing AI. The platform employs machine learning algorithms to scrutinize students' learning behaviors, molding their educational experiences to be genuinely individualized. This encompasses providing individual lesson plans, content suggestions, and study methodologies, all shaped around the student's learning style, preferences, and progress.
Consider a scenario where a student finds a specific concept challenging. Knewton's AI capabilities can identify the issue and supply tailor-made resources to facilitate a deeper understanding of the concept. This might involve supplementary practice questions, interactive simulations, or precise feedback from a virtual tutor.
Moreover, the artificial intelligence implemented in the Knewton platform can determine when a student is ready to master more complex material or when repetition may be helpful. This feature ensures that learning is always challenging and engaging while providing students with the support and materials they need to succeed.
Case Study 2: Carnegie Learning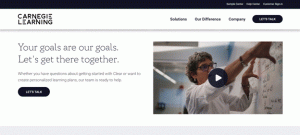 Photo credits: original
Carnegie Learning, a company established in 1998, offers adaptive learning solutions powered by AI for K-12 schools. Their AI platform, shaped by insights from cognitive and learning science research, delivers personalized learning journeys for students. It employs data analytics to monitor students' progress, tailoring the difficulty of lessons according to their performance.
Carnegie Learning's AI also gives educators thorough data analytics, enabling them to keep an eye on student data and progress and make decisions based on that data to enhance their teaching methods. This assists teachers in comprehending the unique needs of each student, thereby providing specific support to pave the way for their success.
Case Study 3: Duolingo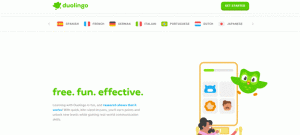 Photo credits: original
Duolingo, established in 2011 by Luis von Ahn and Severin Hacker, stands out as a widely recognized language-learning platform, offering courses across more than 40 languages. Employing a gamification methodology, the platform enables users to traverse through language courses by accumulating points and achieving milestones, all while providing a free learning experience.
Within Duolingo, Natural Language Processing (NLP)—an artificial intelligence realm focusing on seamless computer-human interaction—plays a pivotal role. This is evident in their chatbots: conversational companions designed to facilitate real-time feedback, answer curious questions, and offer helpful insights to streamline your language learning endeavors.
Envision the chatbots as a supportive friend, utilizing machine learning to understand your inquiries, navigate through your mistakes, and deliver feedback that's personally tailored for you. They not only become a steady pillar of support in your learning voyage but also a source of contextual and relevant language examples, making each step of your journey engaging and uniquely yours.
Case Study 4: Quizlet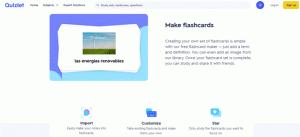 Photo credits: original
Embracing a new approach to online education, Quizlet, established in 2005, provides a dynamic learning sphere where students are empowered to construct, distribute, and immerse themselves in educational activities utilizing flashcards, interactive games, and diverse study instruments. Rising to prominence, it currently stands as one of the globally admired online learning platforms, boasting a user base in the millions worldwide.
Quizlet uniquely integrates gamification into the learning experience, furnishing students with a series of engaging study games that act as mechanisms to solidify their knowledge and enhance assurance in their academic pursuits. The assortment of games encompasses options like matching exercises, multiple-choice questions, and fill-in-the-blanks, along with the thrill of timed challenges and competitive quiz sessions.
Leveraging the prowess of artificial intelligence, Quizlet crafts a customized learning experience through personalized games. Its sophisticated AI algorithms diligently assess a student's performance metrics, pinpoint areas of proficiency and difficulty, and subsequently propose study materials and games that are meticulously tailored to their learning needs. This ensures a perpetual engagement and challenge in the learning journey while providing pivotal support and resources to facilitate success.
Quizlet's AI might propose a game focusing on matching words with corresponding images. Alternatively, for students with a penchant for auditory learning, it may prioritize games that involve listening exercises, thereby ensuring the accurate alignment of learning styles and strategies. This potent blend of technology and adaptive learning ensures that Quizlet not only supports but also enriches the diverse educational journeys of students globally.
Case Study 5: Coursera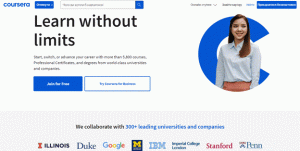 Photo credits: original
Coursera emerged in 2012, pioneered by Stanford University professors Andrew Ng and Daphne Koller, with a mission to democratize education through an online learning platform. Providing a diverse array of courses and specializations spanning fields such as computer science, data science, business, and humanities, it facilitates accessible education for learners globally. Its AI-fueled grading system leverages machine learning to discern student response patterns, pinpoint common errors and misconceptions, and subsequently offer constructive, targeted feedback. This not only economizes instructors' time but also empowers students by providing instantaneous feedback, aiding them in recognizing and enhancing their academic areas requiring improvement.
Using AI tools can offer tailored learning experiences for students. AI also makes teachers' tasks easier, allowing them to focus on mentoring and guidance. As AI grows, it will shape education, making learning more efficient and captivating for all. At Geniusee, we're at the forefront of this AI-driven educational transformation. With our skills in app development, we've crafted platforms that make learning personalized, engaging, and interactive. Having witnessed the advantages of AI in education, from auto-grading to individualized study plans, we're confident in an AI-centric educational future. Excited to redefine learning and create innovative e-learning solutions? Contact us to boost your project!