50% of leads never receive a response from the sales team!
Believe it or not, but that's true. Nearly half of your leads are getting lost.
What if all the leads coming from various online channels get assigned to appropriate sales reps as soon as they enter the CRM? Will you see any positive impact on your bottom line? Definitely yes.
But how? — Multi-channel lead routing is the name of the game.
Let's dive deeper and explore this effective lead distribution process that can significantly impact conversion rates and revenue generation.
The significance of lead routing
Picture this: You've invested significant resources to drive website traffic and generate leads. Now, what? The timing and precision of lead distribution are crucial in converting those leads into loyal customers. Along with responding promptly, you must also remember to offer a tailored experience that makes your potential customers feel valued right from the start.
Research indicates that businesses that respond within the first hour of new leads are seven times more likely to qualify for that lead. This emphasizes the direct correlation between lead distribution and conversion rates. In the world of multi-channel lead routing, timing truly is everything.
Exploring the multi-channel approach
Now, let's unravel the multi-channel lead routing approach. Imagine your leads flowing seamlessly from website forms, phone calls, social media interactions, emails, and more. Each channel is an opportunity to engage your leads where they are most comfortable, eventually boosting your chances of conversion.
But why go multi-channel, you ask?
Well, it's all about maximizing your reach and catering to diverse preferences. While some might prefer email correspondence, others might fancy a quick chat on social media. Leveraging multiple channels means you're extending an inviting hand to potential customers and welcoming them in a way that suits them best.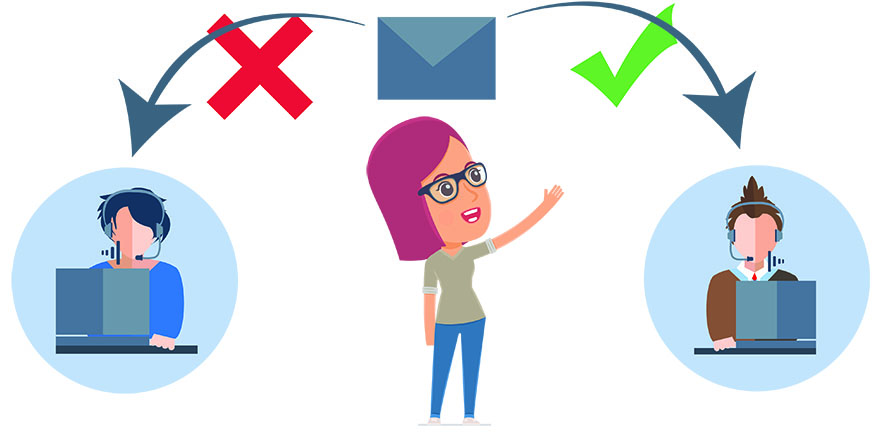 Components of successful multi-channel lead routing
Now, let's break down the gears that power successful multi-channel lead routing:
Lead capture: Think of this as the hub where all your leads gather. Centralized lead collection, often managed through robust CRM systems, is the foundation of an organized lead routing strategy. It's like having all your puzzle pieces in one place, ready to be fitted together.
Lead qualification: As we know, not all leads are created equal. Some are hot, some lukewarm, and others just browsing. By effectively categorizing and qualifying leads, you're arming your sales teams with valuable insights into the potential of each lead. This is the secret sauce to personalized engagement.
Routing logic: Consider routing logic as having a personal matchmaking service for your leads. It involves crafting rules that dictate how leads are assigned to specific salespeople or teams. Consider factors like location, product interest, and source of the lead. This strategic allocation ensures a relevant and engaging interaction.
Implementing automated distribution
The advent of CRM software and automation tools has revolutionized lead routing. The beauty lies in its efficiency – no more manual lead distribution, no more delay. Automation takes care of the heavy lifting, swiftly directing leads to the right destination.
The lead router is useful not only in saving time but also in optimizing resources. Automation removes the chance of human error and ensures a consistent experience for every lead. It's like having your most reliable employee working round the clock, never missing a beat.
Ensuring personalization in lead routing
But hold on, don't let the machines steal the spotlight. While automation streamlines the process, personalization is where the magic truly happens. Matching leads with the right salespeople or teams establishes an instant connection. It's akin to walking into a store and being greeted by a familiar face who knows your preferences.
Remember, folks, technology is a tool, not a replacement for the human touch. Automated responses and personalized interactions can coexist harmoniously to create a seamless experience that wows your potential customers.
Real-time alerts and tracking progress
Have you ever heard the phrase "the early bird catches the worm"? Well, in lead routing, the early responder catches the lead. Real-time alerts are your ticket to this timely interaction. Sales teams are promptly notified about new leads, allowing them to swoop in while the lead's interest is at its peak.
But the journey doesn't end there. Tracking the improvement of each lead through the sales route is vital. This data-driven approach lets you analyze conversion rates and response times, allowing for continuous improvement. Remember, what gets measured gets managed.
Challenges and solutions
Every technological solution has its own pros and cons. Although lead routing is a lifesaver in business, it isn't without its obstacles. Integrating diverse channels, maintaining consistent messaging, and managing data security can be daunting.
However, there are solutions for it.
Embrace integration tools that bridge the gap between different communication channels. Craft clear and consistent messaging that aligns with your brand's voice. Implement robust security measures to safeguard your leads' information. Challenges are opportunities in disguise – tackle them head-on.
Wrapping up
Businesses, both big and small, have witnessed remarkable improvements in lead conversion by adopting multi-channel lead routing. From shortened response times to increased customer satisfaction, the results are undeniable.
Looking ahead, the future of lead routing is promising. Evolving technologies will usher in more advanced automation, deeper personalization, and enhanced analytics. Brace yourselves for a lead routing revolution that's bound to reshape the way we engage with potential customers.
The key to success lies in promptness, personalization, and adaptability. The art of lead routing isn't just about generating numbers; you must also take care of nurturing relationships that translate into lasting partnerships.
As you utilize multi-channel lead routing, leverage the power of technology, but don't underestimate the human element. Let's conquer the world of customer engagement together, one lead at a time.