Electric bicycles are the fastest-growing segment of the bicycle industry and they are here to stay for a long period of time. There are tons of advantages to introducing these electric bikes into your lifestyle and it has plenty to offer for people of all ages.
Similar to pedal bikes, electric bikes also offer different models and types and continue to grow in their collections. With their ease of use and thrilling performance in every sector of life, electric bikes are drawing more and more first riders.
Cargo E-bike vs Cruiser E-bike: Which one is for you?
For years, electric bikes were massive, unsuitable, and quite expensive machines with the limited battery life that made them unreliable. Things have slowly changed since then. The battery-powered ebike has become lighter, faster, and more attractive than ever before. Riding one does not require physical fitness. By getting you outside, reducing traffic congestion, and reducing your carbon footprint, they can help you to live a healthier life.
With plenty of options in the market, it's always difficult for the rider to choose which bike type will suit their lifestyle better. Among various types of electric bikes are cruiser and cargo electric bikes.
The cruiser and cargo e-bike is a good place to start with electric bikes. Both have plenty of features to offer which make them suitable for different areas of life. In this blog, we are going to discuss these two electric bikes and compare them by features one by one.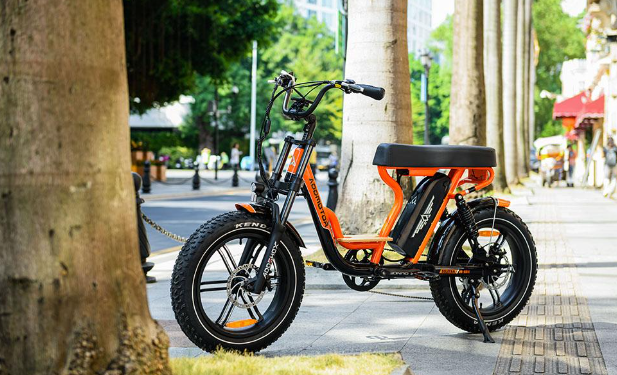 Cargo E-bike vs Cruiser E-bike
The primary difference between these two bikes is their purpose. Cruiser electric bikes are more for recreational and comfort use. They are ideal for long rides, roaming around the city, running errands in comfort, or even commuting to and from work with ease. On the other hand, cruiser electric bikes are more suitable for hauling cargo, carrying passengers or pets, or a sturdy e-bike to use for picnics or even off-road rides. Here's a detailed comparison of these bikes.
#1 Style
In terms of style and being aesthetically pleasing, cruiser electric bikes are more moped-style. Most cruiser electric bikes have step-through frames and long banana seat that provide a comfortable upright sitting position.
They have stylish retrofit designs and frames, so they are called retro fat tire electric bike.
Contrary to this, cargo electric wheels are usually heavy and feature an integrated long tail rear rack. They aren't that pretty looking, but not too bad either. However, the cargo ebike from Addmotor is unexpectedly good-looking and is available in different colors as well.
#2 Comfort
When we talk about cruiser electric bikes their main objective is to offer maximum comfort and fun to the rider. Cruiser electric bikes are there for recreational purposes and can be ridden around town without having to struggle. They provide a comfortable sitting posture that does not exert pressure on the back and offers a healthy ride.
On the other hand, cargo electric bikes have fat tires that offer good stability and suspension. Although they do provide a comfortable ride, their main focus is on providing more carrying capacity and being useful for the rider.
#3 Power
Cargo bikes are specifically designed to carry more weight. They have different cargo accessories installed like racks, bags, and even a passenger seat. Because of this, the weight of cargo electric bikes is more than normal electric bikes. To haul more cargo, therefore, more motor power is needed. That's why cargo electric bikes have more powerful motors than other bikes.
In general, cruiser electric bikes are designed to be ridden within a city or on the beach. They are also equipped with efficient motors but are not as powerful as cargo electric bikes. So, if you need more power you can opt for cargo bikes.
#4 Cargo capacity
In general, both traditional cargo bikes and electric cargo bikes can carry heavier weights than average. They are designed to replace minivans and SUVs in town, making it easier for riders to run errands and pick up groceries. They are specifically designed to carry more items such as pets, passengers, shopping bags, picnic equipment, and any other type of material that you need to carry. Therefore, cargo electric bikes have a weight capacity of 350 pounds.
On the other hand, cruiser electric bikes are more about cruising and comfort. That's why they don't have that much cargo capacity as compared to fat-tire cargo electric bikes.
Before buying, make sure you check the specs since every model will have different specifications. But in general, electric cruiser bikes have a lower weight capacity of about 175 to 250 pounds.
#5 Range
Electric cruiser bikes are an important investment. They offer more miles per range than cargo electric bikes because they are light in weight. The range of cruiser bikes can vary between different brands and models. However, on average, a cruiser electric bike can provide a range of up to 60-70 miles per charge.
On the other hand, cargo electric bikes are heavy and are equipped with large storage boxes and racks to carry cargo. Therefore, these bikes utilize batteries more quickly than cruiser electric bikes due to added weight. The average range of a cargo e-bike is somewhere between 30 to 50 miles.
#6 Brakes and suspension
You will typically find well-built suspension systems on cruiser bikes, which are built to handle sand, mountains, steep hills, and snowy trails. In contrast, cargo bikes are intended to run errands, and their braking systems and suspension systems will be similar to those of traditional e-bikes. The good news is that you can still find cargo bikes with smooth rides if you look closely at the specs and look for mechanical disc brakes.
Bottom Line
Both electric cruisers and cargo electric bikes are suitable for different kinds of lifestyles. Cargo electric bikes should be preferred if you need something that is more sturdy and can carry weight with a comfortable ride. Alternatively, the cruiser electric bike is preferred for comfortable long rides around the city. They are ideal for recreational means. To find the best cargo and cruiser electric bikes you can visit Addmotor.