If you wish to have a Rolex Daytona, you would need to pay $14,550 as the basic price. This tremendous cost is pretty much non negotiable for this 40mm profile timepiece and the renowned name of the watch. It is difficult to find it at retail due to the deficiency of Rolex sport watches, which leads to long waiting lists and higher prices. The pre-owned market does not offer much relief either.
Since its inception in 1963, the Daytona has gone through various changes, but some chronograph wristwatches with several typical characteristics can work as substitutes for it. The Daytona is a highly sought-after and expensive Rolex model, so it's understandable that many people would like to get one. Companies are happy to provide alternatives that give off a similar look and offer similar features, but with a unique personality of their own.
Read on to learn more about the four best options if you want a watch similar to the Rolex Daytona.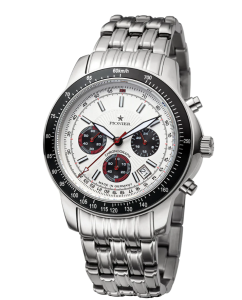 Tirona Chronograph Pionier | GM-550-7 | Silver
Starting with the most similar option in terms of design, this Tirona Chronograph in silver could be Daytona's twist sister. Same type of aesthetic but with its own little twists which add to this timepiece's character. This chronograph is equipped with an in-house quartz movement which delivers top-notch accuracy and precision. Its date calendar feature adds to this watch's utility. 
The multi-tone dial white dial is paired with black and red sub-dials. Black and white hands create a sharp and sleek look. Like the Rolex Daytona, Tirona Chronograph comes with a black bezel and bold baton index markers. The stainless steel silver bracelet ensures a comfortable fit and long-lasting quality. Authentic materials and the 5 ATM water resistance guarantee that this timepiece will last you for years to come.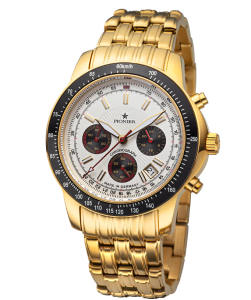 Tirona Chronograph Pionier | GM-550-10 | Gold
If you prefer the look of the Gold Rolex Daytona, this Tirona Chronograph model is sure to satisfy you. A brilliant pick for anyone who prefers a gold men's watch, this exquisite timepiece showcases a bold and luxurious design. The multi-tone white dial adds a nice touch to this extravagant design. Equipped with an in-house quartz movement, Tirona Chronograph speaks of accuracy and punctuality. 
The hands and baton markers have an elegant golden outline, which compliments the whole look of the watch. It's the great attention to detail and fine craftsmanship that set this timepiece apart from the rest. The date calendar window contributes to both the watch's utility and visual appeal.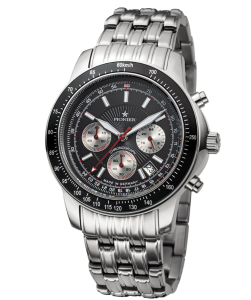 Tirona Chronograph Pionier | GM-550-8 | Silver
Here is another exquisite pick from Tufina for those who admire silver chronographs. This model for the Tirona Chronograph resembles some of the same elements of the black dial Daytona. With a black and silver color scheme, this timepiece can easily flatter any outfit. Such a highly versatile accessory couldn't be missed from our list.
The multi-tone black dial includes three sub-dials, creating a harmonious aesthetic. You'll find a distinguished black bezel and white and baton index markers. A date calendar feature is featured in this chronograph timepiece. Built with an in-house quartz movement, Tirona Chronograph delivers utmost precision. A reliable timepiece for the punctual gentleman.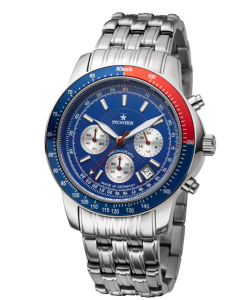 Tirona Chronograph Pionier | GM-550-9 | SILVER
Similar to the Cosmograph Daytona in white gold, the Tirona Chronograph | GM-550-9 | Silver is a perfect choice for the adventurous gentleman. This gorgeous chronograph timepiece is one of the most distinguished models from Tufina. Built with an in-house quartz movement, the Tirona Chronograph is a watch that speaks of accuracy and precision. Perfect for the practical gentleman this chronograph watch is equipped with a date calendar feature. 
The blue dial resembles the Daytona with its bright and vibrant color. The Tirona Chronograph,  however, has its own flare. The bezel comes in a blue and red color scheme, while the silver subdials share some fine red elements as well. Bold white and silver baton index markers are characteristic of this timepiece as well. An ideal pick for those who want to buy a new luxury watch.
Tufina Tirona Chronographs – Final Notes
An essential feature of these models is their bezel designed with a tachymetric scale, which allows for the calculation of speed. Combining modern technology with an attractive look, the black bezel is like the classic design of sports watches. Tirona Chronograph watches are recognized for their outstanding quality and dependability. They are made to be worn everyday and, depending on the compositions, are great for various sports and activities. These watches are noted for their classic and ageless look. They are created for people who have a love for racing and velocity.
Crafting the Tirona Chronographs necessitates the use of cutting-edge techniques during the design, development, and manufacturing stages. Plus, after they have gone through extensive quality tests, they must also be assessed by an experienced eye to ensure they meet the highest standards of beauty. The Tirona Chronograph is the ideal fusion between appearance and utility. The authentic materials and fine details are a staple for the majority of items from the Pionier collection.