In the fiercely competitive world of cosmetics and beauty, brands are perpetually seeking innovative avenues to gain a competitive edge. BNH Cosmetics, a frontrunner in the sector, undertook a transformative journey by leveraging the prowess of Ad Nativia's Native Advertising Platform. The result? A staggering 105% ROI and invaluable insights into their target market.
Campaign Background:
Location: Germany, a market known for discerning consumers with a strong inclination towards quality and efficacy.
Product: Toxic OFF, a cutting-edge body detoxification solution, designed to cater to the growing awareness of wellness and holistic health.
Budget Allocation: A modest 680 euros, to be strategically used over a span of 14 days.
The Strategy:
Understanding that a one-size-fits-all approach seldom works in the nuanced world of advertising, BNH Cosmetics, with Ad Nativia's expertise, developed a tri-pronged campaign to resonate with diverse audience segments.
Beauty & Health Portals:

The prime audience for a detoxification product would naturally gravitate towards portals that focus on beauty and health. Hence, the first campaign was laser-focused on this segment, ensuring that the product message aligned with the portal's ethos and user intent.

News Portals:

To tap into a broader demographic and introduce Toxic OFF to those who might be less acquainted with detox solutions, the second campaign found its place amidst daily news—integrating health and wellness into mainstream dialogues.

Entertainment Portals:

The third campaign ventured into the world of entertainment, targeting consumers seeking relaxation and leisure. The objective was clear: Introduce wellness as a complementary aspect of entertainment.
Each campaign underwent a strategic update after the initial 7 days, optimizing based on real-time insights and audience interactions.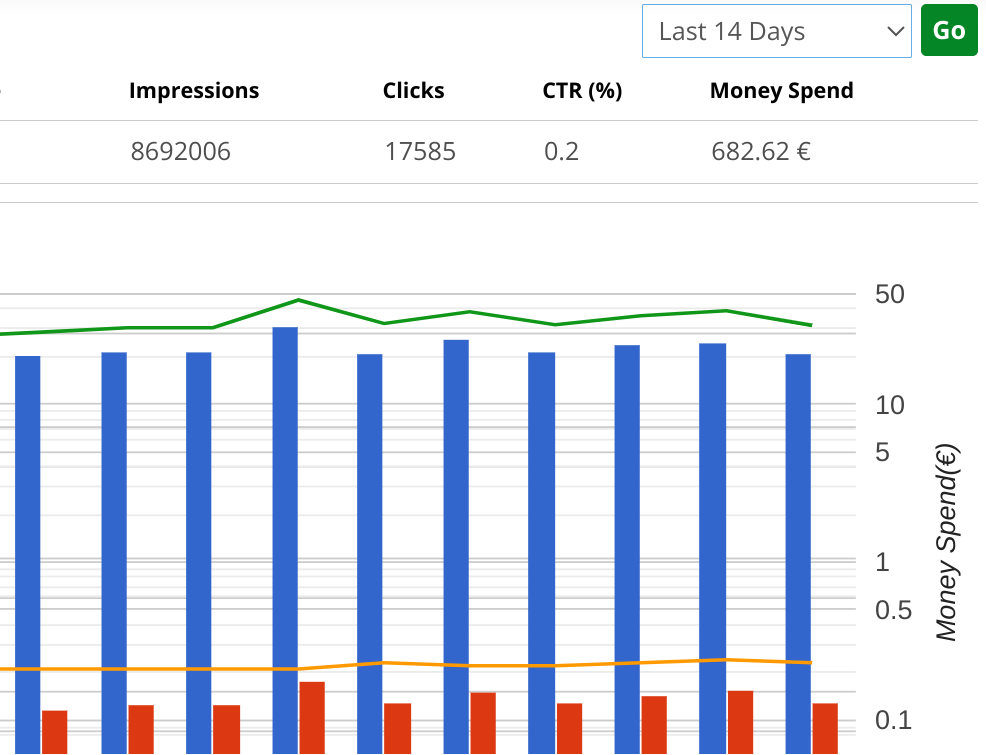 Outstanding Results:
The 14-day campaign, driven by insight and adaptability, unveiled a multitude of compelling outcomes:
– Optimal Engagement on Health Portals: The synergy between Toxic OFF and the beauty and health portals was unmistakable. Given the natural alignment of the product with the thematic content of these platforms, the campaign encountered a resonance like no other. The curated messaging that communicated the product's benefits seamlessly interwove with the content on these portals. This not only led to heightened visibility but also ensured that the audience found genuine value in what BNH Cosmetics had to offer, amplifying engagement metrics beyond projections.
– Expanding Horizons Beyond Specialized Platforms: While beauty and health platforms stole the limelight, news and entertainment portals weren't left far behind. Their broader demographic opened doors to audiences that BNH Cosmetics hadn't reached before. Although these platforms may not have mirrored the engagement levels of specialized portals, their contribution to expanding brand awareness was noteworthy. By positioning a detox product amidst daily news and leisure content, BNH Cosmetics effectively broadened the horizons of its target audience, subtly educating and enticing a newer segment of potential customers.
– Stellar ROI – A Triumph in Strategy & Execution: While the 680 euros might have seemed modest at the onset, the returns were anything but. A whopping 105% ROI not only demonstrated the efficacy of native advertising but also affirmed the strategic direction adopted by BNH Cosmetics. The beauty and health portals, in particular, were the golden geese, contributing majorly to the ROI, reaffirming the belief that contextually relevant advertising always hits the mark.
– Adapt & Thrive – The Magic of Real-time Optimization: The digital realm is dynamic, and the key to success often lies in one's ability to adapt. BNH Cosmetics did just that. After the initial week, armed with real-time insights and audience behavior patterns, the campaigns underwent strategic recalibrations. This ensured that the messaging stayed fresh and relevant, optimizing engagement throughout the campaign duration. As a result, even during the campaign's tail-end, audience interactions remained robust, demonstrating the brand's commitment to offering consistent value.

Conclusion & Next Steps:
BNH Cosmetics' collaboration with Ad Nativia stands as a testament to the power of targeted native advertising. By understanding audience segments and tailoring campaigns accordingly, brands can not only optimize their budgets but also foster deeper connections with potential customers.
If this success narrative resonates with you and you envision a similar trajectory for your brand, don't hesitate. Embrace the future of advertising. Join Ad Nativia's platform today and let's co-create your success story!