You're here means you already decided that Salesforce CRM is the platform all your business needs. Careful consideration leads to the right Salesforce boutique firm for your business. Your decisions today can steer your company towards unprecedented triumphs or haunt its progress for years ahead.
Since you're heading in the right direction, we will help you identify the appropriate boutique Salesforce firm that will revolutionize your business with its unprecedented capabilities. But before we start discussing it further, let us tell you why you should invest your valuable time and money in the right partner.
Around 69% of CRM projects fall because of unorganized data handling, poor execution,  unrealistic expectations, and inadequate data management. Surely, you want to prevent this from happening to your project. So, keep diving in to find the step-by-step process to lead to an informed decision.
Let's get started!
Here, we have compiled a reliable checklist that will definitely help you land the right Salesforce boutique partner for your business
1. Access your business needs
Do your homework first because you can't decide without knowing what you need. Therefore, explore more about Salesforce CRM online to decide what makes the platform the business's go-to choice.
Since the platform offers a suite of applications and software services, identifying your business requirements can help you meet your business expectations. All these efforts are crucial to get a clear understanding so you can ask your potential boutique Salesforce consulting partner the right questions.
Additionally, you can explore Salesforce resources such as its community forums, AppExchange, and designated Account Executive (AE) to get more insights. But you don't need to panic. The right partner will stay back to you for help every step of the way.
2. Go for hunting – Research thoroughly
You know what your business needs. Now it's time to explore the best boutique Salesforce firm with a decent digital presence and impressive testimonials.
It's commonly believed that sharp observation skills are essential for this hunting expedition. Sometimes shady companies leave many signs to gain your trust but forget to fix little things that can make a large difference.
So, to ensure partner reliability, a better way to examine their official website, look for signs of suspicion. Ensure they have the right information and reliable statistics and are committed to their services.
A quick tip: While researching, opt for Salesforce partner companies with a positive track record. So, you've got all the facts to make the best call.
To learn more, you can refer to this blog outlining how boutique Salesforce consulting firms differ from industry giants.
3. Evaluate expertise of firms
You might already select the Salesforce boutique partner for your business, if I am not wrong. But how to ensure your decision is right to accomplish your business requirements and align it towards growth?
Don't worry! You don't need to survey to check whether or not your decision is right. Evaluating a few things about your selected firm can convince you of your decision. These things include:
Honest reviews from clients, customers, and employees to understand the brand loyalty and level of support and services they offer promptly.
Experience and expertise in the Salesforce platform to ensure the firm is right and can deliver exceptional customer satisfaction
Team strength to ensure the partner has a pool of talents and skilled professionals to cater to your business needs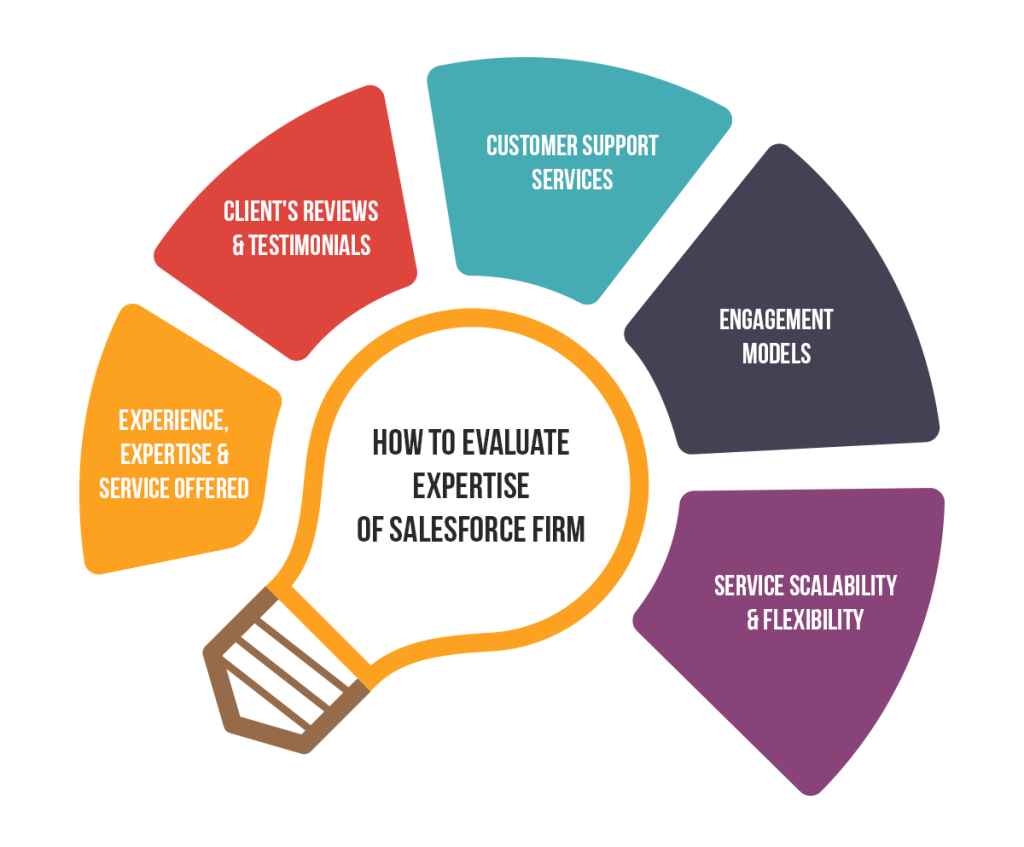 By evaluating these checklists carefully, you can ensure the Salesforce boutique firm is a go-to option for your business. You can connect and fearlessly ask them about the relevant business requirements.
4. Evaluate project value and cost
Since you have selected the potential boutique Salesforce firm, you must discuss your project requirements with them. For the development cost, you can make a little effort by Googling the estimated budget for your project.
This research gives you the inside scoop on your project development costs. Remember, the actual development cost is far different from what you have researched on the internet. This is because the figure you get from your research is a generic project cost. On the other hand, the cost proposed by your Salesforce boutique partner is tailored and customized per your project requirements.
Notable to mention, opting for the cheapest and most expensive plan is not always wise. It's a matter of value, features, functionalities, services, and support you're getting for your project.
A quick tip: Consider a long-term relationship with your boutique Salesforce consulting partner and opt for the one where you get value-added services worth the money you paid.
Conclusion
At this moment, you feel that looking for the right salesforce consulting services can be piercing. Undoubtedly, it is quite a convoluted and daunting task that takes significant time and effort. But, you'll find that the returns on your efforts are manifold.
So be meticulous about defining project objectives and setting achievable expectations. Incorporate open and honest discussions with potential Salesforce boutique partners to ensure a successful outcome.
Also, ensure your project discussions are crystal clear with your partner and everyone knows their roles and responsibilities. If something seems uncertain, don't be shy to ask for clarification.
Clear transparency and practicality are key to a successful project and foster mutual respect between parties. These two key factors are crucial for building a strong, long-term partnership.