The rapid urbanization and growth of cities have intensified urban transportation challenges, with conventional fossil-fueled buses contributing to pollution and environmental degradation. Finding sustainable solutions for public transportation is crucial to combat the global climate crisis. Electric buses offer potential, but current charging infrastructure faces efficiency, scalability, and environmental impact limitations.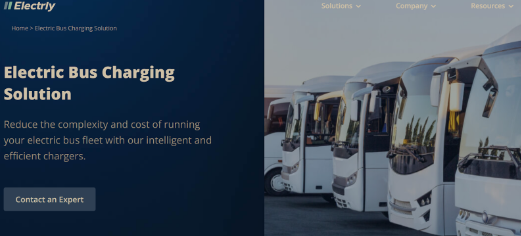 Conventional charging methods suffer from long charging times, limited range, and inadequate infrastructure, hindering widespread e-bus adoption. This discourages agencies from embracing electrification, perpetuating reliance on polluting vehicles. Innovative E-Bus charging revolutionizes urban transportation by addressing range anxiety, charging time, and limited infrastructure. Embracing these progressive charging solutions allows cities to revolutionize their public transportation networks and progress toward a greener, more sustainable future.
What is an E-Bus Charging Solution?
An E-Bus Charging Solution, also known as an electric bus charging solution, refers to the infrastructure and technology used to charge electric buses. As the world moves towards more sustainable and eco-friendly transportation options, electric buses have gained popularity due to their reduced emissions and lower operating costs than traditional diesel or gasoline-powered buses.
Types of E-Bus Chargers To Choose From
Several types exist when it comes to E-Bus charging solutions. Here are the key types:
PD20 Series: The PD20 Series features powerful and efficient Level 3 business chargers with a 20 kW output, perfect for high-capacity electric vehicle charging. It supports CCS1 and CCS2 cable types, ensuring compatibility with various EVs, and includes an MID-certified electric meter for accurate billing and monitoring.
Rocket FC120: The Rocket FC120 is a cutting-edge Level 3 business charger with impressive 120 kW charging power. It offers 95% maximum efficiency, minimizing energy wastage during charging. The charger supports AC and DC charging and includes a Type A RCD for enhanced safety.
Turbo FC60: The Turbo FC60 is a 60 kW Level 3 business charger, providing fast and reliable charging for electric vehicles. It offers diverse connectivity options like Ethernet, 4G, and WiFi for remote management and monitoring. With 95% maximum efficiency, it optimizes energy usage and supports both AC and DC charging methods.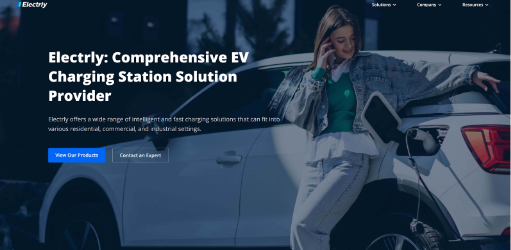 Discover the Electrly Advantage for Your E-Bus Fleet!
Here are the key advantages of choosing Electrly EV chargers:
Unbeatable Cost Savings
Embrace substantial savings with Electrly's cutting-edge e-bus charging solutions. Experience the utmost affordability in setup and operational expenses, further complemented by exclusive discounts on bulk purchases. Electrly's commitment to delivering cost-effective charging infrastructures ensures your budget remains intact while transitioning to eco-friendly transportation.
Unrivaled E-Bus Efficiency
Empower your e-bus fleet with unmatched uptime and efficiency courtesy of Electrly's revolutionary 95% efficiency fast chargers. Say goodbye to prolonged charging periods, as state-of-the-art chargers significantly reduce downtime. With more time spent on the road and less charging, e-buses can efficiently cover more routes and serve more passengers.
Pioneering Safety Standards
Safety is at the heart of Electrly's technology, providing top-of-the-line charging solutions with advanced safety features. Count on Electrly chargers to safeguard your buses during the charging process with enhanced water resistance, overload protection, and overtemperature safeguards. You can rest assured that your e-buses and drivers are safe, protecting your investment and ensuring worry-free operations.
Elevated Customer Experience
At Electric, each e-bus charger is backed by a generous 2-year warranty and comprehensive customer support. The dedicated team of experts is ready to assist you with queries or issues, ensuring your experience with Electrly is exceptional.
Environmentally Conscious Solutions
Electrly's e-bus chargers promote financial benefits and safety and play a vital role in reducing carbon emissions and contributing to a cleaner environment. By choosing Electrly, you actively participate in the global effort to combat climate change and create a sustainable future for future generations.
Seamless Integration
Electrly's e-bus chargers are designed with seamless integration in mind. These solutions are compatible with various e-bus models, allowing for a hassle-free transition to electrified transportation. Whether upgrading your existing fleet or expanding to include electric buses, Electrly offers versatile charging options tailored to your specific needs.
FAQs
How much time does it take to charge the bus?
A bus's charging time depends on the battery's size and capability. Currently, buses can be charged at the garage with a charging rate ranging from 50 to 100kW. This allows the buses to be fully charged within 4-5 hours. 
For short-range buses that use overhead charging on the street, the charging capacity can go up to 350kW, enabling them to be set in as little as 5-10 minutes during turnarounds at the end of their routes. 
This technology has been successfully tested on a small route in Montreal. As battery costs continue to decrease, it is anticipated that on-street charging may not be necessary in the future. Long-range buses can complete a full shift and then be charged overnight or between daily changes.
Is it possible to charge e-buses in rainy or snowy conditions?
Absolutely! All electric vehicle (EV) chargers are designed to be weather-resistant and suitable for all types of weather conditions. The on-route charging system uses overhead pantographs and is specifically designed to operate effectively even in rain and snow. Moreover, long-range buses charged at the garage will be kept indoors and protected from the harshest weather elements.