When it comes to hair loss, many men opt for a hair system to regain their confidence and look their best. One popular option is the "toppee," a type of hair system that sits on top of the head and blends in with existing hair. While it can be a great solution for those experiencing hair loss, proper maintenance, and care are crucial for ensuring it looks great and lasts as long as possible. In this article, we'll explore some expert tips for toppee maintenance and care.
First, let's define what a toppee is. A toppee, also known as a hair topper, is a hair system designed to cover the top of the head, specifically the area where hair loss or thinning is most noticeable. It is typically made from high-quality human hair or synthetic materials and are attached to the head using clips, tape, or adhesive.
Now, let's dive into some tips for maintaining and caring for your toppee:
Keep your toppee clean
One of the most important aspects of toppee maintenance is keeping it clean. Depending on how often you wear it, you should aim to wash it every 10-14 days. Use a mild shampoo and conditioner specifically designed for hair systems and avoid using hot water or vigorous scrubbing, as this can damage the hair fibers or loosen the attachment.
After washing, gently pat the toppee dry with a towel and allow it to air dry completely before brushing or styling.
Brush your toppee regularly
Just like with natural hair, regular brushing is important for maintaining the appearance and longevity of your toppee. Use a soft-bristled brush or wide-tooth comb to gently detangle the hair, starting from the ends and working your way up to the roots.
Avoid brushing or combing the toppee when it's wet, as this can cause the hair fibers to stretch and break. Instead, wait until the toppee is completely dry before brushing.
Protect your toppee from heat
Excessive heat can damage both human hair and synthetic hair fibers, so it's important to protect your toppee from heat sources like blow dryers, flat irons, and curling irons. If you need to style your toppee, use low heat settings and apply a heat protectant spray or serum to the hair beforehand.
If possible, try to air dry your toppee and avoid using heat styling tools altogether.
Store your toppee properly
When you're not wearing your toppee, it's important to store it properly to avoid tangling, matting, or damage. Ideally, store your toppee on a mannequin head or wig stand to maintain its shape and prevent it from getting crushed.
If you need to store your toppee in a drawer or container, make sure it's completely dry and loosely bundled to avoid tangling.
Choose the right products for your toppee
When it comes to styling and maintaining your toppee, it's important to choose the right products. Use a gentle, sulfate-free shampoo and conditioner designed specifically for hair systems, and avoid using products with alcohol, silicone, or other harsh chemicals that can damage the hair fibers.
If you want to add volume or texture to your toppee, opt for lightweight styling products like mousse or hair spray, and avoid heavy waxes or gels that can weigh down the hair.
Schedule regular maintenance appointments
Even with proper maintenance and care, toppees may need periodic adjustments or repairs to keep them looking great. Schedule regular maintenance appointments with your hair system technician to have your toppee cleaned, tightened, or repaired as needed.
During these appointments, your technician can also check the condition of your toppee and make recommendations for any additional care or maintenance that may be needed.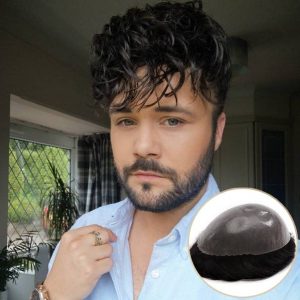 Avoid brushing or combing the toppee when it's wet, as this can cause the hair fibers to stretch and break. Instead, wait until the toppee is completely dry before brushing.
Protect your toppee when sleeping
When you sleep, your head can rub against your pillow, which can cause friction and damage to your toppee over time. To protect your toppee while you sleep, consider using a silk or satin pillowcase, as these materials are gentler on hair than cotton.
You can also wrap your toppee in a silk or satin scarf or cap before going to bed to help protect it from rubbing against your pillow.