Dropshipping and e-commerce can be challenging, especially if you do not have the right tools and strategies for finding a winning product. There are; however, various research tools present on the market to help you find the right product.
Choosing the right option isn't always straightforward. This article introduces you to Minea, one of the best product research tools available today. Let's learn more about Minea, its features, and how to find a winning product quickly using it. 
What is Minea?
Minea spies on social platforms like Facebook, Instagram, TikTok, etc., to help you find trendy products. Using this tool, you can analyze all social network ads using intelligent algorithms. 
Most product-finding tools gather information from Facebook only, but Minea also analyzes Snapchat, Pinterest, and TikTok. 
Minea will let you examine and filter the ads to find and sell high-potential products on your online store. Using Minea's filters, you can search for products that meet specific criteria.
Why Should You Try Minea?
Following are the reasons you should choose Minea over other Ad spy tools. 
·
Time Saving & Easy to Use
A few years ago, traditional product researchers manually checked social media news feeds for new ads, which was time-consuming. But that is not the case now due to Minea.
You can save time by using Minea to find a winning product. It allows you to access all social media ads through Minea's advertising library, making it easier to locate trendy products.
Besides providing relevant information about ads, Minea also helps you analyze competitors by providing you with relevant information.
·
Advance Filtering
 You can optimize your product search with Minea's filters. Here are the primary filters.
     

Keywords:

This option helps you to find, search and identify ads based on the keywords you specify. 

     

View date of Ads:

You can see your competitors' latest social network ads by filtering by view date. If the ad is recent, you have a better chance of selling the product before it is saturated.

     

Country:

Choose big countries in the filter, like the United States, France, Spain, etc. Generally, these countries develop new product trends. You can discover trending products by spying on the ads of these major countries;

     

E-commerce platform: Shopify and WooCommerce are among the most popular platforms for dropshipping

 shops. By optimizing your results, you can display only products from dropshipping stores.

     

Interactions:

An ad interacts if someone likes, shares, or comments. You should prioritize the advertisements that have sought the most engagement from users if you want to find a winning product.

     

Type of media:

Some users prefer ads with video content. An effective video ad can highlight the benefits of using a product. 
·
Influence Marketing Feature
Minea also lets you find influencers for influence marketing. Furthermore, it will let you know which influencers to stay away from. By avoiding unprofitable influencers, you won't lose money. 
You will know each influencer's conversion rate, niche, country, and audience. You will receive helpful information about its most recent product placements, as well as the performance of those placements.
In addition to ads, influence marketing is an excellent way to make your product known to your audience quickly. The fact that an influencer has millions of subscribers is not enough.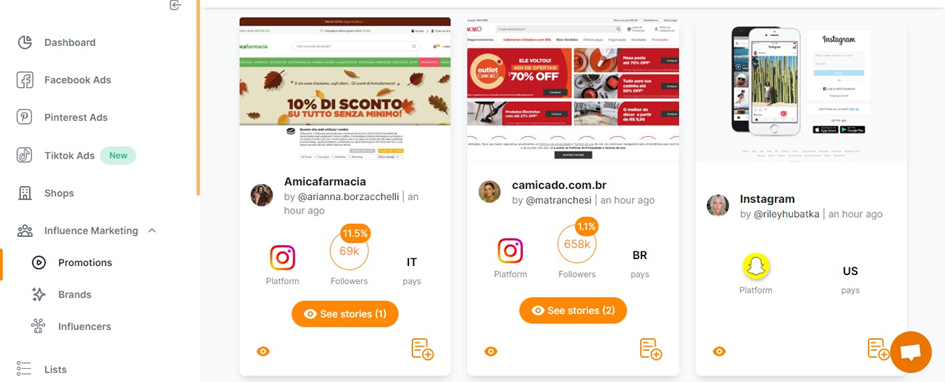 There is no correlation between the number of subscribers and sales. The conversion rate of the influencer is, therefore, the essential factor. Influencers, however, rarely disclose their conversion rates.
In Minea, you will find all the relevant information about influencers at your fingertips. Minea's influencer search tool can help you find the best influencers in your niche if you have doubts and don't know which influencer to choose.
Check out the Brands making their mark using influencer marketing before setting up your influencer marketing plan. Long-term, this allows you to see the market.
You will be able to discover the different strategies that these brands are using through this brand spy feature. The combination of all these features makes Minea a very comprehensive product-finding option.
·
Spy on Brands
Minea also allows you to spy on your niche's biggest brands. By doing so, you will access all the information about their new strategies for growing business. 
Using the Minea app, you can search for many products using a very intuitive interface. Minea selects ten products for you to see on the main interface. This list gets updated daily. 
Minea's algorithms consider several factors when choosing these ten best products. Accessing the advertising library directly and carrying out your search is possible if you do not wish to select from this list.
To open the database of ads for a social network, click on its name in the left panel of the main interface. As a default, you will see a wide range of advertising, including product sales ads.
A filter allows you to sort results according to your preferences. You can quickly find your top-performing items by filtering by publication date, several interactions, platform type, or country.
Conclusion
In today's world, Minea is the most effective tool for researching products. You will get all the essential things you need to find winning products.
The app's filters can help you optimize your search results, while the store analytics feature can let you find out what your competitors are doing.
In addition to finding products, you can also implement influence marketing with Minea. Because of these features, Minea is one of the best product-finding tools. So, feel free and try this excellent, winning product-finding tool.