What is an Electric Bike?
An electric bike is a two-wheeler with wheels, pedals, and drivetrain parts. It uses an electric motor, a battery, and other components that assist the ride's pedaling efforts. At its core, an e-bike is designed to combine the traditional features of bicycles with the benefits of electric power. These make it a more convenient and eco-friendly transportation option than other two-wheelers and vehicles.
Himiway, a leader in long range fat tire electric bikes, offers the best electric bike options for users. Their electric bikes allow you to choose from different power modes, either pedal-assisted or throttle-assisted. Additionally, you can ride like a traditional bicycle without motor assistance.
Things to Consider Before Buying an Electric Bike
An electric bike is designed with features that make cycling more accessible to a wider range of interested individuals. However, purchasing the right one requires considering several factors. These include the following:
The laws and regulations regarding owning and operating an electric bike should be considered before buying one. This is because, along with the need for registration, these tend to vary with different regions. Some places classify them as regular bicycles due to their inclusion of a pedal. However, using them in others may require fulfilling different legalities.
Usually, legal provisions for usage and roadworthiness often depend on the bike's top speed and the jurisdiction where it is intended for use. Understanding the legal provisions regarding these motorized two-wheelers will help you choose one in compliance with local laws.
It is important to understand how an e-bike works before trying to ride one, especially since you'll be using it in public. This can be useful for those who are more acquainted with traditional pedal bicycles, as electric bikes come with several controls and features that require familiarity.
In some places, e-bikers are required to attend a driving school and obtain a special license before operating an electric bicycle. Do your research and find out if any training or licensing program is provided for cyclists in your area. This will ensure you can ride legally and confidently among other motorists.
Like every other means of transit, e-bikes can potentially cause injury and accidents. However, they are less prone to the expensive kind. Their components are cheaper to purchase and maintain, which translates to less repair and replacement expenses.
To insure your e-bike, look for options that can offer protection against theft, damage, or accidents. Being two-wheelers, they generally have fewer insurance requirements than other vehicles. This means coverage is optional, unlike cars, trucks, or motorcycles. Do your research among available insurance policies to find the most beneficial coverage for your e-bike and riding conditions.
Safety is a crucial part of transportation, especially when it involves two-wheelers. This is mainly because the rider's body is more exposed to the elements during wet riding conditions or in case an accident occurs. To ensure you stay protected as you ride, invest in appropriate safety gear. Start with the essentials like a helmet and knee and elbow pads. The helmet is crucial to keeping your head safe on every trip, whether short or long. With these, you can consider investing in some reflective clothing to increase your visibility to other motorists in low-light conditions.
Electric bikes are often valuable targets for thieves, due to their batteries and high resale value. This makes secure parking options another necessity to consider. Before purchasing an e-bike, try to determine how well it fits into the storage space of your living conditions. There must either be enough to store it inside or you can explore outdoor storage solutions. If you ride a lot and will be parking in different locations for short periods, you can invest in multiple reliable locks. Having such security will deter thieves, who tend to avoid time-consuming targets.
One of the best parts of using an electric bike is the lack of reliance on gasoline, diesel, or other conventional fuel options. Unlike a traditional vehicle that requires making expensive trips to the gas station, an e-bike uses a rechargeable battery. This means you have to plan to keep it charged for your intentions. Recreational users only have to ensure it is charged fully or to a minimum of 70% before heading out with one. If you ride an e-bike for your daily commute, it must be plugged in to power up as soon as you get back in the evenings.
Any e-bike that will be enjoyed for long requires regular maintenance checks, both personal and professional. This is necessary to ensure optimal performance during rides and longevity for the long term. Know your e-bike so that you can make informed decisions to keep it in prime condition. Familiarize yourself with aspects of its maintenance you can handle. Look for authorized service centers in your area that can provide the best professional help. Having all this knowledge in advance will help you make more accurate calculations about carrying out repairs and replacing the parts.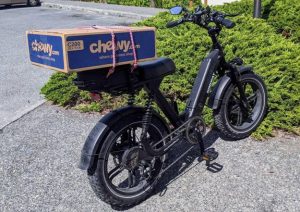 What is a Moped?
A moped is a small and lightweight type of motorized two-wheeler that is designed for low-speed travel or cruising. It is often used for short-distance commuting or recreational riding and uses a small engine or motor. Its design and features make using one a convenient way to commute in urban areas.
Mopeds generally have a higher top speed, often around 25mph to 35mph. They are a form of low-powered motorized transportation and use rechargeable batteries similar to regular electric bikes. However, their lack of pedals means users have to rely on electric power always for propulsion.
Things to Consider Before Buying a Moped
Before purchasing a moped, several factors must be considered to guide you in choosing the one most suitable for your riding needs and preferences. These include the following:
In many places, there are registration requirements for owning and using mopeds. Some may require that owners register them as vehicles and obtain license plates that must be displayed. Do your research and know which applies to your particular region before acquiring a moped to ensure compliance with regulations.
The driving school is often a part of the licensing requirements in some places. This often involves completing a mandatory moped training course, at the end of which you get a specific license that indicates you understand how to ride legally and safely among other road users. With this, you can get your moped out and get riding on public roads.
Insurance requirements for mopeds tend to be less strict compared to motorcycles or cars. If you are interested in protecting yours against theft or damage, then you must find out what it will take to have coverage. Contact insurance providers to explore the available and possible options tailored for mopeds and other motorized two-wheelers.
As you consider purchasing a moped e-bike, try to evaluate its maintenance requirements as well. Ensure there are authorized service centers around you that can handle repairs and replacement of parts. Understand its maintenance demands and research its specifics to know what you can take care of personally.
What are the Differences Between a Moped and a Moped-Style Electric Bike?
Electric bikes and mopeds are mainly different due to the presence of pedals in the former. Asides from this, they share other disparities, such as their components and performance. Moped electric bikes are generally classified as bicycles and subject to the regulations and restrictions on such two-wheelers in a jurisdiction. On the other hand, mopeds are motorized vehicles subject to stricter regulations, including licensing, registration, and insurance.
The Himiway Escape Pro is an excellent moped e-bike with a top speed of 25 mph, a range of 50 miles, and can easily carry up to 330 pounds. He's totally the best alternative to a moped if you don't want to be too restricted.
Eventually, choosing one will depend on the legal requirements and your personal preferences, such as a desired riding speed.
Find What's Best for You
Choosing between using an e-bike or a moped e-bike depends on your specific riding requirements and the government regulations regarding using either option.
Electric bikes are perfect for those who need a versatile means of transit. It is a sustainable option that promotes an active lifestyle. While these may ride at slightly lower speeds than mopeds, their ownership and operation have less legal complexity. On the other hand, mopeds offer faster commutes and are suitable for all types of urban exploration. They come with stricter regulations, often requiring licensing and insurance.
Before choosing one, consider how you intend to use it, the local regulations, and the environmental impact. These will guide you in selecting the one that best aligns with your priorities.