As prom season approaches, high school students all over are buzzing with excitement and anticipation. For many girls, one of the most crucial decisions to make is choosing the perfect prom dress. With so many options available, finding a dress that fits your style, budget, and body type can be a daunting task.
In this ultimate guide to prom dresses, we will explore the latest trends, essential tips for shopping, and where to find affordable options that will make you feel like a true prom queen.
Trends in Prom Dresses
The world of fashion is ever-evolving, and prom dresses are no exception. Each year brings new styles and trends that become the talk of the town. Here are some popular choices for 2022:
Ball Gowns: Timeless and elegant, ball gowns never go out of style. These voluminous dresses create a fairytale-like effect as they accentuate your waistline and give you a princess-like appearance.

Mermaid Silhouettes: If you want to showcase your curves, consider a mermaid silhouette dress. This fitted style flares out at the bottom, resembling a mermaid's tail. It's perfect for those who want to make a bold statement on their special night.

Two-Piece Sets: Two-piece sets have been gaining popularity in recent years. They often consist of a crop top paired with a skirt or pantsuit. This ensemble allows for versatility as you can mix and match different styles to create your unique look.

Sheer Fabrics: Make heads turn with sheer fabrics! Illusion details on bodices and skirts give an ethereal feel while adding a touch of glamour and sophistication to any dress.

Bold Prints: Leave an unforgettable impression by opting for bold prints such as animal prints or vibrant floral designs. These eye-catching patterns add personality and vibrancy to any dress, making you stand out in a sea of traditional gowns.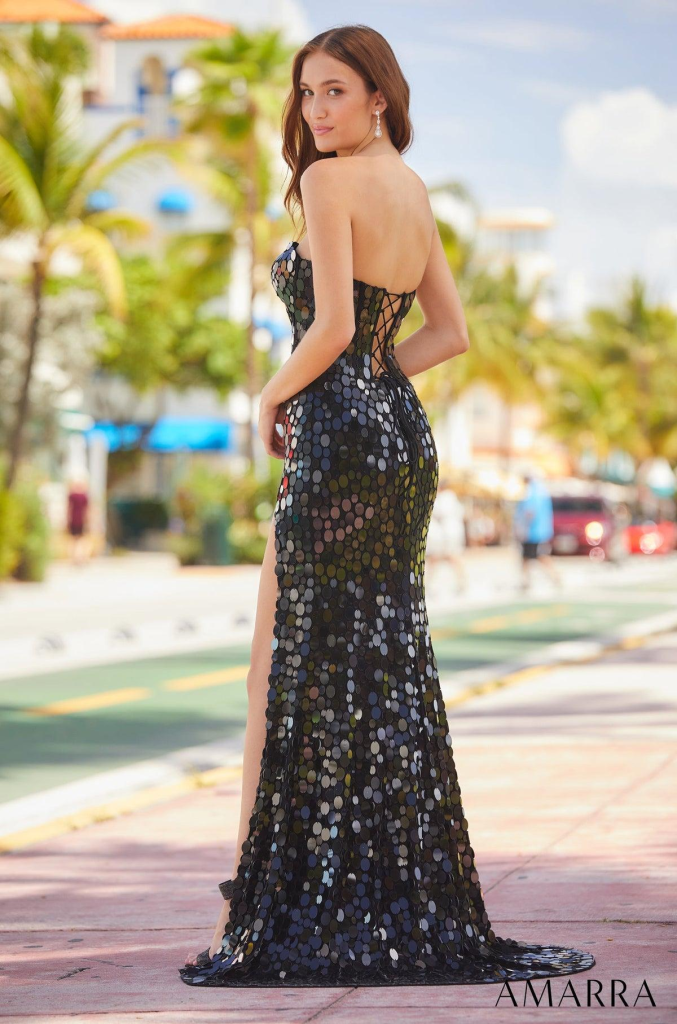 Tips for Finding Your Dream Prom Dress
Now that you're acquainted with the latest trends, it's time to embark on your quest for the perfect prom dress. Keep these essential tips in mind as you hit the stores or browse online:
Start Early: The early bird catches the worm! Begin your search for a prom dress at least one to two months in advance to allow ample time for alterations and accessories.

Know Your Body Type: Understanding your body type helps you choose a dress that flatters your figure. Whether you're pear-shaped, hourglass, apple-shaped, or petite, there's a prom dress that will accentuate your best features.

Set a Budget: Determine how much you're willing to spend on a prom dress and stick to it. It's crucial to find something within your budget without compromising on quality and style.

Consider Comfort: While style is important, make sure you feel comfortable in your chosen dress. You'll want to dance and enjoy the night without feeling restricted or uncomfortable due to an overly tight fit or heavy fabric.

Research Stores: Before hitting the shops or browsing online boutiques, research stores that specialize in formal attire. Many boutiques offer exclusive collections of prom dresses designed by renowned designers.
Affordable Options for Every Budget
Prom dresses are often associated with high price tags, but there are plenty of affordable options available without compromising on quality or style:
Renting: Many companies now offer dress rental services specifically tailored for prom season. Renting allows you to wear designer dresses at a fraction of the cost while enjoying the latest trends without breaking the bank.

Consignment Stores: Check out consignment stores in your area, especially those focusing on formalwear. These stores often carry gently used dresses that have only been worn once, offering huge discounts compared to their original prices.

Online Shopping: The internet is a treasure trove when it comes to finding affordable prom dresses. Websites like PromGirl, Lulus, and Amazon have extensive collections of stylish dresses at various price points. Read reviews and carefully check sizes before making a purchase.

Sales and Discounts: Keep an eye out for sales and discounts at local boutiques or department stores. Sign up for mailing lists or follow your favorite prom dress brands on social media to stay updated about any upcoming sales.
Don't Forget the Accessories
A stunning dress isn't complete without the right accessories:
Shoes: Opt for comfortable yet stylish shoes that complement your dress. If you're going for a long gown, choose heels with a height that allows you to move comfortably.

Jewelry: Choose jewelry that enhances your overall look without overshadowing your dress. If your dress has an intricate neckline or back detailing, go easy on the necklace and focus on earrings or bracelets instead.

Clutch or Purse: A small clutch or purse is essential to carry all your necessities throughout the night – phone, lipstick, breath mints, and perhaps some cash for emergencies.

Hair and Makeup: Plan your hairstyle and makeup ahead of time, taking inspiration from magazines or online tutorials in.