In the midwinter, when the holidays are long behind us and the winter, even as warm as this year's, starts to tire us, we dream of summer, warmer weather, and the little joys of life.
Psychologists and doctors say that vitamins and serotonin, the good mood hormone, help us survive difficult times and wait for the longed-for getaway. And fashionistas know that such bright, and comfortable, clothes like Sleeper Atlanta linen dresses in the wardrobe can give a burst of bright emotions and joy, even on a short winter day.
Sleeper? Sounds amazing for a brand of multipurpose clothing!
In 2014, Kate Zubarieva and Asya Varetsa, two friends, joined forces to create Sleeper, a clothing brand dedicated to stylish, useful, and multipurpose apparel. What began as a not-so-sleepwear line has since grown to include a wide range of fashionable and inventive designs – transforming simple pajamas into casual wear that has gained popularity among women of all ages. Sleeper's signature item, the retro-inspired party pajama set, continues to surprise the fashion industry today. With these items, you can have confidence in your style and feel fashionable, no matter the occasion!
The linen Atlanta dresses have become a beloved classic among contemporary fashion fans. Its functional and comfortable design has quickly become a must-have item in any wardrobe. Not only is this dress stylish and fashionable, but it is also incredibly versatile and can be worn for any occasion. From casual loungewear to formal events, the Sleeper Atlanta dress is a perfect choice. This is why it has earned a stellar status in the current fashion world and continues to be a favorite among many.
Atlanta dresses – comfort, beauty, and lightness for your look
Winter doesn't have to mean that it's time to put away your skirts and dresses! With the right fabric, you can still rock those looks even when the temperature drops. Linen is a great example of a year-round material that can keep you looking amazing and feeling comfortable in any weather. Take, for example, the Atlanta navy linen dress from Sleeper – its medium length and long sleeves make it an ideal winter wardrobe piece that you can wear without worrying about being too cold. So don't be afraid to keep wearing your favorite dresses and skirts – just make sure to choose the right fabrics and styles for the season!
Experience a new level of elegance with this stylish and comfortable piece. Its puffy sleeves and adjustable neckline give it a chic look, while the carefree and enjoyable design ensures you won't be sacrificing comfort. To complete your fashionable look, why not add the matching hair ribbon, for a polished and timeless finish?
The Atlanta dresses are renowned for their versatility and can easily be integrated into any wardrobe. With its unique designs and comfortable, simple construction, it doesn't take much effort to assemble interesting outfits. To get you started, here are some easy ways to incorporate navy blue linen dresses into your wardrobe:
Combine the dress with a crisp black blazer and a pair of loafers.
Add some jewelry, a trench coat, and some high heel boots.
Layer it with a leather jacket and a pair of heavy leather combat boots.
These are just a few of the many possibilities for incorporating navy blue linen dresses into your wardrobe. With the right styling and accessories, you can create stylish, unique, and timeless looks.
Atlanta dress: variety not only of looks but also of shades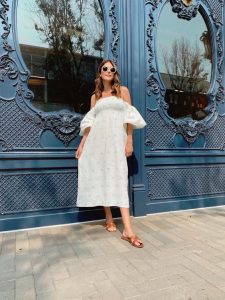 Source: https://www.pinterest.com/pin/271130840057865177/
Looking for a unique piece to make your own? Look at most of the wide range of colors available on the website. Whether you're into bold colors or pastel hues, you'll be sure to find something that suits your needs and style. With the iconic Atlanta dress as a prime example of exquisite women's clothing, you can turn your life into a fairytale with a single outfit. Seen on many Pinterest boards and in aesthetic lookbooks, you can now own this beautiful piece and make it your own. So why settle for what's available when you can have something truly special?
The Atlanta dress is not just any midi dress – it's an exquisitely designed piece that comes in a variety of colors and floral patterns, perfect for any season! Choose from navy, lavender, coral, pink, azure blue, and several summery floral patterns to find the perfect dress for your style. Whether you're looking for a classic or a bold, statement-making piece, the Atlanta dress has you covered!
Pearl white long silk dress: Be a queen in any circumstance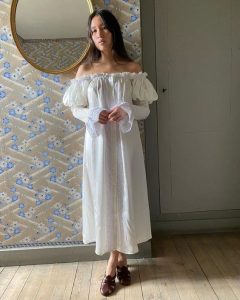 source: official Sleeper's Pinterest
But linen is not the only material the brand's designers use to create their masterpieces. On the website you'll find eco-rail fabrics, suits embellished with lurex, sets made from viscose, cardigans, and jackets made from high-quality tweed.
One beautiful example of the brand's silk dresses is the Opera white silk dress in a pearl shade. This wonderful midi-length dress will give the wearer a light, romantic vibe.
This Opera silk dress is an ideal expression of the brand's admiration for natural beauty. Featuring a natural waistline, tapered puff sleeves, and an adjustable and versatile neckline, it allows you to adjust your outfit to fit whatever mood you may be in. Show off your shoulders for a more tender look, or embrace your inner princess with the puffed shoulders – the choice is yours! Furthermore, this dress is adorned with intricate embroidery, making it even more unique.
Originally, the Opera dress is part of the brand's bridal collection. But the concept of versatility extends to Sleeper wedding dresses as well. So nothing prevents the wearer from creating a variety of looks based on this silk midi.
Of course, it's perfect for a romantic date, but you can also easily complete your outfit with ballet shoes and a small city backpack and voila, you are ready to conquer the city, deal with your daily routine and feel like a beauty queen!
Written by Lana Sparrow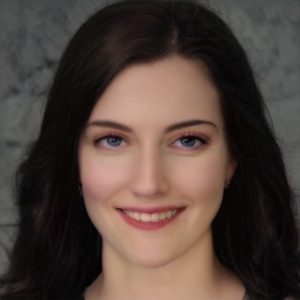 Lana Sparrow
I have expertise in the humanities, fashion, and art, and my writing seeks to guide individuals on how to express their own style. Additionally, I am passionate about reading and discussing TV shows and fanfiction.
Welcome to my Tumblr: https://lana-sparrow.tumblr.com/