The Dutch painter, Johannes Vermeer (1632-1675), is known by art lovers and scholars to a great extent because of his genre paintings. They are well-known, and most of these Johannes Vermeer artworks have been sold for up to a few hundred thousand dollars each.
He was an incredible provincial genre painter and recognized as such in Delft and The Hague during his lifetime. However, his fundamental contribution to the so-called Dutch Golden Age, precisely the genre painting style, was recognized much later.
This article will discuss genre paintings and look at some of Vermeer's most famous genre artworks.
About Vermeer Painting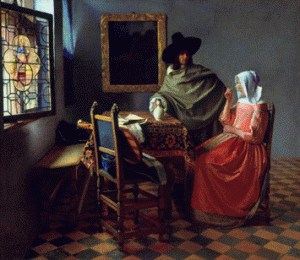 Johannes Vermeer – The glass of wine
What you have to know about Vermeer as an artist is that he was the leader of the Dutch Realist artists and that he specialized in genre painting and informal portrait art.
Vermeer worked slowly and with care and used costly pigments. However, he was almost the only 17th-century painter who already used the expensive pigment lapis lazuli early in his career. Vermeer used this in elements naturally of this color, and the pigment provided the warm light within his painting's strongly lit interior. He was inspired to use this method by understanding Leonardo's theories and observations regarding color.
He treated and used light masterfully in his artworks. Interestingly, it seems as if almost all his paintings are set in two smallish rooms in his house in Delft. His paintings usually show the same furniture and decorations, often portraying the same people. He mostly painted women.
After his death, his works didn't get much attention before Gustav Friedrich Waagen, and Théophile Thoré-Bürger rediscovered them. They published an essay attributing 66 pictures to him. Since then, Vermeer's reputation has grown. Today he is acknowledged as one of the greatest artists of the Dutch Golden Age.
About Genre Paintings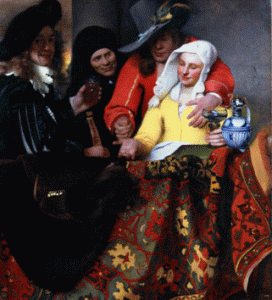 Johannes Vermeer – The Procuress
According to the Hierarchy of the Genres, there are five main types of painting, namely genre painting, still life, history painting, portraiture, and landscape. The Hierarchy of the Genres was the official ranking system of the French Academy of Fine Arts. According to this Academy, genre painting ranked in 3rd place, after history painting and portraiture, because genre paintings were, according to them, not as inspirational as history or portrait art.
The term "genre-painting" refers to paintings depicting situations and scenes of everyday life in the fine arts. The conditions can include domestic settings, interiors, mealtimes, music-making for leisure, celebrations, tavern scenes, and street scenes. One of the main characteristics of a genre-painting is that the scene is painted in a non-idealized way. This contrasts with the traditional classical approach where heroic, noble, or dramatic scenes are infused.
In a genre painting, it is customary that individual figures play an important role. This contrasts with a typical landscape painting that does not contain a significant figurative image. Likewise, it contrasts with a still-life where a domestic scene with an artificial arrangement of items is painted.
Famous Vermeer Genre Paintings With A Woman As Subject
Most of Johannes Vermeer famous artworks are genre paintings. They depict everyday life situations and scenes and are presented in a non-idealized way. In many of Johannes Vermeer's artworks, the subject is often a woman busy with everyday life activities. Therefore, when you check out Johannes Vermeer's artworks, you'll find many "woman paintings." It is impossible to list all the applicable paintings in a short article, but let's look at some of the most famous ones.
"The Milk Maid" (sometimes called "The Kitchen Maid") is an oil-on-canvas painting and, according to many art lovers, one of his best-known genre paintings. The woman in the picture is a domestic kitchen maid busy with the everyday task of preparing food and pouring milk into a bowl.
"Lady Seated at a Virginal," aka "Young Woman Seated at a Virginal," and "Lady Standing at a Virginal" are two masterpieces where Vermeer artist portrayed women, "home musicians", playing their instruments as they most probably were doing every day. In both paintings, the subject is presented in a non-idealized way.
In "Woman with a Pearl Necklace," Johannes Vermeer shows a woman in her bedroom busy with the normal daily personal routine of putting on her jewelry. "A Girl Asleep" shows a tired lady asleep at a table. "A Lady Writing a Letter" is an endearing oil painting where a lady is busy writing a letter and has been interrupted.
Interestingly, when you check out Johannes Vermeer's artworks, you find that many objects are seen in this painting, such as the cloth on the table, and the coat and pearls of the lady also appear in some of the other Vermeer works. Another painting with a woman busy with an everyday activity is "Girl Reading a Letter at an Open Window," which features a young Dutch woman reading a letter before an open window.
Other Famous Vermeer Genre Paintings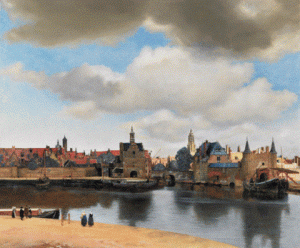 Johannes Vermeer – View of Delft
What we have to remember about Vermeer's paintings is that he used many different scenes to create his genre paintings. "The Wine Glass," for instance, portrays a seated woman and a standing man drinking somewhere in an interior setting. The figures are also set in the middle ground rather than in the foreground. Nevertheless, this work contains all the conventions of genre painting.
In "The Geographer," Vermeer showed a geographer busy with his daily task. Another painting depicting normal work activities is "The Art of Painting," also known as "The Allegory of Painting," or "Painter in his Studio." This painting is one of the most well-known works by Vermeer.
"The Little Street" is a painting where Johannes Vermeer painted a "normal" street scene in a typical genre painting style.
Conclusion
Although Vermeer's art was only acknowledged and appreciated by a small part of the art environment during his life, he is recognized as one of the leaders of the Dutch Golden Age and an essential creator of genre paintings.