One of the best ways to help your business thrive is to have in-depth knowledge of its intricacies. However, it's not possible unless you have a roadmap in a sequential manner. This is where the need for the network diagram steps in. A network diagram visually represents a computer network and how individual components interact. It will also help you detect minor issues, making your system much more effective.
So, the question is, which software is best for a network diagram? Where there's a lot of network diagram software in the market, it's best to choose the one that's, easy-to-use, offers many features and is affordable. Considering all these factors, the best software you can find is EdrawMax.
Wondering why it's the best? Here's the answer. 
EdrawMax: The Best Network Diagram Software
EdrawMax is an excellent all-in-one software tool with an easy-to-use interface. Whether developing a new network, devising new business strategies, or communicating business ideas with others, EdrawMax is there to help you!
However, suppose you still think you have a question. EdrawMax provides video tutorials, a starter's guide, and FAQs to wipe off all your confusion. All you have to do is choose a template for your diagram and then drag and drop business-specific icons and shapes. If you get stuck in the process, the AI will give you hints. 
Besides, you can make network diagrams anywhere, whether online or offline. They also offer mobile, desktop, and web versions for your convenience. The best part is; this software allows you to make network diagrams for free. Even the premium version of the EdrawMax is more affordable than its competitors. 
How To Create A Network Diagram In EdrawMax?
Creating a network diagram is no longer a headache, even if you're a beginner. Follow these five simple steps to make your best network diagram ever.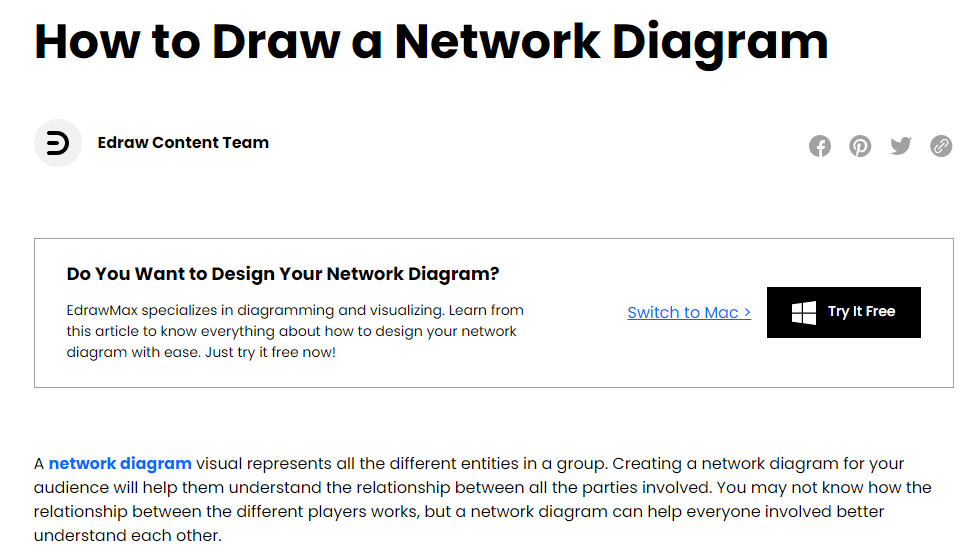 Sign-up for EdrawMax
Go to the official EdrawMax website to download the program. Or use the online version. Once downloaded, sign-up to use an account for free (you'll need your email and password only).
Go to the navigation pane (For Online Use)
On the navigation pane, scroll down to find the Information Technique. You'll find visual data there, including Basic Network Design, Complex Network Design, and Logical Network Design. Select the Basic Network Design to find the EdrawMax free template. You can choose a free template or create one from scratch.
Create A Network Diagram
Once you select the free template, a new EdrawMax tab will open in the browser. From here, you have two options. Use the pre-built template or start from scratch.
Create A Network Diagram From The Built-in Template
This part is relatively simple. You need to edit and customize your template using the available options until you make the desired network diagram. Here, the possibilities are infinite. You can add extra features, change colors, make different layouts, and adjust them according to your liking.
Create A Network Diagram From The Scratch 
In this step, start creating your diagram on the blank page. You'll find the Symbol Library on the left side of the screen. Select it to find the drawings, symbols, and all other visual tools. In the pop-up window, scroll down to Network and Computer, choose Cisco Network or another option, and then click OK.
To choose any symbol or item in your template, select it, and drag it to the place you want to place it.
Once you get the desired results, click on << and >> symbol to close the format tab and Symbol Library 
You can save the Network Diagram after completion for alterations and online sharing. You can export Edraw documents via Edraw Max Online in several file forms, including Excel, or Word. Click File and select Export to save an Edraw file in another software. Select the desired file type now. After saving the document, you can edit and share it easily
Furthermore, you can save your file in Google Drive or Dropbox by clicking the File and then Save As. Sharing and collaborating with others is now easier than ever. Let it be Cloud support or any file compatibility, EdrawMax is determined to leave you impressed.
Features of EdrawMax
EdrawMax qualifies as one of the best tools to fulfill all your diagramming needs. Even though the list of its features is extensive, a few exceptional ones set it apart from its competitors. These include:
Various Symbol Libraries 
EdrawMax is equipped with over 2500 symbols that help you design, edit and organize your drawings within minutes. You can also create a unique symbol and add it to your library for future use. Even better, EdrawMax allows you to annotate the icons according to your requirements, a feature unique to EdrawMax. Furthermore, you can import a lot of network symbols, including 3D network diagram shapes, digital products, etc., from the dashboard.
Massive Template Community
Millions of people from more than 180 counties rely on EdrawMax, making it a rich template community. The best part is; these templates are the work of professionals, which saves you the hassle of creating a new one. 
Impressive Data Visualization
This network diagram software promises to fulfill all your visual needs, from flowcharts to software diagrams. It's ideal for making presentations. Not only this, but EdrawMax also offers HTML capability to make digital interactions digitally possible.
Conclusion
Network diagrams are an effective way to understand a company's network. However, making them can be time-consuming and troublesome and might not give you the optimum results. The solution is to lend help from network diagram software that offers numerous features and is versatile. What's better than EdrawMax, which is beginner-friendly and offers an extensive symbol library and massive template community? EdrawMax is the best diagramming tool that makes creating new templates and sharing them with others a breeze,
Last but not least, the free version of EdrawMax gets your job done wonderfully. However, suppose you still want to use the premium version to take your work to the next level. In that case, the premium version is still quite affordable. So whether you're creating a software diagram for professional or academic uses, EdrawMax will never disappoint you.