Halloween is one of the greatest and most exciting celebrations of the year. You get to have all the fun dressing up, spending time with friends and family, eating sweets, and fancy foods.
If you are having the 'just graduated from college and now what' thoughts, this is a great time to let go of your worries and immerse yourself in some fun. Save time with quick snack and dinner recipes and take some time off this Halloween season to relax.  How about a vegan Halloween? That already sounds scary, but it is about time to try some new recipes. If you are a newly turned vegan, this article will come to your rescue. Don't let your diet make you miss out on the great Halloween celebrations. Here you will find what to prepare and how, and you can indulge in some tasty and spooky foods.
Even if you are not vegan, I can assure you there will be one person at your party who will be. But don't worry, you can show off with the below recipes and you will be the greatest Halloween host. As a non-vegan, it could be difficult to cater for vegans. When you are not familiar with the rules of the vegan diet, and you prepare something wrong, you might end up getting funny looks and an untouched plate. But these fool-proof quick vegan recipes will make your Halloween gathering a hit for everyone. After turning vegan, you might think that you won't be able to enjoy all the good dishes that everyone else is eating around you. This article will prove you wrong, and show you how to surprise yourself and your non-vegan family and friends.
1 Butternut Squash Soup
This soup is one of the best for cold days. The bright orange color lifts your mood on a cloudy afternoon or dark evening. You can add extra flavors like chili, ginger, or nutmeg if you feel adventurous, which are also a boost for your immune system. Sprinkle some roasted butternut seeds on the soup and eat it with a slice of toasted sourdough bread, it will win you over.
Ingredients:
   

1 medium butternut squash chopped

   

5 carrots sliced

   

2 medium onions chopped

   

4 cloves of garlic chopped or crushed

   

3 small potatoes chopped

   

2-2,5-liter vegetable broth

   

Salt and pepper

   

Oil
Turn your stove on medium height.
 First, fry the chopped onions and garlic in a splash of oil.
 Once it is sautéed you can add the sliced carrots and leave them for five minutes under the cover.
 Add the chopped potatoes and butternut and leave them under the cover for five more minutes.
Pour the vegetable broth into the pot and add the salt and pepper to your liking.  Cook everything until soft.
Use a blender to make the soup creamy.
2 Black Bean Hummus
 Hummus is one of the greatest snack foods. You can season it in many ways and eat it with vegetables such as cucumber and celery or some crackers. 
During the Halloween season, you can make it from black beans which means your hummus will have a grayish, blackish spooky color. Due to that color, it will fit perfectly on your Halloween menu.
This recipe can be prepared very quickly, so if you are throwing a last-minute party this is your savior dish.
Ingredients:
   

1 can of black beans with liquid

   

2 cloves of garlic

   

Juice of half a lemon

   

1 tablespoon of tahini

   

Small bunch of parsley

   

2-3 tablespoons of olive oil

   

Salt, pepper, and cumin for seasoning
 Put the beans, garlic, lemon juice, tahini, parsley, and olive oil in a blender. Mix them until you get a smooth, creamy texture.
If your hummus is too thick, you can add some extra water or lemon juice for thinning. Season the hummus with salt, pepper, and cumin as you prefer. For a spooky look, decorate it with a tahini spider web and black olive spiders. Serve it straight away or you can keep it in the fridge for up to four days. It also keeps in the freezer.
3 Stuffed Pumpkin
 This stuffed pumpkin is the highlight of the menu. Pumpkins can be prepared in so many different delicious ways. Make the most of it while this vegetable is in season. This is a special pumpkin dish that pleases all the senses. The different flavors in just one bite, all the colors on one plate, and the delicious smell lingering from your oven. The best thing about this dish is that you can add any leftover vegetables to the stuffing. To save leftovers from going to waste, just chop them up and throw them into the ingredients ball.
Ingredients:
   

1 medium-sized pumpkin or round squash (approximately 2.2 pounds)

   

1 red onion chopped

   

2 cloves of garlic crushed

   

2 cups cooked rice

   

½ cup cooked lentils

   

1 large fennel bulb

   

1 apple

   

3 medium carrots chopped

   

1 medium sweet potato chopped

   

1 lemon squeezed

   

½ teaspoon chili flakes

   

Big bunch of parsley roughly chopped

   

4 tablespoons tahini

   

4 tablespoons oil
Preheat your oven to 180 degrees
 Clean your pumpkin or squash to remove any dirt and mud. Cut the top off your pumpkin or squash and put it aside. Carve out the seeds with a spoon. Put the pumpkin or squash on a baking tray and rub 2 teaspoons of oil on the inside and outside, and season it with salt and pepper. Roast the pumpkin or squash in the center of the oven for 45 minutes with the top on until soft, then remove it from the oven. Slice or chop up the fennel bulb and the apple, and squeeze over the lemon juice (avoid squeezing the seeds too). Heat 2 tablespoons of oil and start frying the chopped onions. Add the chopped carrots, sweet potato, chili flakes, and crushed garlic and cook until soft. Fold in the fennel bulb and apple mix and remove it from the heat. 
 Add the cooked rice, cooked lentils, and chopped parsley, mix it well and taste for seasoning.
 Spoon the mixture into the baked pumpkin, place the top back, and return it to the oven for 15 minutes. While it is baking, make a dressing from the leftover lemon juice, tahini, some crushed garlic, salt, and pepper. Add them in a small bowl and mix them well. When the pumpkin is ready, remove the top, spoon over the dressing and cut it into slices carefully. Use the leftover stuffing with any vegetables you like such as zucchini, peppers, or eggplant.
4 Butternut Squash Brownie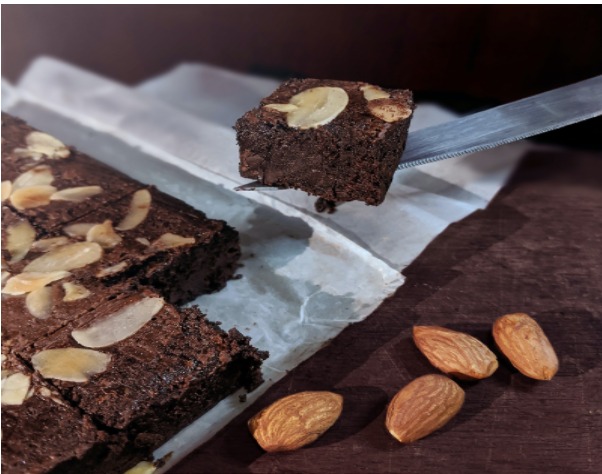 You can't host a party without some sweet treats. This is a favorite and must-do delicious Halloween recipe this fall.
The brownie is caramelized on the outside and nice and gooey on the inside. You can't taste the butternut once the brownie is baked, so you can offer this sweet treat to guests who don't favor butternut squash. Promise it will be a hit. For an extra chocolaty experience add the optional dark chocolate (check the chocolate if it contains milk).
 Sprinkle the top with almond shaves or create your own Halloween decoration.
Ingredients:
   

1,5 cup baked butternut squash puree

   

2 linseed "eggs" – mix 2 teaspoons ground linseeds + 6 teaspoons water and keep the mixture in the fridge for 10 minutes (or use any egg replacement you like)

   

1/3 cup erythritol

   

15 dried plum (without stone)

   

1 teaspoon vanilla extract

   

1/3 cup unsweetened cocoa powder

   

½ teaspoon soda bicarbonate

   

¼ teaspoon salt

   

80g dark chocolate chopped into small pieces

   

Pinch of turmeric
Preheat the oven for 180 degrees and place baking paper in an approximately 7.8inchx7.8inch tray. The butternut squash needs to be baked to smash the pieces into a puree. Once done, add the dried plum and blend again. Apart from the dark chocolate, add everything to a large bowl and mix them well. Once it is all mixed, fold the dark chocolate pieces into the bowl.
Pour the batter into the tray and even it with a spoon. Bake it for 30-35 minutes. Turn the oven off, but leave the tray in for another 5 minutes. Take it out from the oven and leave it for an hour to cool down before you serve. Halloween is a great opportunity to spend some fun time with our loved ones. If you are planning a Halloween dinner or just a small gathering, surprise them with one of the above recipes and it will guarantee your success as host to the evening. These versatile recipes will brighten you up on any rainy day. You can make them after the Halloween season passes. Throughout the winter they will boost your mood and immune system. A bowl of warm butternut squash soup makes it all the difference when reading the martian movie analysis.