Homeowners and freelancers are quickly turning to house modifications due to the increase in remote work to ensure their frequently used living spaces are as comfortable as possible. 
Some people may only need to paint and decorate, replace shabby furnishings, and add a few luxuries. Others can get serious with it. Extensions, reclaimed wood flooring installation, interior restorations, and garden constructions are significantly increasing.
There are several ways to make a home appear expensive without a costly price. The trick to giving your house an expensive look has nothing to do with how much you spend.
These professional interior design recommendations will assist you in accomplishing a high-end aesthetic in each space of your home, whether you're seeking deluxe living room ideas, fancy bathroom ideas, or anything else.
Make Your Exterior Appealing
The best influence on visual appeal and possible buyer interest will come from improving your home to appear more valuable if you want to sell your home. 
It can be as easy as repainting your front door, replacing outdated hardware with fresh, beautiful hardware, placing comfortable chairs on your front porch, and planting the most appealing front yard plants.
Paint and Redecorate
You can significantly change the aesthetic appeal of your living space by applying paint and decorating your home. Depending on your inclinations, redecorate utilizing a tranquil or vibrant interior theme. 
You must only pay for the supplies, such as paint, wall coverings, rollers, brushes, etc. if you decide to paint and adorn the room by yourself to save funds. However, many people employ an expert to decorate their home to guarantee it is decorated to the finest standard. 
Add Flowers
Your room will seem brand new the moment you put flowers and plants on display in it. Additionally, plants can improve your mood, brighten a dull place, and give it an opulent, exotic appearance.
You don't need a pocket-draining mega-arrangement to add elegance to your room. You may only need a cheap grocery store bouquet to add class. In addition, the vase in which you place the flowers is also crucial. 
First, divide the bouquet into several stem groups, then make a few tiny arrangements around your house. Although it won't take much money or effort, it will significantly add to your home.
Declutter
Mess and disarray are not fashionable. A liberally decorated bookshelf or mantelpiece is one thing, but too much clutter can look unprofessional and disorganized. For a look that seems upscale and timeless, reduce the number of accessories you use and narrow down your collection of items to just a few favorites.
If you don't know where to begin, list a few straightforward, doable goals for organizing and storing your home. Additionally, it will improve your physical and emotional health.
Optimize Space and Light
Is expanding your space without renovating your goal? Suspend a mirror. Of course, you will only enjoy the illusion of more space, but putting a mirror in the appropriate spot can give the impression that a room is bigger and more luminous since it will reflect any natural light that strikes it.
If feasible, hang your mirror opposite or next to a window to reflect much light.
In general, use a mirror that's as big as you can. Large, wall-mounted mirrors that are full-length will be especially appealing to you.
Upgrade Your Tableware
Even if the dining area is a small portion of the total house, adding dinnerware can assist in making the space appear much more luxurious. You can elevate a meal by serving it on attractive or fashionable tableware and glassware and with cotton napkins.
You may buy tableware in numerous hues, patterns, and designs, including bowls, dishes, and mats. Look at your area and pick a tableware set that blends in with the decor and color scheme.
Improve Your Gallery Walls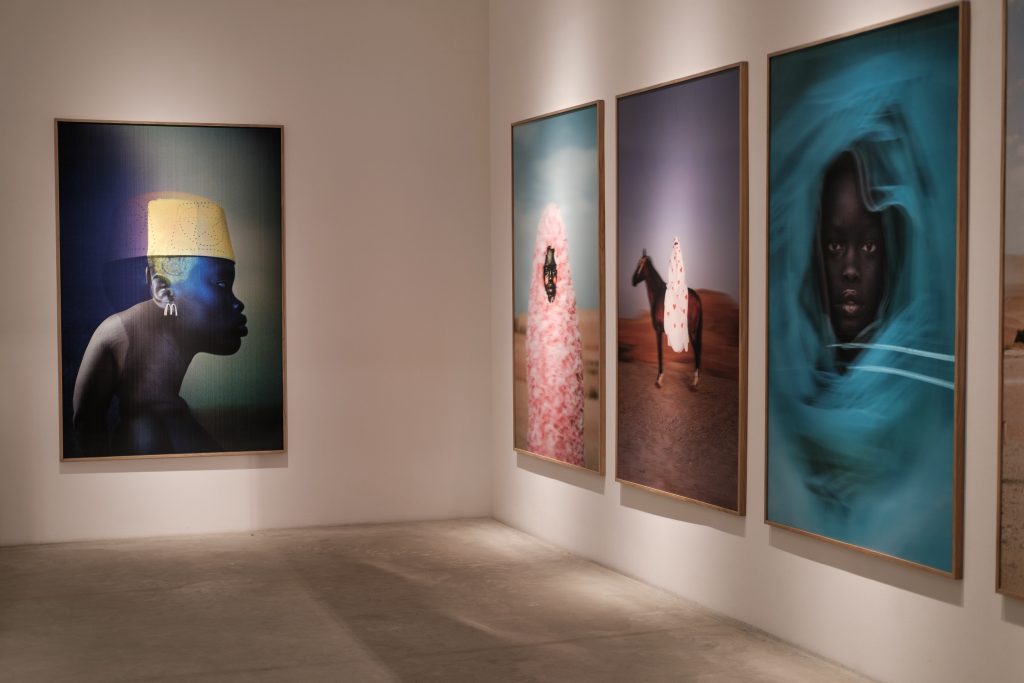 https://www.pexels.com/photo/exhibition-of-modern-art-16037756/
It's a lot of fun to make bright, varied, and eccentric gallery walls, but if you want to give the impression that something is high-end, limiting the range of colors, forms, and textures will help.
Pick works of art or images that have a similar color scheme. Use frames with similar dimensions and shapes. Put them in a grid or stair-step pattern for a geometric layout.
Your gallery wall will appear more streamlined the more homogeneous and symmetrical the artwork is.
Hang Curtains High
Window coverings provide seclusion and manage light. However, wide creases of heavy blinds are essential in any magnificent home. In addition to adding texture, comfort, and color to a room, they can optically stretch windows by hanging them a few inches above their frames, making the room appear larger and the ceiling higher. 
Lined drapes that reach the floor also exude elegance, especially when a complementary blind is added to complete the polished appearance. The breadth should be about twice as wide as your window to attain the correct fullness.
Go Large with Wall Arts
It doesn't even need to be pricey. There are a ton of DIY wall art ideas available to stimulate imagination. You can also get enormous canvases to paint over in second-hand stores.
Large-scale artwork creates the impression that it is more expensive than it is, even while the cost of production is not so high.
Invest in Statement Lights
No luxurious-looking room is complete without a chandelier, and it doesn't have to be pricey. However, modern and classic residences can benefit from the instant grandeur of a chandelier. They are not just for mansions directly out of an era drama.
It is one of the most popular methods used by most people to make a living room appear wealthy. A striking chandelier light will also draw attention upward, highlighting the tallness of the room and creating the illusion of a larger, brighter area.
Making Your Home Look and Feel Luxurious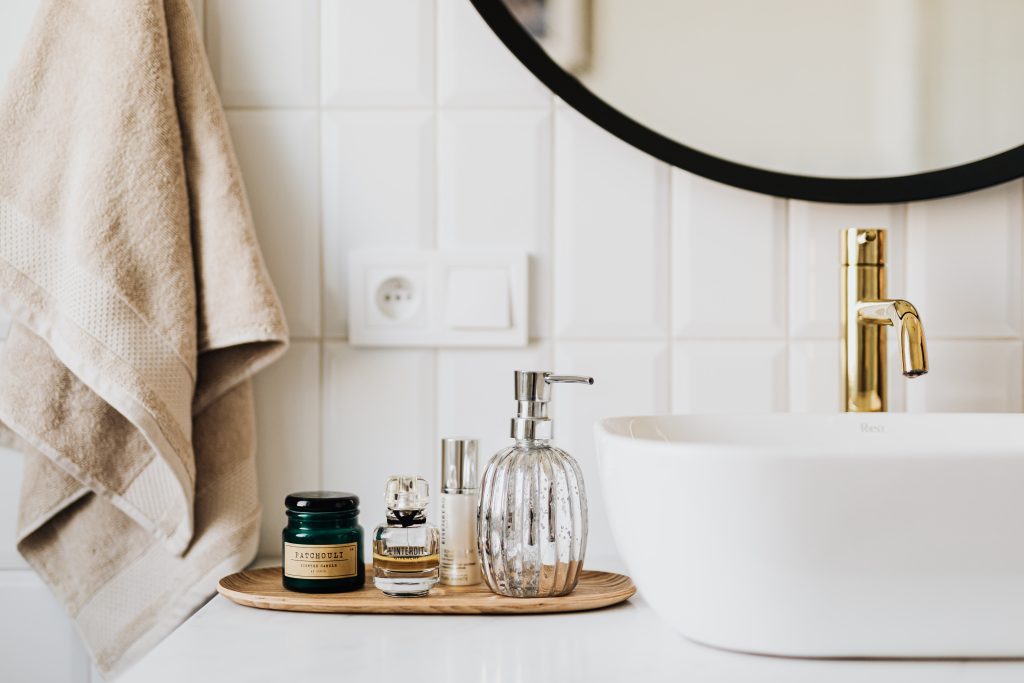 https://www.pexels.com/photo/set-of-skin-care-products-in-contemporary-bathroom-4239013/
Ensure that the aesthetics of your house flow together. You can elevate the sensation of home by designing it according to a master design, where each room flows into the next. 
Each location needs carefully considered furniture, colors, and textures to enhance the entire experience. The placement of materials and the judicious use of color evoke a luxurious environment. 
Furniture should be practical and lovely, allowing one to relax in cozy yet visually appealing items. The residence feels pricey when comfort and luxury are combined.