In this exciting home interior project in Bengaluru, Karnataka, the homeowners wanted a home where each room had to have its own distinct visual and spatial atmosphere, yet everything should come together in a simple and elegant manner. Our interior designers in Bangalore eagerly embraced this challenge and aimed to create a space that exceeded their highest expectations.
Each area of this home adopts a design strategy where each space shines independently while maintaining a cohesive overall look. The objective was to achieve a contemporary expression that embodied elegance, cherished memories, and practicality. Here are some of the design elements that were incorporated into the project:
Customized Furniture:
Each piece of furniture was meticulously crafted and tailored to not only serve its intended purposes but also enhance the overall aesthetic of the space. These customized pieces were specifically crafted to match the unique requirements and style of the project, ensuring that every element in the space was harmonious and visually pleasing. The furniture showcases exceptional craftsmanship, and the distinctive pieces are crafted in a way that couldn't be found elsewhere.
Thoughtful Lighting Design:
The lighting features of each room establish a mood that is simultaneously tranquil and inviting. By strategically placing various types of lighting fixtures, such as ambient, task, and accent lighting, the home highlights its architectural details and focal points of the space. This not only added depth and dimension to the overall design but also created a warm and welcoming atmosphere for the occupants.
Colour Palette Selection:
The colour palette complements the overall design concept and creates a unified look throughout the space. The use of soft, neutral tones fostered a calming and serene environment, while bursts of colour were incorporated to introduce visual interest and personality. These chosen colours harmoniously interacted with the lighting design, further enhancing the desired mood and ambiance of each room.
The Final Outcome
The final result was a space that exuded simplicity, elegance, and functionality. Each room possessed its own distinctive character, yet everything seamlessly blended together to form a unified whole. The homeowners were overjoyed with the end product, stating that we had exceeded their expectations. They were particularly impressed with how the chosen colors and lighting design brought their vision to life, creating a space that truly reflected their personality and style. The final outcome not only met their functional needs but also provided a visually stunning environment that they were proud to showcase to friends and family.
Living-Dining Area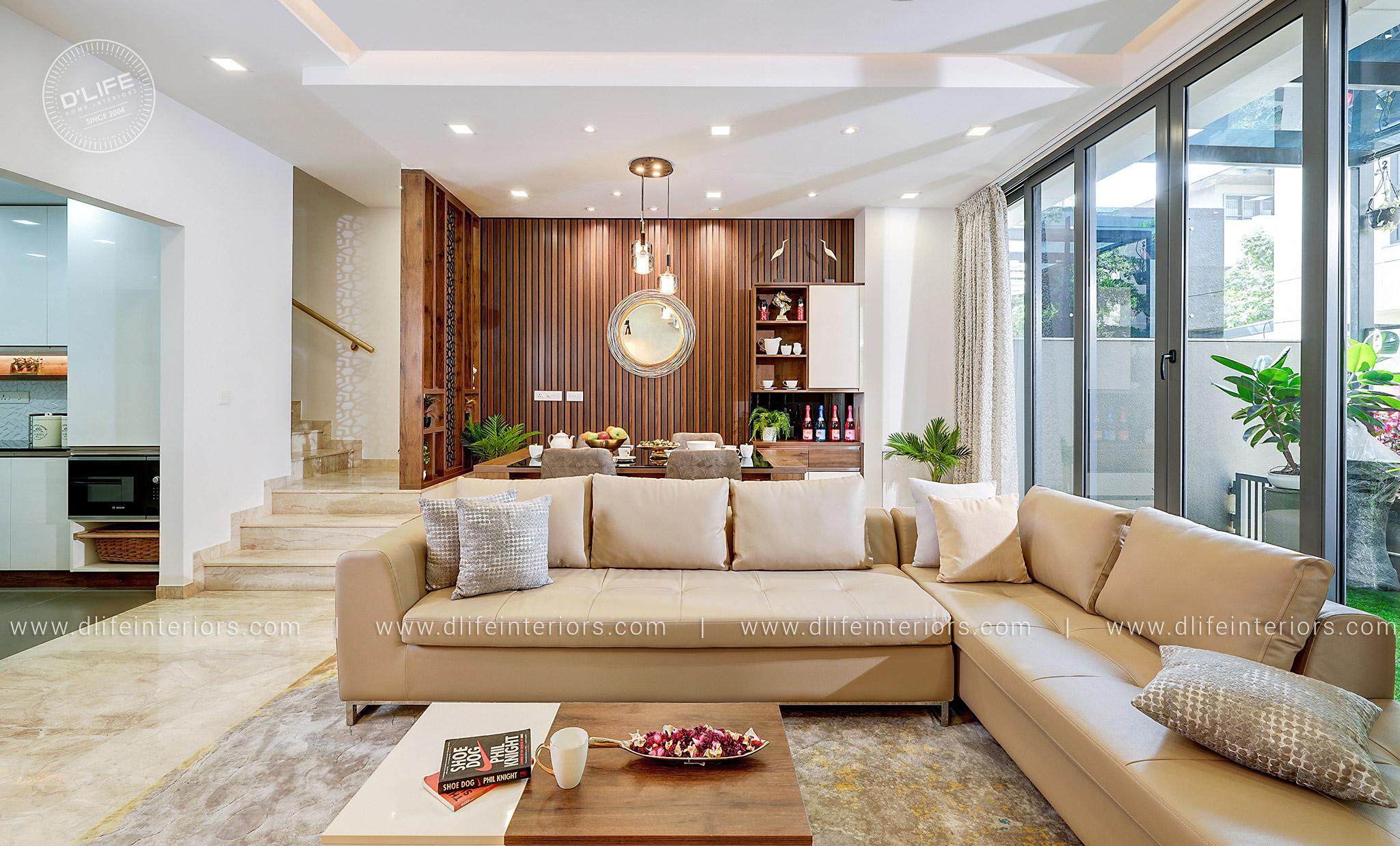 The living room, situated at the entrance of the home, emanates style and cherished memories with its custom L-shaped sofas and art pieces. Adjacent to the living room is the dining space, featuring a rectangular black dining table with wooden accents that comfortably accommodates four individuals. Surrounding the table are matching chairs, exuding an air of sophistication. The dining space is gracefully illuminated by a modern chandelier suspended above the table, adding a touch of refinement. The open layout of the living room and dining space fosters a seamless flow, allowing for easy interaction and entertainment between family members and guests.
Elegant Kitchen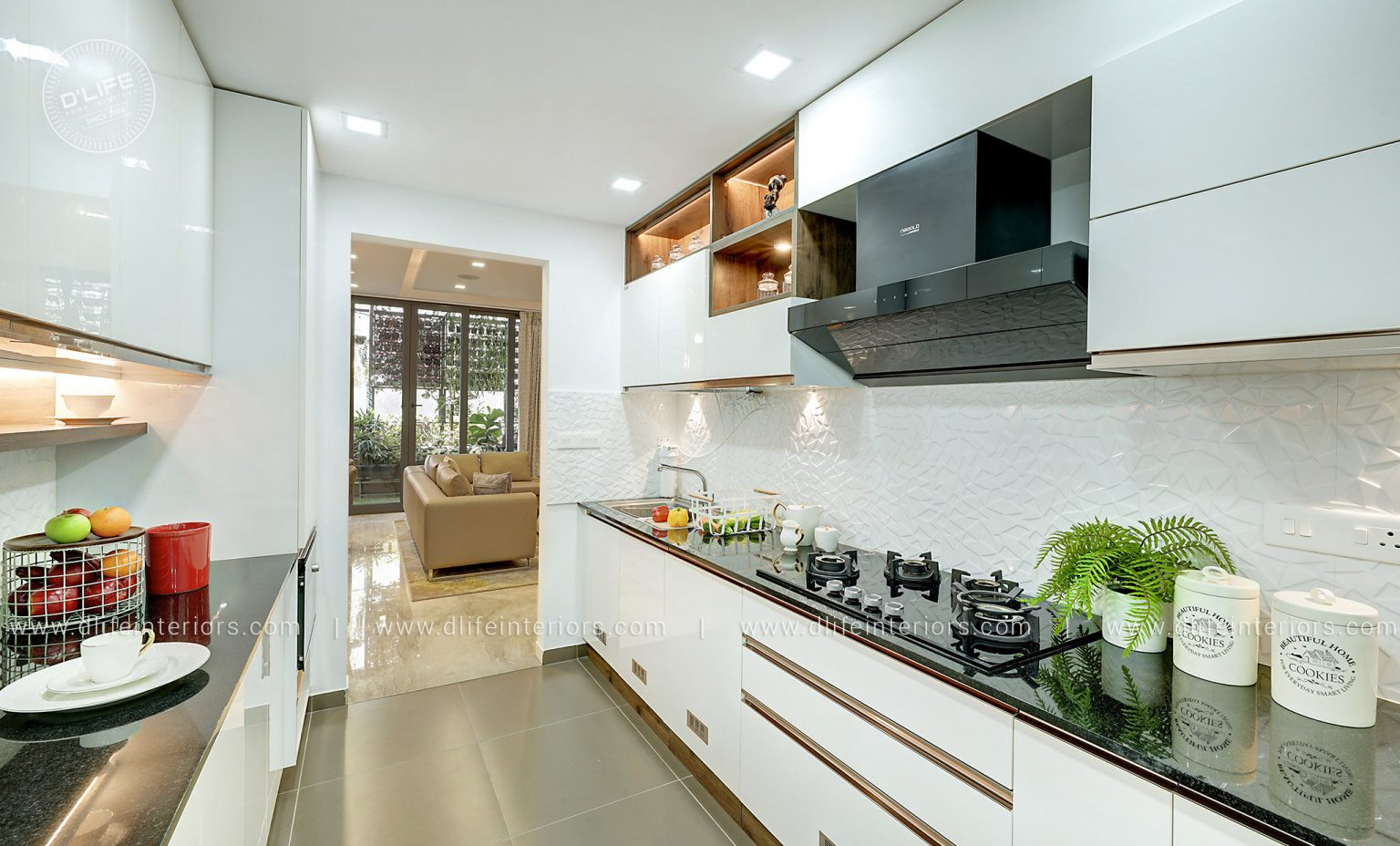 The kitchen in this Bengaluru home interior project showcases a combination of white cabinetry and black countertops. A neutral tile backsplash adorns the back wall. The stainless steel appliances and modern fixtures contribute to the kitchen's sophistication, making it both practical and visually appealing.   The ample storage space and efficient layout make it easy to prepare meals and keep everything organized.
Captivating Bedrooms
In line with the home's overall theme, the custom-made bedrooms share similar design schemes and structural profiles. The master bedroom boasts a queen-sized bed with an opulent headboard as its centerpiece, accompanied by elegant bedside tables and soft lighting fixtures. The room also features a spacious walk-in closet, an en-suite bathroom with modern fixtures, and a luxurious bathtub.
The second bedroom, with its wood-paneled walls and thoughtfully placed lighting, echoes the aesthetic of the master bedroom. It includes a queen-sized bed, a cozy reading nook, and a large window that floods the room with natural light. Additionally, the second bedroom offers ample storage space, an attached bathroom with sleek finishes, and a spacious shower.
If you're seeking a home interior design company that can help you bring your dream space to life, look no further than D'LIFE Home Interiors. D'LIFE Home Interiors is known for its expertise in creating stunning and functional living spaces. With their attention to detail and commitment to customer satisfaction, D'LIFE can transform any room into a stylish and inviting sanctuary. Whether you're looking to revamp your bedroom or redesign your entire home, D'LIFE Home Interiors has the skills and experience to make your vision a reality.