We are all accustomed to thinking of three-wheel electric bicycles as vehicles reserved exclusively for children, but they can be great options for adults too. Among many health benefits that 3-wheeled electric bikes provide to seniors, they can be especially beneficial for those with bad knees.
Electric Trikes are powerful enough to make it up steep hills, yet easy on the knee joints and other pressure points that can cause discomfort when riding a regular bike. They also provide increased stability when stopped or while navigating turns, which can help reduce the risk of falls and minimize joint pain.
Is Every
 3-Wheeled Electric Bike 
Good for Bad Knees?
Though people who have knee problems can certainly benefit from electric trikes for seniors, there are some considerations to take into account before making a purchase.
Frame Size
Every rider is different, so it's important to find a frame that fits your body type. A bike that is too small can cause riders to strain their knees while trying to reach the pedals. On the other hand, a 3 wheeled electric bike that is too large can also lead to knee strain. That's why moderate frame sizes are typically best for those who struggle with knee pain.
E-Assist Level
The amount of electric assist that you'll need will depend on the severity of your knee condition as well as how much energy and effort you can physically put into pedaling. 3 wheel electric bikes for seniors come in a variety of levels, ranging from light-assist to full-power.
If you're looking for electric trikes for seniors that are great for bad knees, look for one with adjustable assist levels to find the perfect balance of power and support. Doing this will allow you to enjoy your rides without putting too much strain on your joints and muscles.
Seat Adjustability
Look for an electric trike for seniors that offers adjustable height and angle settings so you can adjust the seat to provide optimum comfort. This will help minimize any knee pain that you may experience while riding.
How to Protect Knees When Riding
 3-Wheel Electric Bikes for Seniors?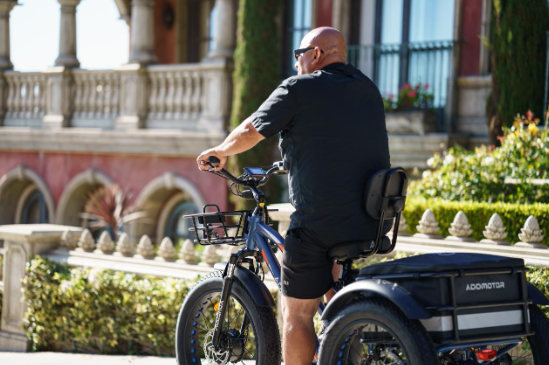 If you suffer from knee pain, it's important to take steps to protect your joints while riding. Here's how you can do that.
Warm Up
First, make sure that you are properly warmed up before beginning your ride. This will help your body prepare for physical exertion and reduce strain on your knees. To warm up, do some light stretching and a few minutes of easy pedaling to get your blood flowing. If you feel any pain, stop and rest before continuing.
Wear the Right Gear
The right gear can make a huge difference in your comfort level. Make sure you wear clothing that isn't too tight or restrictive so you can move comfortably. Additionally, wearing padding around your knees can help reduce the impact of bumps and provide extra support to prevent injuries. If you do not have special gear for riding electric trikes for seniors, choose other comfortable clothing. Just make sure that they are comfortable and fit properly, so you don't feel restricted while riding.
Adjust Saddle Height
Secondly, adjust the seat of your 3-wheel electric bike for seniors to the right height and angle. Make sure that your legs are almost straight when pedaling, as this will minimize stress on your knees while providing maximum power.
Your knees should be almost in full extension when your heel is in the pedal's 6 o'clock position. To reach this result, adjust the seat height until you feel that your knee is at a comfortable angle when pedaling.
Be Mindful of Your Posture
Finally, be mindful of your posture while riding. Keep your back straight and shoulders relaxed so you don't put too much strain on your knees. Also, avoid sitting in the same position for too long as this can cause discomfort and knee pain.
Many underestimate the power of good posture, but it's actually one of the most important components when it comes to reducing pressure and minimizing knee pain while riding.
Which Type of 
Three Wheel Electric Bicycle 
Is Good for People With Bad Knees?
If you suffer from knee pain, the best 3-wheel electric bike for seniors is one that offers adjustable features and plenty of padding. Look for electric tricycles with adjustable height settings so you can find a comfortable position while riding. Additionally, look for models with padded seats to help reduce any discomfort while pedaling. Lastly, make sure that the trike you choose has adjustable assist levels so you can get the right amount of power and support depending on your condition. By carefully considering these features, you will be able to find an electric tricycle for seniors with bad knees that meets your needs.
Finally, make sure to consult with a doctor or physical therapist before beginning any exercise routine. This will ensure that you are properly cared for and can enjoy your rides without putting too much strain on your joints and muscles.
Where to Buy Good
 3-Wheel Electric Bikes for Seniors?
If you're looking for an electric tricycle for seniors, there are a few places to look. Many bike shops and online retailers offer a variety of 3-wheel options that are designed specifically for seniors. Additionally, some mobility stores may carry electric tricycles with adjustable features that cater to those with bad knees or other physical ailments.
If you do not have a good shop nearby, we suggest you check Addmotor's electric tricycles with adjustable features, such as adjustable height settings and padded seats.
To Conclude
To sum up, electric trikes can be an excellent option for people with bad knees, as long as they are mindful of the frame size, e-assist level, and seat adjustability. With the right balance of power and comfort, those suffering from a knee can enjoy the ride without sacrificing their health.