Electric bikes have introduced the concept of cycling to people of all ages and various mindsets. The ones who used to prefer automobiles or public transport for transport around the city are no longer drawn to those modes of transportation after learning about the benefits of electric bikes.
In the ebike sector, there is a growing interest, but still, a few things need to be sorted out, especially for beginner riders. Among these debates is one about what is the ideal tire pressure for your electric bike.
The Beginner's Guide for E-bike Tire Pressure
No matter which kind of electric bike you prefer to ride, there's one mistake people make in cycling and that is not having the right tire pressure. Excessive pressure is frequently applied to tires, thinking it will make them ride faster. This is due to the misconception that tires are airtight so they can be filled to extreme levels. This is, however, not accurate.
The ideal or optimum pressure can depend on a number of factors, and because of this, there are no general rules for it. However, there are certain guidelines that you can follow to approximate the correct pressure for an electric bike wheel. Let's begin with the basics:
Understanding the Basics
Beginners of cycling usually hear that they need to check the tire pressure and PSI of fat bike ebike before setting off for a ride. At times, this can be confusing if you don't understand the basics, so you will question yourself what is the correct tire pressure for your e-bike and what can you do to assure you have the right one.
Concept of PSI
Generally, PSI is the measure of pressure, which is used to measure the pressure of gases or liquids. Lower PSI will make your tires soft while higher PSI means more pressure which will make your tires harder. The recommended PSI is usually stamped on the rubber of every electric bike tire. So you don't have to experiment to know the ideal PSI.
However, if you can't find that, the usual range for PSI in mountain bike tires is 20-25 PSI and 80-120 PSI for simple road tires. You can use pressure gauges for checking tire pressure.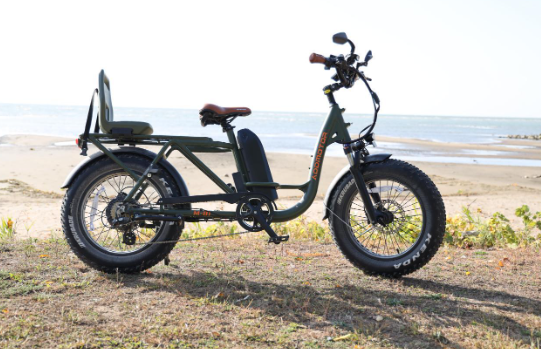 Factors to consider before pumping your tire
It doesn't matter whether you ride your electric bike occasionally for leisure rides or take it out daily for commuting, electric bikes are worthwhile investments. The manufacturers recommend a certain PSI level for electric bike tires. However, they cannot be fixed because there are other factors to consider as well which can have a huge impact on the pressure.
#1 Terrain
Road conditions play an essential role in determining which tire pressure will work best for you. If you are riding your electric bike on rough surfaces, you need high pressure for pleasant rides because lower pressure makes the tire contact the ground. However, with low pressure, you can avoid hand fatigue, but too low pressure on rough roads can also cause punctures.
#2 Weight
In general, if you are heavy, you will need more pressure. This is because if you are heavy and you use low air pressure, the electric bike will not go that fast. The range will also be decreased because, with more resistance from the road, your battery will also drain quickly.
As a result, to get effective performance, heavier riders should have a higher PSI than lighter ones. Regardless of the tires you use, you have to decide which pressure number suits you the most.
#3 Weather condition
If the surface of your road is wet, the ideal bike pressure should be kept as low as possible to decrease the chances of getting slipped. By lowering the tire pressure, the footprint and grip of your electric bike can be increased. When the road or terrain is wet, high tire pressure is the primary cause of crashes.
#4 Avoid overinflation and underinflation
Electric bike tires can be damaged by both overinflation and underinflation. There are many people out there who think that by over inflating your tires, you will get more durable tires and there will be fewer chances of getting a puncture. Truth be told, it is quite the opposite. The concept of overinflation is similar to balloons, which can easily blow up.
On the other hand, if your tires are underinflated, they can easily get pinch flats. So the right way is to have adequate tire pressure to avoid both and keep a moderate tire pressure for smooth rides.
Bottom Line
Every rider needs to have the right tire pressure to enjoy the smooth ride of an electric bike with fat tires. While there is no definitive rule for having the perfect tire pressure, the above-mentioned tips might help you to get the most approximate one. For more information about electric bikes and tips related to common mistakes, you can visit Addmotor.