An AED (Automated External Defibrillator) is a specific medical device that saves patients from sudden cardiac arrest (SCA). This disease is usually caused by a disturbance and interruption in the heart's electrical signal that prevents it from beating normally. AED can help restore the heart to its normal rhythm by analyzing the ECG signal and providing an electrical shock to defibrillate it. Even more to the point, AED is designed to enable people without any medical background to quickly learn how to use the device by providing voice prompts as well as visual guidance to save patients suffering from SCA step-by-step.
According to a report, the survival rate of cardiac arrest patients can be increased two to three times if they get in-time and effective defibrillations before the emergency medical services (EMS) arrives [1]. Therefore, the American Heart Association recommends that at least one AED device should be deployed in areas with a high prevalence of SCA or where SCA is likely to occur [2].
For managers of public areas like shopping malls, schools, office buildings, etc., launching an AED project is a complex investment. They need to consider not only one-time purchasing price but also long-term maintenance and staffing costs, not to mention that buying AEDs is way more complicated than purchasing ordinary medical devices. So instead of staring at the price tag, what should you consider when buying an AED? This article will explain why AEDs have higher price tags by introducing the three elements involved in the AED price.
Components of AED Cost
Generally, the total AED price comprises three elements: AED device cost, accessories cost, and maintenance cost.
When dividing the AED price, you will find that equipment purchases account for the largest part of the cost. Since the use of AEDs matters a lot in resuscitating cardiac arrest patients, the design requirements and standards for AEDs are stringent. In addition, the components must undergo special treatment and testing before mass production to ensure that AED devices can handle various emergencies. For example, the AED's shell should be made of high-strength and light-weight materials passing drop, waterproof, compression, and other strength tests for greater durability; At the same time, the AED pads and batteries also need to undergo a series of tests to ensure stable operation. These high requirements and series of tests to ensure the AED's safety are one reason why the AED price is higher.
The AED price includes the cost of AED accessories. The effective operation of an AED device relies significantly on the cooperation of the main equipment and its accessories, including AED pads, batteries, and AED wall cabinets. The AED pads and batteries pave the road for a smooth user experience of an AED device: the former transmits the electric shock, and the latter powers the electric shock. The AED cabinet, on its part, safely stores the AED device and protects it from the damages caused by dust, water droplets, extreme temperatures, and collisions. In addition, these accessories have a certain shelf life and need to be replaced regularly. This means that the replacement cost of AED accessories is also part of the AED's price.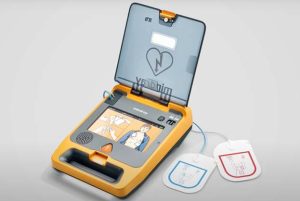 Like other life-saving equipment, AED needs regular maintenance. But to some extent, it requires more rigorous and frequent routine checks to ensure that the AED activates as smoothly as expected in an emergency. Big AED brands set up online AED management systems to complete routine management as effectively as possible, and one of them is Mindray's AED-AlertTM 2.0 management system. By setting up this online AED management system, the AED manager can remotely monitor the condition of the AED machine at any time, e.g., whether the batteries are charged, whether the AED pads are not expired, etc. By utilizing remote inspections with the AED-AlertTM 2.0 management system as an alternative to regular inspections, maintenance efficiency can be improved, and the cost of regular on-site inspections can also be saved.
Access the Cost-Effective AED Device
Applying AEDs is becoming increasingly popular as governments and organizations have implemented more AED programs worldwide. Facing this trend, AED manufacturers are constantly optimizing their products to offer more cost-effective options.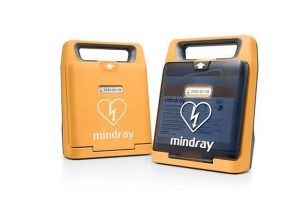 In particular, it is always wise to look for a reliable manufacturer that provides high-performance and cost-effective AED devices and serves you with its wide sales network. Namely, Mindray is the one you are looking for.
Mindray AEDs also feature some proprietary technologies, such as 360-joule biphasic defibrillation and ResQNaviTM, a patented technology that adjusts voice prompt according to the user's response speed. These patented technologies, which have taken a lot of money and effort to produce, and the 131 lives saved by Mindray AED in China, are the best illustration of the cost-effectiveness of Mindray AEDs.
As a leading medical device manufacturer worldwide, Mindray's cost-effectiveness has always been their advantage, relying on their powerful supply chain and manufacturing network based in China. Mindray has established a comprehensive sales and service network in more than 190 countries, impressing the world with their excellent pre-sales/after-sales services and product training.
References:
[1] Impact of Bystander Automated External Defibrillator Use on Survival and Functional Outcomes in Shockable Observed Public Cardiac Arrests. AHA Journal, Circulation. May 15, 2018, Vol 137, Issue 20. Pages 2104–2113. Available at: https://www.ahajournals.org/doi/10.1161/CIRCULATIONAHA.117.030700 (Accessed: 27 January 2022)
[2] Part 4: The Automated External Defibrillator. Key Link in the Chain of Survival. AHA Journals, Circulation. August 22, 2000, Vol 102, Issue suppl_1, Page 60-70. Available at: https://www.ahajournals.org/doi/10.1161/circ.102.suppl_1.I-60 (Accessed: 27 January 2022)