In today's fast-paced world, where energy demands are ever-increasing, the importance of energy efficiency and sustainability cannot be overstated. As we face pressing environmental challenges, it has become imperative to embrace innovative solutions that can meet our energy needs while minimizing our impact on the planet. This is where the concept of the PowerStack comes into play.
The PowerStack represents a cutting-edge technology that paves the way for a more sustainable and reliable energy future. It is a versatile system integrating multiple energy sources, like solar, wind, and grid power, to maximize efficiency and ensure a continuous energy supply. By harnessing the power of various sources, the PowerStack enables us to unlock our power potential and contribute to a greener and more resilient energy ecosystem.
The Integration of Multiple Energy Sources
One of the core strengths of the PowerStack lies in its ability to integrate multiple energy sources seamlessly.  Combining renewable sources like solar and wind with traditional grid power and energy storage solutions creates a comprehensive energy ecosystem that maximizes efficiency and reliability. As these sources are intermittent, PowerStack's advanced technology ensures that surplus energy can be stored efficiently and power can be continuously supplied even during low solar or wind generation periods.
Moreover, the PowerStack is designed to work in harmony with grid power. This integration not only ensures a steady supply of electricity but also enables the system to participate in demand-response programs, supporting the grid and promoting grid stability.
Choosing the right PowerStack is crucial to realizing the full potential of this technology. Factors such as energy demand, location, budget, and environmental considerations should be carefully assessed to identify the most suitable PowerStack configuration for business needs.
Sungrow's PowerStack – A Smart Choice
Among the myriad options available, Sungrow's PowerStack stands out as a smart choice for those seeking sustainability and efficiency. Let's explore the reasons that make Sungrow's PowerStack the preferred solution: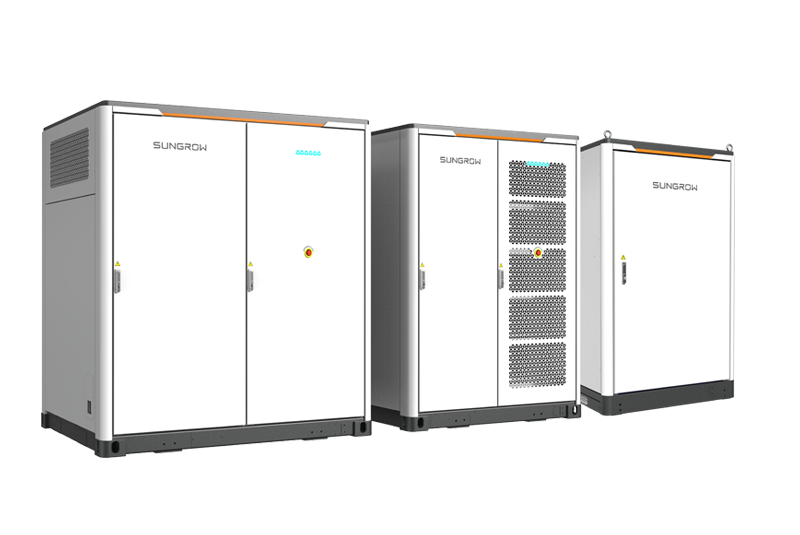 ● Low Costs:
Sungrow's PowerStack is designed with cost-effectiveness in mind. The highly integrated ESS energy storage ensures that the PowerStack can be installed in 8 hours and then start to provide a consistent power supply. It helps manage power sources at a reduced cost and improves efficiency. Optimizing energy utilization and integrating various sources, it helps reduce energy expenses in the long run, making it an economically viable choice for businesses alike.
● Efficient and Flexible:
PowerStack's advanced technology ensures high efficiency in energy conversion and storage. Its flexibility allows it to adapt to different energy scenarios, making it suitable for a wide range of applications, from residential installations to commercial and industrial settings. And its intelligent liquid cooling ensures higher efficiency and longer battery cycle life.
● Safe and Reliable:
Sungrow has built a strong reputation for its commitment to safety and reliability. The PowerStack is no exception. Its DC electric circuit safety management, which includes fast-breaking and anti-arc protection, offers robust protection features and meets the highest safety standards to ensure a secure and stable energy supply, not to mention the multi-layers of battery protection, intelligent leakage protection, and liquid refilling system.
● Smart and Robust:
Sungrow's PowerStack comes with intelligent monitoring and control capabilities, allowing users to manage their energy consumption and operation conditions efficiently. The system's robust design ensures convenience while still doing well in long-term performance and longevity.
Realize Your Power Potential with Sungrow
Embracing energy efficiency and sustainability is no longer just a choice but a necessity for a brighter future. The PowerStack, with its integration of multiple energy sources, offers a pathway to realize our power potential and contribute to a greener world.
Sungrow's PowerStack is a top-notch solution, offering low costs, efficiency, flexibility, safety, and intelligence. By choosing Sungrow's PowerStack, you are not only making a wise investment in your energy future but also supporting a sustainable energy transition on a global scale.
Conclusion:
Sungrow's steadfast dedication to innovation and sustainability has firmly established it as a pioneer in the renewable energy industry. Their revolutionary PowerStack empowers businesses to unlock their power potential and take significant strides towards a greener, more sustainable world. By providing cutting-edge solutions integrating renewable energy sources, Sungrow is at the forefront of driving positive change and creating a sustainable future where clean and efficient energy is accessible to all.