When it comes to marketing your restaurant, you want to make sure that you are using the most effective tools possible. One of the most important tools for marketing a restaurant is a good brochure. A well-designed brochure can help to introduce potential diners to your establishment and can help to persuade them to visit.
Creating a brochure for your restaurant can be a great way to market your business and attract new customers. And using a brochure template can make the process quick and easy. In this post, we'll show you how to find the right template and customize it to fit your restaurant's branding. Plus, we'll give you some tips on what to include in your brochure. So let's get started!
Brochure design should be eye-catching
There are a few things to keep in mind when designing a brochure for a restaurant. The first thing is to make sure that your design is eye-catching and catches the reader's attention. You want to create a layout that is visually appealing and makes people want to learn more about your restaurant. Be sure to use high-quality images and fonts in your design, and make sure that the text is easy to read.
Use appropriate layout
Another important thing to keep in mind is the layout of the brochure. The layout should be easy to navigate and should make it easy for readers to find information about your restaurant. Be sure to include a map of your location, as well as information about your menu, pricing, and hours of operation.
Keep target customers in mind
When designing a brochure for a restaurant, it is important to think about the target audience that you are trying to reach. Some of the most important factors to consider include the style of the restaurant, the type of food that is served, and the price range.
Consider your overall theme
When it comes to designing your brochure, be sure to consider your restaurant's overall theme. From rustic and homey to modern and chic, there are plenty of styles to choose from. If you're not sure where to start, check out some popular design trends for restaurants.
Showcase your food
What dishes are you most proud of? What ingredients do you use that make your restaurant stand out? Be sure to showcase these in your brochure design. You can even include images of the food itself or mouth-watering close-ups.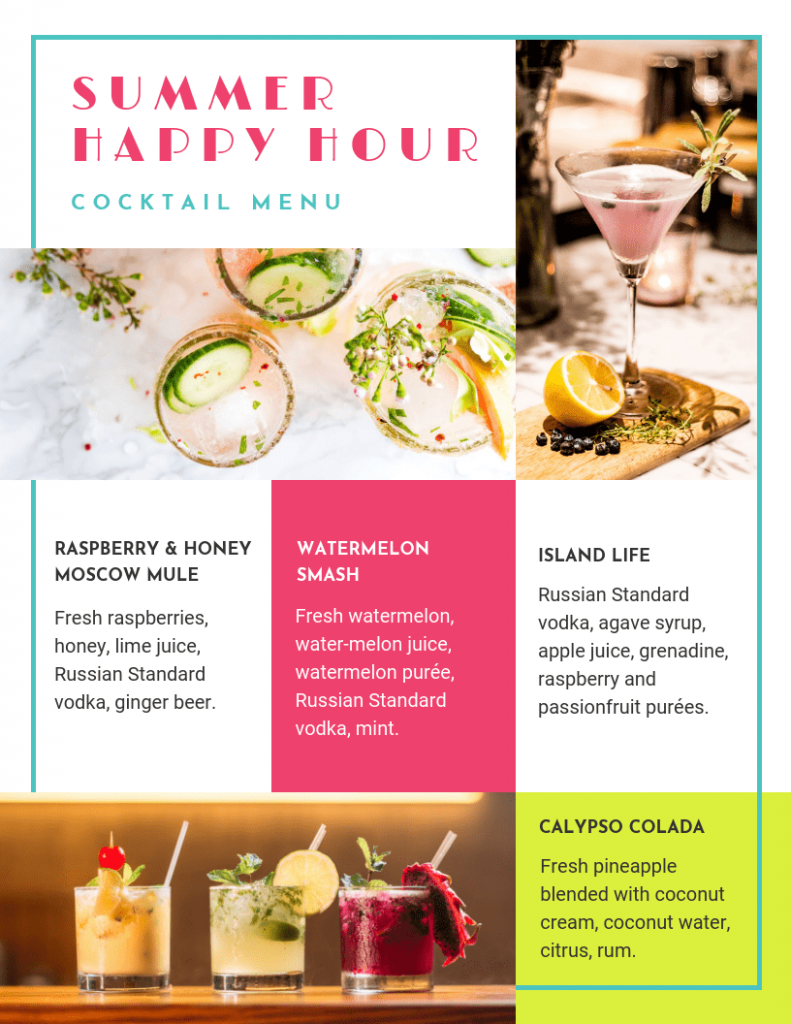 Venngage
Use brochures to promote special offers
If you have any special promotions or events coming up, be sure to include them in your brochure as well. This is a great way to drum up excitement and get potential guests excited to visit your restaurant.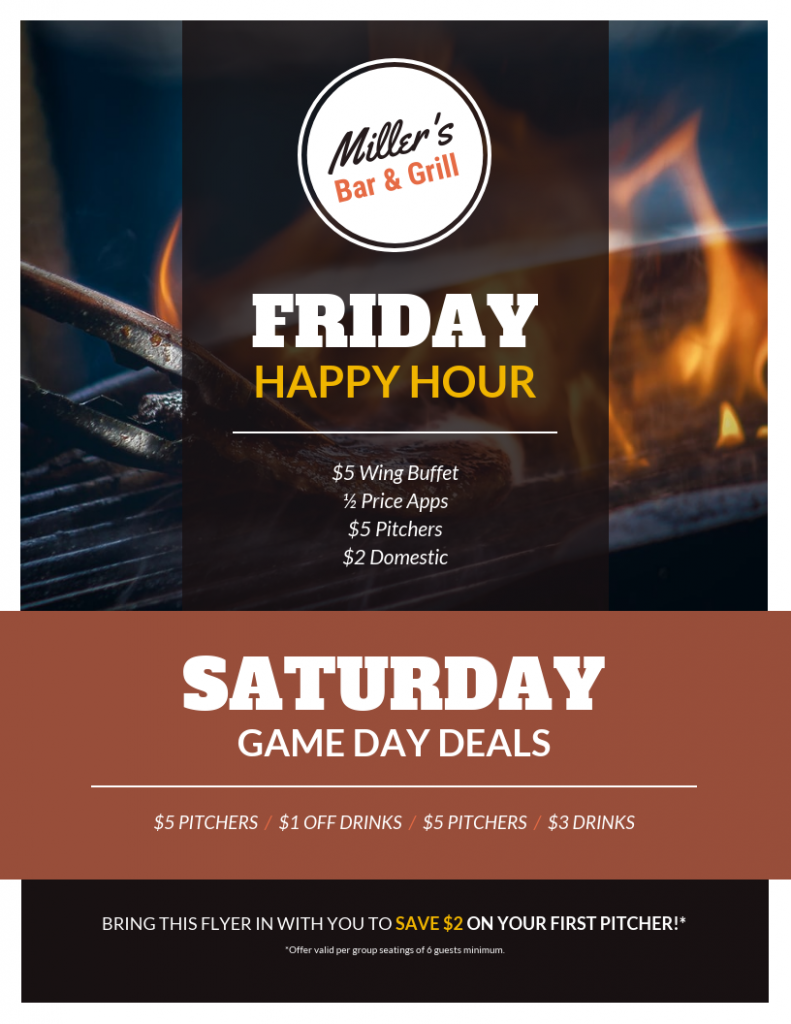 Venngage
Add other relevant contents to your brochures
The content of the brochure is equally important. It should give potential diners a good idea of what the restaurant is all about. That means including information about the menu, as well as any specials that are being offered. You can also highlight the history of the restaurant or share stories about your favorite dishes.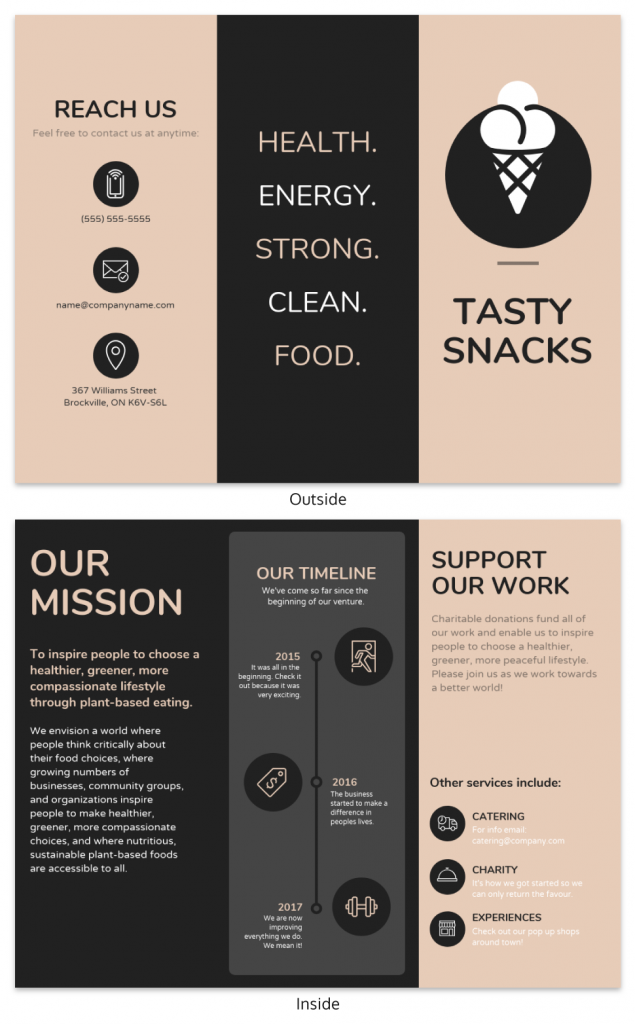 Venngage
If you are looking for ideas to get started, here are a few more tips:
Use bright colors and eye-catching graphics to create a vibrant and inviting brochure.

Make sure to showcase your menu items prominently, highlighting their unique flavors and ingredients.

Keep your design simple and streamlined, so that it is easy for potential customers to read and understand.

Use typography to add interest and personality to your brochure.

Consider including customer testimonials or quotes to help persuade people to visit your restaurant.
Check out brochure examples for more ideas
When it comes to restaurant brochure design, there are no set rules. Feel free to check out some examples and be creative and experiment with different ideas until you find a style that works best for your business. By putting a little extra effort into your design, you can create a brochure that really stands out from the competition.
Venngage is a brochure maker with numerous design ideas and pamphlet templates you can choose from
Creating a beautiful and informative brochure is the perfect way to let potential guests know about all the delicious options your restaurant has to offer. With mouth-watering images and enticing descriptions, you'll have them reserving a table in no time! So make sure your brochure design pops with flavor and style, and start cooking up some great new dishes to tantalize your guests' taste buds!
Venngage is a great way to quickly and easily create beautiful brochures for your restaurant. With our easy-to-use templates and drag-and-drop interface, you can have a professional quality brochure in no time. Plus, with our library of royalty free images and icons, you'll be able to customize your brochure to match your branding perfectly. So what are you waiting for? Try Venngage today!