Are you looking for a light therapy device that offers personalized light therapy? Look no further than Bestqool, as we offer a wide range of red light therapy devices as well as near-infrared light therapy devices. If you're new to light therapy or want to know more about red and near-infrared light therapy, read on for a comprehensive overview. In this blog post, we'll discuss the difference between red and near-infrared light therapy, their respective benefits, and how they can be used in combination to provide the best results. So what are you waiting for? Start using light therapy today!
The Difference Between Red and Near-Infrared Light Therapy
The different mechanism of red and near-infrared llights
Low level light therapy for photobiomodulation generally employs light at red and near-infrared wavelengths (600 – 1000 nm) to modulate biological activity, but both wavelength bands have different mechanisms, as identified in this study. Red light therapy has specially designed for targeting the chromophore, cytochrome c oxidase, the last enzyme of the cellular respiration chain, which is mainly responsible for the ATP synthesis and a series of photochemical cascade. Near-infrared light, however, is primarily absorbed by water, as concluded in this finding, and induces a downstream photophysical reaction.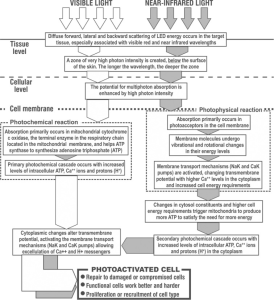 The different application areas of red and near-infared lights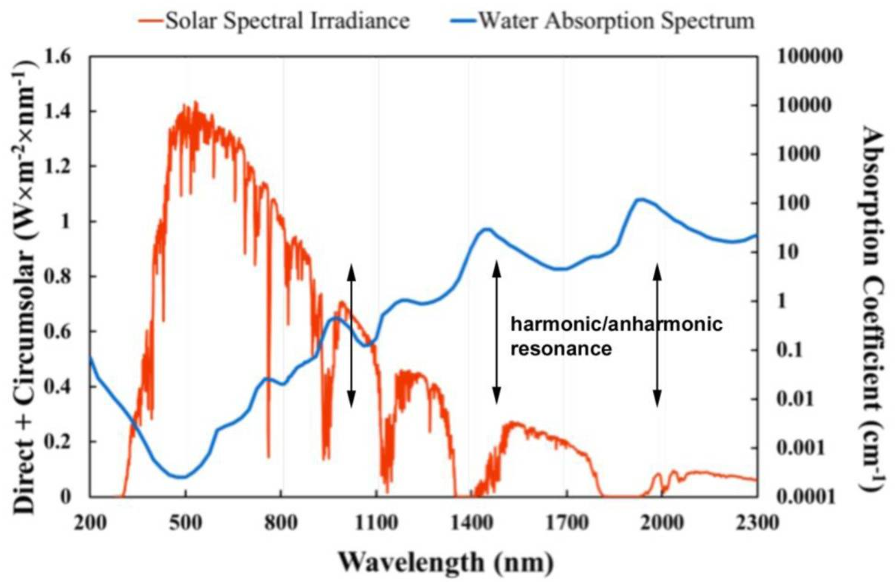 The photophysical reaction induced by near-infrared light mainly responses to by the absorption primarily of the photoacceptors in the cell membrane. The membrane molecules will undergo vibrational and rotational changes in their energy levels, and membrane transport mechanism (NaK and CaK pumps) are activated , changing transmembrane potential with higher Ca2+ level in the cytoplasm and increased cell energy requirements. Nerve cells respond particularly well to near-infrared light, which has been proposed for a range of neurostimulation and neuromodulation applications. Because near-infared light can actually penetrate through bone, skull, and deep muscle, directly activating on the nerve cells, it is widely used in the following medical conditions:
Stimulating muscle healing and accelerated recovery
Improving recovery from moderate to severe stroke
Improving recovery and degeneration of neurological damage from traumatic brain injury
Improving psychiatric disorders including anxiety and depression
Improving bone repair and growth
The visible red-light spectrum primarily benefits skin conditions, due to its penetration ability which can reach the dermis layer, where fibroblasts lie and activate directly on fibroblast cells to encourage collagen. The effectiveness of this therapy can depend on various factors, including the frequency and duration of the light therapy sessions, making a well-defined light therapy schedule important for optimized results. Also, it is best known for its skin rejuvenation application and other properties, including improving collagen, and encouraging anti-inflammatory function and blood circulation, which are also beneficial for the following medical conditions:
Stimulating hair regrowth
Clearing acne up and suppressing acne breakouts
Reducing fine lines, sagging skin, suntan
Improving psoriasis and rosacea conditions
Pain relief, including arthritis conditions
Injury recovery
Combination of red and near-infrared light therapies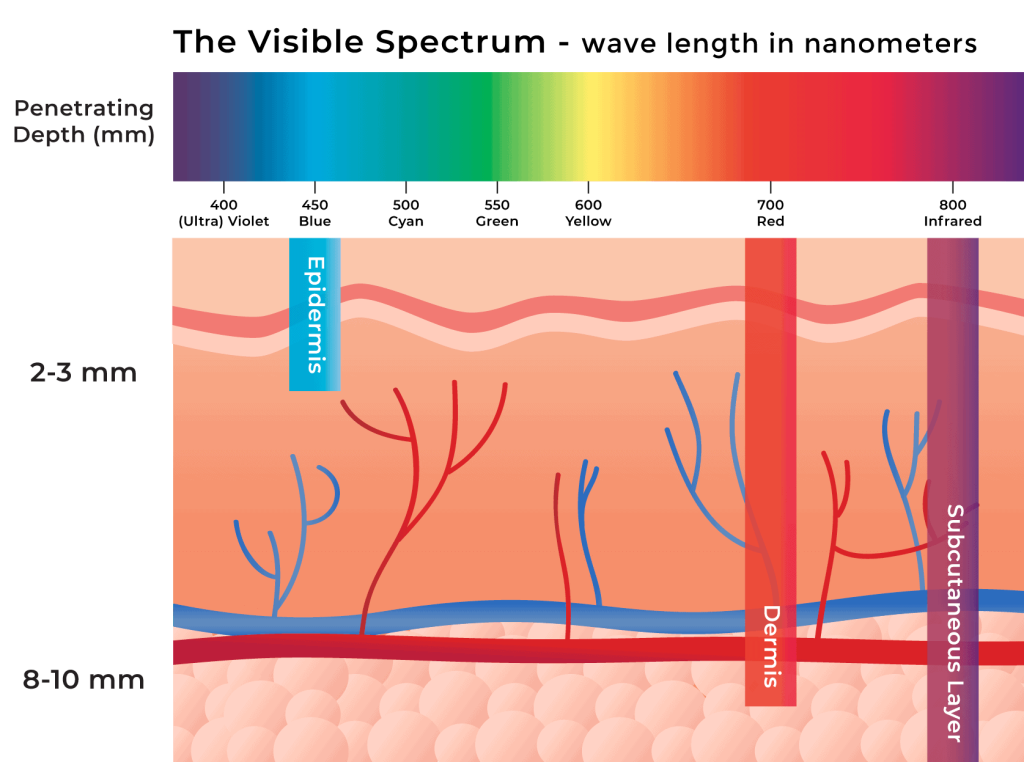 There are some cases that using a combinational light of red and near-infrared light therapies is the most suggested.
One study demonstrated that the combination of lights is effective to induce LOXL1, ELN and COL1A1, and COL3A1 gene expressions as well as the synthesis of the procollagen type I and elastin proteins.
One study verified that the infected wounds treated with the combination of lights showed a more resolution of inflammation and faster healing processes. Another study also confirmed that using a combination of lights is more efficient in wound healing treatment than using red light therapy alone.
Both red and near-infrared light therapies have anti-inflammatory properties and at a certain level encourage collagen production. As introduced above, it depends on the location of the ailment — using a combination of red and near-infrared light can bring more efficacy of treatment if it is used to treat conditions in the deep tissue, muscle, or joints, such as arthritis or other musculoskeletal disorders.
When it comes to light therapy, red and near-infrared light therapy have different effects on the body. Near-infrared light has been shown to improve deep musculoskeletal disorders or neuropathy conditions, while red light is better at treating acne and other conditions of skin. Using the combination of red and near-infrared lights can also bring enhanced results on inflammatory skin disorders. Bestqool has a wide selection of red and near-infrared light therapy devices that are perfect for treating a variety of health conditions. In this market, only a few manufacturers are able to produce light therapy devices combined with both red and near-infrared light wavelengths. With our cutting-edge technology, Bestqool is proud of our dual-wavelength technology to provide the steady, coherent, and most effective wavelengths, red light at 660 nm and near-infrared light at 830 nm, to allow the optimized therapeutic effect.
If you are looking for a red light therapy device that is versatile for various medical needs, Bestqool's dual-wavelengths technology is truly medical-grade and applied in professional clinical trials. All Bestqool products are FDA-cleared and ETL-certified to follow the highest safety standards of industry and manufacture protocols of clinical phototherapy. With a three-year warranty for all models of Bestqool products, Bestqool provides the longest promise in this market to ensure your success with treatment.