In the rapidly evolving landscape of today's job market, the process of finding suitable employment has undergone significant transformations. The year 2023 brings with it a set of unique challenges in online job hunting, largely influenced by the prevailing economic conditions. As job seekers navigate through uncertainties and changing industries, the importance of efficient and effective job search platforms cannot be overstated. This article explores some of the top job search sites that have proven to be instrumental in connecting job seekers with the right opportunities, taking into account the economic backdrop and the evolving needs of both candidates and employers.
Challenges in Online Job Searching in 2023
The year 2023 presents a job market shaped by economic fluctuations and industry shifts, which have given rise to distinct challenges for job seekers. The lingering effects of the recent economic upheaval have led to a more competitive environment, where finding the right job that aligns with one's skills and preferences requires a strategic approach. Job seekers are not only seeking secure employment but also opportunities that offer growth potential and align with their long-term career aspirations.
1. Lensa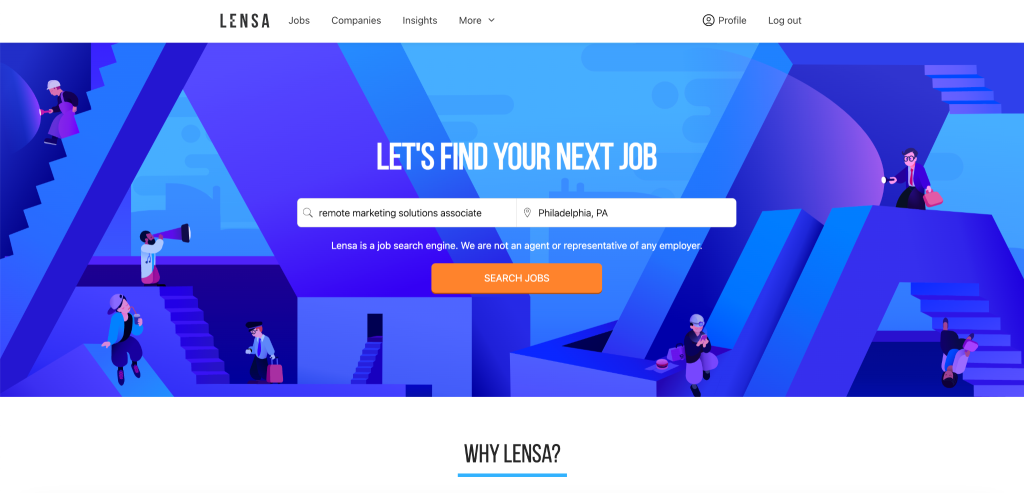 Lensa stands out as one of the leading recruitment and career platforms in the United States, catering to the needs of over 20 million registered users. Its competitive advantage comes from the integration of machine learning and artificial intelligence, which makes job searches more intuitive and personalized. This is especially useful in a market where candidates want precise matches for their skill sets and career ambitions.
Key Features:
– Advanced AI-based Matching Technology: Lensa employs cutting-edge AI algorithms to connect employers with the most suitable candidates. This intelligent matching process enhances the likelihood of finding the perfect fit for both parties.
– Tailored Job Alerts: For employers, Lensa offers targeted job alerts, streamlining candidate engagement. This feature ensures that the right opportunities reach the right candidates at the right time.
– Talent Acquisition: Employers can optimize their job postings by utilizing Lensa's recruitment tool FastTalent. This allows them to tailor their offerings to attract top talent, especially in high-demand industries.

2. Indeed
Indeed remains a stalwart in the job search arena, having consistently provided a platform that caters to a global user base. With a focus on simplicity and accessibility, Indeed offers a user-friendly experience that accommodates job seekers at various stages of their careers.
Key Features:
– Global Reach: With a presence in multiple countries, Indeed provides a diverse array of job opportunities across borders, making it an ideal platform for those seeking international prospects.
– Comprehensive Job Listings: Indeed's vast database encompasses a wide range of industries and job types, ensuring that candidates from all walks of life can find relevant opportunities.
– Resume Building: The platform offers tools for job seekers to build and upload their resumes, simplifying the application process and increasing visibility for potential employers.
3. Glassdoor
Glassdoor not only offers a wide array of job listings but also provides invaluable insights into companies, cultures, and compensation. This unique feature empowers job seekers with information beyond job descriptions, enabling them to make more informed decisions.
Key Features:
– Company Reviews: Job seekers can access employee reviews and ratings of companies, gaining insights into company culture, work-life balance, and overall employee satisfaction.
– Salary Insights: Glassdoor offers salary information for various job positions, allowing candidates to gauge whether a job aligns with their salary expectations.
– Interview Insights: The platform provides interview experiences shared by past candidates, offering a glimpse into the interview process and the types of questions asked.
4. Otta
Otta stands out for its specialization in the tech industry, making it an ideal platform for job seekers seeking opportunities in technology-related roles. Its targeted approach caters to a specific demographic, ensuring that candidates and employers can efficiently connect.
Key Features:
– Tech-Centric Listings: Otta curates job listings specifically for the tech industry, allowing candidates to focus solely on opportunities relevant to their skill sets.
– Customized Job Alerts: Job seekers can set up personalized alerts for specific roles or keywords, ensuring that they are promptly notified about relevant openings.
– Company Insights: Otta offers insights into the tech companies listed, giving job seekers a comprehensive understanding of the organizations they might be interested in.
Navigating 2023's Job Market with Confidence
As the job market continues to evolve in the dynamic landscape of 2023, finding opportunities that align with career aspirations and growth objectives requires a multi-faceted approach. The challenges posed by economic uncertainties can be mitigated by leveraging the power of advanced job search platforms. Lensa, Indeed, Glassdoor, and Otta each offer unique features that cater to the diverse needs of job seekers. Whether it's through AI-powered matching, global reach, company insights, or niche-focused listings, these platforms empower candidates to make well-informed decisions and advance their careers in an ever-changing job market. In a world where information is key, utilizing these platforms can give job seekers a competitive edge, ensuring that they find opportunities that truly fit their ambitions.