The Internet is a place which is overflowing with a huge number of online stores and web platforms for various businesses. Developing a website is now much easier, because the digital marketplace is full of quality solutions for any user's purpose. Most tend to opt for the WordPress engine, because it is friendly, flexible in settings and completely free. Plus, it allows you to develop a resource of any complexity and filling without any code knowledge. And another benefit is the support of various plugins, including WooCommerce. It is so simple, because it can be used to create your own e-commerce in a matter of minutes, without any technical knowledge.
Here the question arises, but where to find quality templates and how to work with them? Try TemplateMonster platform, where many eye-catching, feature-rich and multi-purpose WooCommerce themes. There are enough impressive web solutions in the catalog to develop a website for selling cosmetics, building materials, medicines, groceries, vitamins, kitchen supplies and other goods.
What's the Advantage of Using WooCommerce for Website Development?
WooCommerce focuses on small and medium-sized businesses, meaning it's suitable for use by freelancers, small and medium-sized companies.
Due to the simplicity and settings, it is now one of the most in-demand, because you are free to build a web resource in a matter of minutes. WooCommerce have the following benefits:
Speed
The use of WooCommerce is fast, easy, and primarily we are talking about a free plugin. Consequently, this is already an advantage as such. Adding an online store running in WordPress with WooCommerce doesn't take long. The offering has all the necessary features and gives opportunities to launch, take orders and make purchases now.
Full Adaptation to Your Platform
WooCommerce supports many themes, which means you will be able to adapt them to your corporate identity. Finding the perfect theme that matches your style is much easier than it seems. Just browse the catalog, choose your favorite products, compare them, pick the perfect one and design your website.
Flexibility in Settings
You can make changes at all levels. Templates are customizable in a few clicks. Add goods, grids, enter descriptions, customize menus and other essential elements. Plus, work at the code level easily. And if you're having trouble with that, work with the tools at your fingertips.
Why Use Ready-Made Premium WooCommerce Themes
Website design isn't just an opportunity to stand out among your competitors or catch something in the visitor's mind. The key point – the design allows you to organize the website in such a way that the visitors easily and quickly find what they need, and you get a growth of orders. Having a unique visual is critical, because it makes you stand out from your competitors. Premium products do an excellent job of this. You get a modern visual, which is also quite easy to change. Other pluses also include the following:
They're suitable for a variety of purposes, from blogs to online projects for large businesses. They can be handled by web developers and designers who are interested in working with a large number of projects.
Impressive toolset, often including all the required features and even paid plugins. Many options for customizing the template allow you to create a unique website.
Regular updates that make templates better and enrich their packs with new features.
Professional technical support, the team of which is always ready to answer all possible questions.
WooCommerce Themes Must-Have Features
Ready-made products include many useful features. Among them are the following:
Responsive and unique design. Authors develop solutions that pack with creative and innovative color schemes. Themes impress with their visuals and seamlessly adapt to the screens of various devices. You give the customers the ability to browse goods, make orders, compare products from smartphones, PCs, laptops, tablets, etc.
SEO friendliness. It is an improvement of a website for search engines and users, occurring through actions on internal (all about the pages of the platform) and external (increasing the credibility in search engine) optimization.

The purpose of SEO optimization is to increase traffic to the online resource and its subsequent monetization.

Built-in Bootstrap framework. It is a free toolkit that allows you to create flexible, cross-browser pages. Bootstrap includes HTML and CSS templates for buttons, navigation blocks, web forms, typography, and other web visual components.
Multi-purpose base. Web solutions are adjustable for a variety of purposes. You can develop online platforms for selling technology, electronics, beauty goods, medicine, kitchen appliances, sports nutrition, clothing, accessories, jewelry, books and more.
Drag-and-drop content. Templates come with built-in page builders. They make work times simpler and enable you to change content by dragging and dropping blocks.
Blog connection. Writing articles and blogging is an essential part of functioning of any online resource. A blog engages more clients, allows them to learn new info and leave their opinions in the comments.
Translation plugins support. It helps to attract clients from all parts of the world. Translation settings enable switching languages in a few clicks, which means quick access to the website content.
How to Create a Professional Website with WooCommerce Themes?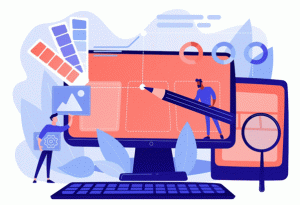 To begin with, define the purpose of your online project. Set realistic goals, analyze the prospects of the selected niche, explore the main competitors.
Understand how to work with WordPress and connect WooCommerce. It won't take much time. After that, you only need to activate the plugin so that it appears in the left WordPress menu bar.
Choose a WooCommerce theme. Ready-made offerings allow you to create a store quickly and efficiently. Plus, you get many features that make your work easier and allow you to optimize the store quickly.
Customize your content, add goods, categories, descriptions, reviews, photos, etc. Do this by drag and drop blocks. Also, be sure to add customer interaction forms.
Optimize the resource, make it user-friendly, adapt it to your customers' devices.
If you want to further configure the store, you should check out other features that can be accessed through the sidebar. You can create vouchers, manage orders, create reports and more.
A clear structure, optimized navigation, attractive design and clear descriptions related to keywords and metadata relevant to your offering are especially crucial for search engine optimization. So take care of that as well.
To Sum It Up
Applying WooCommerce themes is highly recommended for novice and skilled developers. You get plenty of benefits, including effortless operation, multi-functionality and adaptation to various topics. The main task is to choose the best product from a reliable resource and enjoy developing a platform.