Ever wondered how a single banner can be so effective for your business growth? Some businesses underestimate the visibility power of a custom vinyl banner.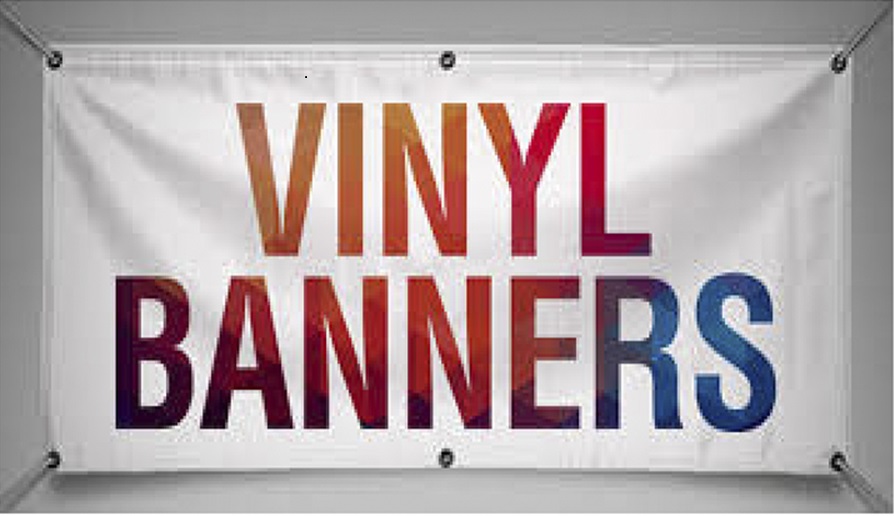 But we are here to clarify that banners have been and continue to be one of the most successful marketing and advertising tools.
Mainly because of their durability, brilliant colors, and huge size, they are one of the most effective instruments for capturing the attention of potential customers.
Vinyl banners are used by a wide range of businesses, usually to effectively display essential and relevant messages or notices to existing and future customers. Or to announce a sale, promotion, or event.
Have a look at our list of advantages for choosing a custom vinyl banner for your business space:
A good First Impression
Banners are one of the simplest methods to display your business logo and contact information to potential customers for creating a good and lasting impression.
The name and image of a firm are important pieces of information that establish your reputation and should be efficiently advertised.
The huge size and bright colors of vinyl banners will help draw attention to your business space and spark people's curiosity.
Durability
The custom vinyl banners are constructed of 14 oz. high tenacity polyester vinyl, which is suitable for both indoor and outdoor use.
Vinyl banners are strong and resistant to the elements. They are water-resistant and UV-protected. You can rely on them to withstand rain, snow, and sunlight without deterioration.
Sign makers also utilize UV-specific printers to provide the greatest printing quality and colors that will ensure that your banner will last a long time.
Affordability
Vinyl banners are less expensive than other types of advertising signage, such as letter signs or acrylic signs. But still, their visibility can reach a large audience to generate a profit for your company.
By investing in vinyl banners you can display them anywhere and everywhere. For instance, outside your building, in town squares, or at convention centers.
They are popular among small commercial businesses and event holders because of their affordability and flexibility.
Reusable
After creating your own vinyl banner you can use it for months or perhaps years to come.
If you often hold events, conferences, or exhibitions, you can bring the same banner to each event.
The banners are portable and lightweight, and sign makers can customize them with hems, grommets, and pole pockets for simple installation and re-using in any place without any hassle.
Multi-Purpose
Once you get a custom vinyl banner you don't have to worry about selecting signage that matches your event or brand.
You can use it as you like it. Rather, you have total control over the aesthetics of the design you use for your commercial banner.
It can be used for windows or doors, table signs, at sales expos, roadside signage, farmers and craftsmen markets, local events, and for many other purposes.
Eco-Friendly
The quantity of signage used by the industries is worrisome. They use a variety of materials in manufacturing and then dispose of them inappropriately.
But vinyl banners are completely environmentally friendly. They can be used for a variety of purposes so you don't have to purchase much other signage.
And as vinyl plastic is recyclable, so, once you are done using your biodegradable vinyl banner, it can be melted and recycled for another purpose in the future.
Customizable
Vinyl banners can be customized to meet the specific requirements of your company to enhance your business space.
You have complete control over the design, size, style, and colors of your banner. You can also select the type of vinyl you want to use.
A professional sign company has a variety of options for vinyl banners, from 13 and 18-ounce vinyl, perforated outdoor vinyl mesh, and smooth high-resolution vinyl printed, to a glossy vinyl banner, you can customize it the way you like it.
Increase Foot Traffic
Vinyl banners can also assist small firms in meeting crucial business objectives. For example, if one of your business aims is to boost foot traffic, banners are an excellent option.
Place your banners in a prominent location that pedestrians, passers-by, and cars can see to direct them to your company.
In this way, more people come across your brand name and are directed to your business space.
Quickly Manufactured
If you need a custom banner as soon as possible due to a tight deadline then you don't have to worry at all.
One of the main advantages of purchasing vinyl banners is that they can be made in a short period of time.
The sign professional uses high-tech event graphics printers and in-house printing services for quickly manufacturing a vinyl banner. And generally delivers orders within one business day.
So a last-minute high-quality signage solution is definitely a custom vinyl banner!
Easily Installed
A vinyl banner is simple to install. If you call an installation team, the costs are kept to a minimum, and you can even do it yourself.
Because vinyl banners are so flexible, they can be hung everywhere. There are no issues with the banner installation process.
The most effective approach to attract customers to your business is to utilize colorful signage with a design that is distinctive to your brand. The vinyl banners are digitally printed in vibrant hues that can help you reach your goals whether you own a business, a shop, or an organization.
Order your Custom Vinyl Banner!
You don't have to be a design genius to make a visually stunning banner. You choose the design, and the sign experts can help you in putting it all together by assisting you in selecting the appropriate size, colors, and style of banner.
If you would like to get a vinyl banner for your business contact a professional sign business now!