Transform your practice with a single, integrated platform: a software solution built to optimize clinical tasks and revenue operations. RXNT EHR is cloud-based that provides mobile apps, free setup, regular system updates, implementation, training, and support for its users, streamlining patient care, and administrative management. Physicians can screenshot and organize documents within patient charts, schedule practice resources, and check in patients irrespective of location. Innovative forms by RXNT EHR and short keys enhance efficiency, removing any redundancy that can slow down processes.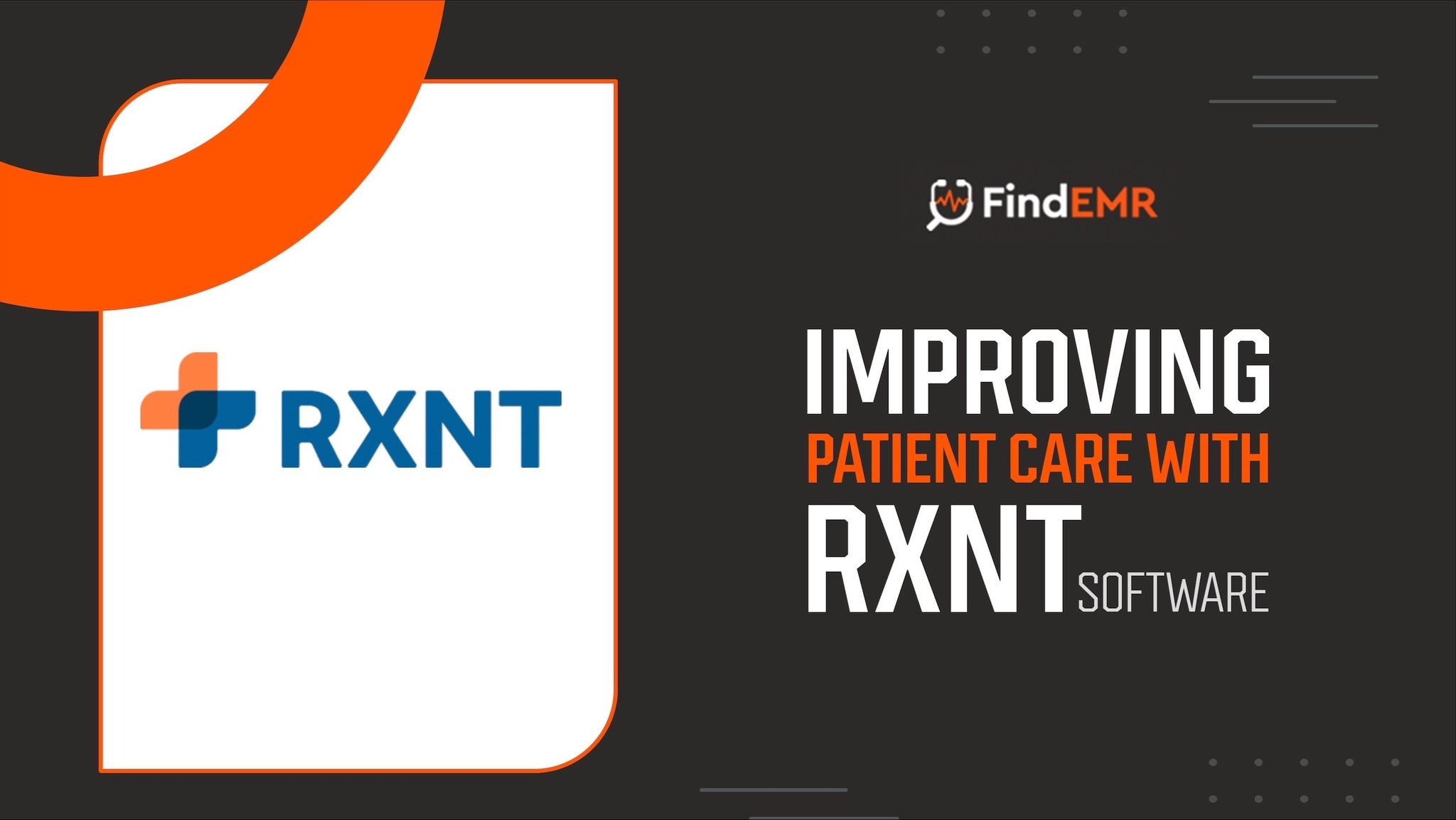 RXNT EHR software was introduced in 1999 as an e-prescribing software with the aim to improve the healthcare industry. Their team of US provides technological solutions to thousands of multiple specialties of all sizes to solve demanding challenges that arrive in a business. The company sends more than 52 million prescriptions averaging around $200 million claims that are processed every year.
Real-time data and information sharing with patients, payers, health registries, organizations, and clinicians stipulate convenience for better care coordination and support. Patient portals are of massive benefit to the patients offering check-in features, electronic prescription, and referrals.
RXNT EHR software's e-prescribing feature is Surescripts-certified and meets federal and state EPCS regulations that are mandatory.
Most importantly, it is HIPAA compliant, supports MACRA and MIPS, and is an ONC-certified HIT solution.
RXNT's EHR and eRx software can be integrated with their PM and billing software to experience a full-suite system. Each product is available both as a stand-alone or an integrated package for your practice.
It has been recognized in the magazine list of America's 5000 Fastest-Growing Private Companies in 2019 and 2020, and in Gartner 'Software Advice FrontRunner' in 2017, 2018, and 2019.
RXNT's software system solutions are secure, compliant, and award-winning.
The EHR solution is Drummond-certified, meeting the requirements of the ONC-HIT for technological capability, functionality, and security. This will help you comply with Medicare Access and CHIP Reauthorization Act (MACRA) requirements and achieve the highest reimbursement levels.
How to Improve Patient Care with RXNT Software?
Customize your patient encounters according to your pace with software's smart forms, templates, and macros to automate and mimic your everyday workflow, making the data collection process discreet and straightforward.
Access patient data effortlessly with their real-time medication history, lab results, and direct connection with state PDMPs.
Without any risk, prescribe controlled and non-controlled medications with the software's e-prescription module, certified by the DEA, that support electronic prescribing for controlled substances (EPCS).
Stay alert and organized with patient appointments and material resource allocation, such as exam rooms and equipment.
Increase interoperability by automatically sending and receiving referrals, lab orders, results, and e-faxes. Resources as such can also be integrated seamlessly with other healthcare technology extending care for patients.
Empower patients to haven their personal portal for:
scheduling appointments
completing intake
consent forms
requesting prescription refills
posting documents and lab results
paying bills
Treat patients from anywhere with RXNT's free telehealth facility that is also accessible from mobile apps.
Minimize front-office tasks with a free Check-In app and automatic insurance eligibility checks that can be accessed from patients' files prior to seeing the provider.
Access data and reports required encouraging interoperability, scalability, MACRA, and MIPS to achieve the highest financial incentives.
RXNT EHR Software Solutions
Practice Management
Electronic Health Records
Telehealth
Mobile Apps
Solution for Hospice
E-Prescription
Patient Engagement
Solution for Billing Companies
Languages Supported by RXNT Software
Specialties
Family Medicine
Mental / Behavioral Health
Pediatrics
FQHCs
Cardiology
Dermatology
Gastroenterology
Primary Care
Psychiatry
Urgent Care
Urology
Neurology
Ear Nose & Throat
Sleep Medicine
Internal Medicine
Orthopedics
OB/GYN
Physical Therapy / Rehab
Hospice
Endocrinology
A customized plan can be created for providers according to their specific needs if their specialty is not listed. A demo by RXNT EHR is also provided by the vendor.
RXNT EHR Pricing
PM Solution: $65/month.
Features
Medical Billing & Scheduling.
Claims & denial management.
Online patient bill payment.
Appointment reminders.
Central billing office module.
EHR Solution: $85/month for all sizes and specialties.
Features
Includes E-Prescribing (with two-factor authentication token for EPCS).
Secure document management.
Customizable patient encounters.
Online patient portal.
ONC-HIT certified.
eRX Solution: $650/year.
Features
Surescripts & DEA-certified
EPCS class II-V meds
Real-time interactions & history
Comprehensive reporting
Patient-specific formularies
Full Suite: $150/month.
Features
Practice Management
Electronic Health Records
E-Prescribing
Medical Billing
Scheduler
The company provides setup, training, and customer support from 8 a.m. to 6 p.m. and around the clock for critical issues for the software with no additional cost. All pricing tiers are per provider and include 50 claims. A 10% discount is available for annual billing.
Deployment and Devices Support by RXNT
Cloud, SaaS, Web-Based
Desktop – Mac
Desktop – Windows
Desktop – Linux
Desktop – Chromebook
On-Premises – Windows
On-Premises – Linux
Mobile – Android
Mobile – iPhone
Mobile – iPad
Conclusion
RXNT EHR has been operating for over 20 years, dedicated to delivering innovative and cost-effective healthcare software solutions and technology to help medical practices and specialties achieve better clinical, financial, and operational results.
With RXNT free products and exceptional customer support, you can position yourself against your competitors with a partner that will have your back.
If you are interested in finding out more about the software or looking for any other information or help, reach out to us for a FREE consultation or shoot an email to info@findemr.com to get in touch with our consultant. Find the right EMR with FindEMR.