We're well into party season, and that means many of us are on the hunt for the perfect party 'fits that boast festivity and glamour in tandem. Despite this, prepping for party season goes way beyond just the outfit; there's a lot more that we need to concern ourselves with. By leaving everything to the last minute, you set yourself up for a stressful experience, and that's not what party season should be about. Instead, if you prep well in advance, Christmas will be exactly as it should be: relaxing and pain-free. Listed below is a party season checklist to get you festive season ready!
Accessories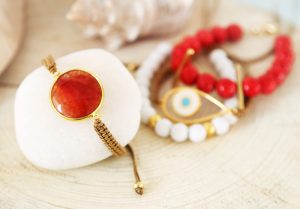 Whether it's macrame bracelets or festive earrings, accessories are an essential feature of any festive 'fit. It's these accessories that will elevate any outfit from just cute to cute AND seasonally appropriate. While a sparkly dress is pretty festive, it can technically be worn at any time during the year. That's where your accessories come in to transform your look into a winter wonderland extravaganza. A top tip is to buy all your festive accessories in the January sales in anticipation of the following year. Not only will this ensure you're prepared, but you'll find yourself paying a fraction of the cost!
Highlighter and Shimmer
The festive season is all about sparkle, which is why highlighters and shimmers are essential additions to your makeup bag. Even if you're not overly skilled with makeup, it's a highlighter that will transform your look from "day cute" to "night glam". It's sure to make your skin look fabulous,and you'll have an effortless shine to your appearance. Even better if your highlighter has a bronzing element to make you look fresh and summery, even on those cold winter nights. Just because we're in the middle of winter doesn't mean that we have to match the drab tone of the weather.
Various Makeup Looks
We all have that go-to makeup look, and, for many of us, it's a smoky eye; however, when you're attending party after party, it's a good idea to expand your makeup arsenal. The festive season presents the perfect opportunity to experiment with your makeup as you've never done previously. Glitter? Go for it. Red lip? Right up the festive street. Shimmer? Santa would be proud. The festive season is all about being over the top, and you can make this work via your makeup looks every time. What's more, you don't have to be a makeup artist to make these look great!
Glowing Tan
During the festive season, we're all seriously lacking vitamin D, and our skin can look dry and colourless because of it. Despite this, you can create the illusion that you've spent a fortnight under the Caribbean sun with the help of a self-tanner. If you're particularly fair, the idea of a bottled tanning product may seem a little daunting. In that case, you might want to opt for a gradual tan; these products are much less intense, and you see the results change over time, meaning you won't be struckby a drastic transformation.
Skincare
Last but not least, as with any other time of year, skincare is essential. If you want to look good, your skin needs to be glowing, and there are no two ways about that. In the countdown to party season, make sure you're cleansing your face before bed, moisturising regularly, exfoliating, doing the odd face mask here and there, and ultimately just caring for your skin. With this being said, make sure you don't overdo it with the products, as this can result in irritation and breakouts.