Do you know someone expecting twins? Or your twin babies are entering the toddler milestone? Then, it's a perfect time to start planning for the gifts as buying gifts can be a very stressful task, and it gets even trickier when it involves twins. Even though little ones cannot differentiate between things, you still would like to gift them something thoughtful that can make their daily lives joyful or help them in early child development.
What can be the best gift for the twins? Well, here are the top ten gifts for the twins, that most parents would surely appreciate. 
1. WonderFold Stroller Wagon


For the parents always on the move, a traditional double stroller won't work. Instead, you can gift them a Wonderfold stroller wagon. Babies of a minimum of 6 months age can use a stroller wagon. A wonderfold double stroller wagon can accommodate two kids; however, if there are triplets, you can gift a wonderfold quad stroller wagon that has a capacity of 4 passengers.
The stroller wagons are the best replacement for the double stroller. They make the outdoor rides fun for the kids and provide ultimate convenience to their parents as well. The basic model of wonderfold stroller wagon can cost around $469, and a high-end model like the W4 Quad Stroller wagon is priced at $899.
There is no better gift than a stroller wagon for twins, triplets and even four-family kids. These wagons are equipped with several features like pull and push handles that make rides enjoyable on the beach and adventurous spots. 
2. Set of cute onesies

Gifting a cute set of onesies is also a great gift choice for twin babies. Twin looks very adorable in twin clothing.
Imagine two twins toddling on the floor in the same onesies, is there anything cuter than that? You can find a variety of onesies. Try to keep the age in mind as they are available in different sizes and designs. Pick the unisex outfit with soft material. This set of onesies would make the perfect twin photoshoots on their birthday. 
3. Cuddle Twins Blankie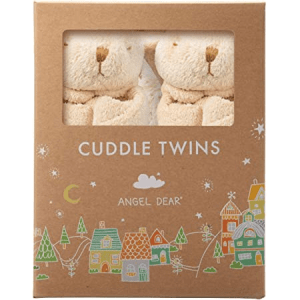 Toddler loves the cuddling toys that make a cuddle twin blankie a perfect gift for twin. It consists of two similar cute blankets with snuggly animal heads that babies can grab during sleeping or play with it all they want. The blanket material is extra soft and totally safe for the babies, which is machine washable, making the life of twins' parents easy. 
4. Bead Maze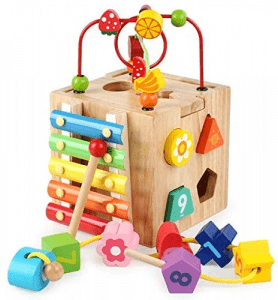 Bead maze is an excellent educational learning toy that is a good gift for the twin on their first birthday. Both toddlers can play with it together. There are colour patterns, shapes and counting games that can help the child develop math skills and colour recognition. 
5. Two seater tricycle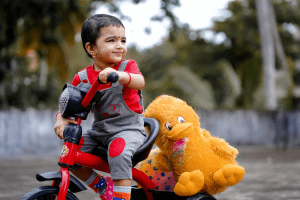 This is another fantastic gift for twin toddlers. They can ride this two-seater toy tricycle in the home that will build coordination skills in the twins. Also, these toy tricycles are super fun to play around with, and both of the babies would love this gift. There's a huge variety available online to choose from. Make sure to buy according to their age and durable tricycle. 
6. Twin Baby Carrier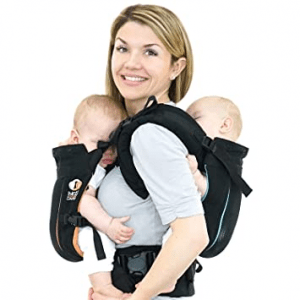 A twin baby carrier is another very thoughtful gift for one-year-old twins. At an early age, the babies, especially if they are twin close to their parents. Parents can benefit from a Twingo baby carrier. The best thing about the Twingo baby carrier is it's splittable. The parents can split them into two separate carriers, and each parent can carry one baby while they are out walking. All these features make it a perfect gift for twin toddlers. 
7.  Kids Gift Basket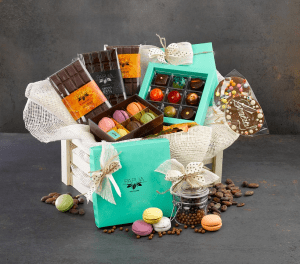 Themed baskets are also among the popular gift choices for the kids. Simply select a gift basket with kids snacks, and the twins would love it. You can even directly send these gift baskets to their home. In addition, there's a wide variety of different gift baskets available online with snacks and toys that are enough to make the twins happy. 
8. Twin bouncer seats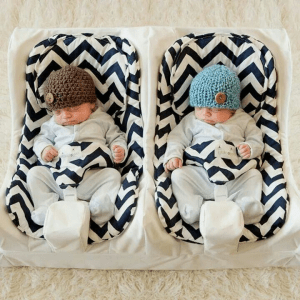 Toddlers are very curious. They always want to do move or do something continuously. Now imagine someone having twins in his home. It can be tough to handle them. Here a twin bouncer seat does get the job done. A twin bouncer seat can keep both toddlers secure and happy. On the other side, parents can have peace of mind that their kids are happy and relaxing in the seat instead of toddling all over the home. 
9. Baby Video Monitor System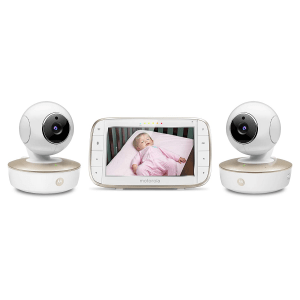 A year or old twin babies sleep in separate cribs, and parents need to monitor both of them. You can make parenting easy by gifting a Motorola video monitor with two cameras. It comes with one monitor that provides a split-screen view of both cameras at the same time.
In addition, parents can also control the cameras angels, monitor the room temperature and even talk to the babies through this system.
It comes up with a night vision that provides the complete coverage of the home in a very clear video with a great range of 1,000 foot. Gifting this would definitely make the parents happy on their twin's birthday. 
10. Crawl Tunnel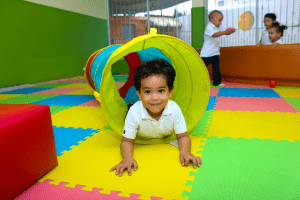 Last but not least, a crawl tunnel is another joyful gift that can keep the twins happy and help them develop skills. The crawl tunnel is completely safe and comfy that the twin toddlers can take a nap while playing. Parents can place the crawl tent in the home or bring it to the garden or beach where twin toddlers can have fun together.