iFun Screen Recorder is currently  the best screen recorder  for capturing video recordings on the computer. iFun Screen Recorder is a free and simple screen recorder with a light video editor built into it. The software allows for simple screen recording, screen capture, and video editing. You can simultaneously record video, audio, and webcam using the iFun Screen Recorder. It can capture high-quality (4k) videos for the entire screen, a window, or any selected area, with or without audio from your microphone and speaker.
It can also capture videos with a webcam overlay. It's a free screen recorder for Windows 10 designed by IObit that lets you record anything that happens on your computer's screen. It saves the sound from your computer's microphone and speaker so that it can be used in the recorded footage. It allows the user to capture a full screen, a region selected for advanced video recording, or a particular window. It also helps you to record audio with a speaker and microphone, among other things. It's also great for webinars, video recordings, and seminars, as well as conferences, video conferencing, and more.
By showing a cursor and using animation in the click operation, you can easily incorporate mouse click effects in the recordings. You can also take screenshots easily when recording the screen. On the other hand, there is no way to set a recording time, and the watermark isn't included in the images. You can conveniently record videos for an unlimited amount of time. It also offers a variety of video formats to choose from, including FLV, GIF, AV, MP4, MKV, MOV and TS.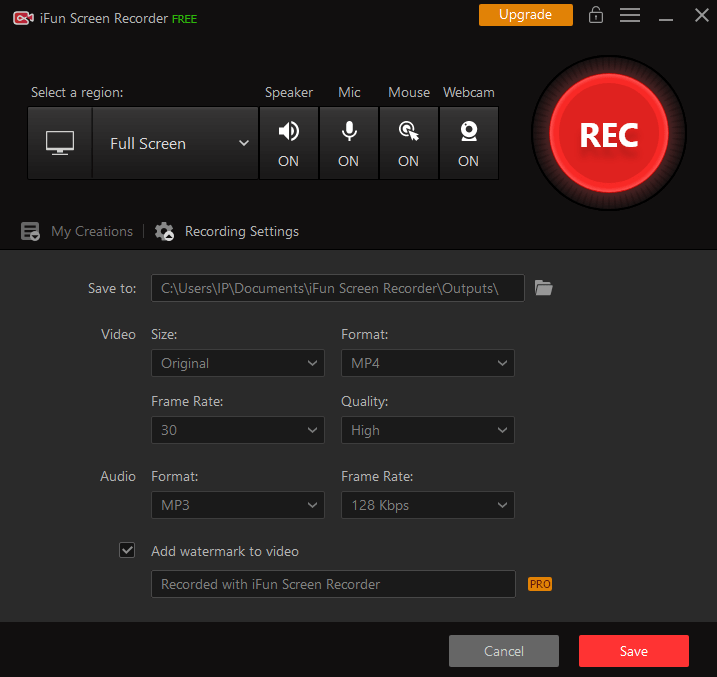 Features Of iFun Screen Recorder
Full HD recording with no time restrictions

Recording the screen with/without sound

Using the webcam option is available

Record videos with or without watermark

It is a free software with no extra charges

Taking screenshots while recording

Editing the videos after recording
Lag-Free Recording In Windows 10
In Windows 10, the iFun Screen Recorder claims to provide a lag-free screen recording experience. It can, in particular, record in ultra-high quality at 50 frames per second. If you have a more powerful CPU and GPU, you can get the most out of hardware acceleration. It can also record your mouse cursor and action if you want it to be visible in the recording. It is also a great online screen recorder and does so without any glitches. This makes it easier to create great video tutorials or whatever you want. If you're a gamer, this tool will also help you record your gameplay without having any significant effect on results.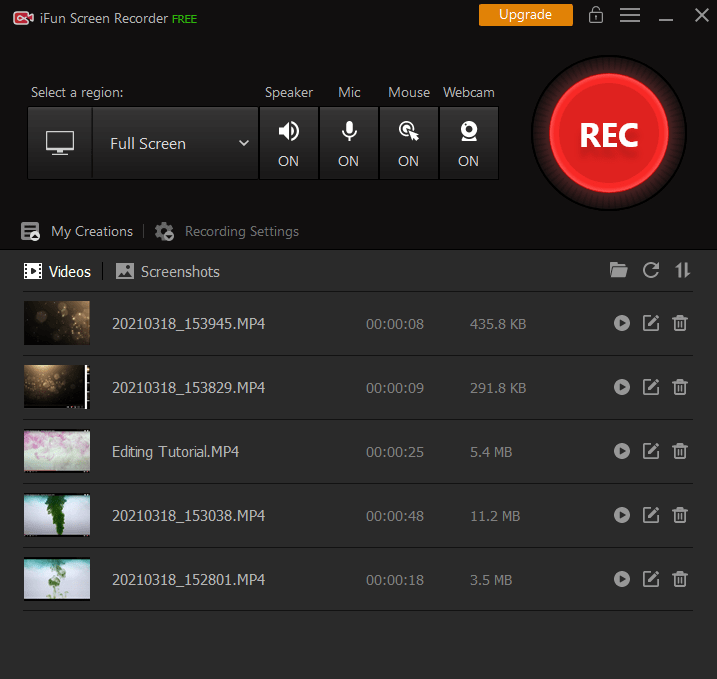 Custom Watermark and Simple Interface
A fantastic feature of the iFun Screen Recorder is its ability to record videos with or without watermarks. You can customise the recordings by adding your own watermark. This feature makes it easier for a person to protect their content.
A simple video editor is included with iFun Screen Recorder. It mostly aids in the trimming of your recordings. The video editor is quite unremarkable. However, it is useful for completing fast and effective trimming.
iFun Screen Recorder: Detailed Review
Our team has personally checked this screen recorder and it is safe to say that it lives up to its features. We used the pro version of the software to give you a detailed review of the software. There were no problems with the performance of the software when reviewing the iFun Screen Recorder. It was completely responsive throughout its use. Also, there were no problems that we encountered while using this software. It is highly likely that other users will also have the same experience with it.
The user interface for this screen recording software is very simple and very neat and tidy. As a result, recording the screen on Windows 10 can be done without difficulty. It is also easy to understand the settings and the use of the video editor. The user interface, in our opinion, should not be a source of concern. Overall, it has the potential to provide you with a smooth and polished experience.
It doesn't matter whether you want to record a whole window, a full screen, or a small area of the screen; you can do it easily. You may also take screenshots while the screen is being recorded. All of these things run really smoothly and without any hitch.
Unlike other screen recorders, iFun's free edition does not limit the length of your videos. Except in the free edition, there are no distracting watermarks. Only a limited number of features are included in the free edition. The pro edition includes a performance boost as well as some other additional features. Custom watermarks, hardware acceleration, 60 frames per second recording, a superior video algorithm, and other features are only available in the pro version.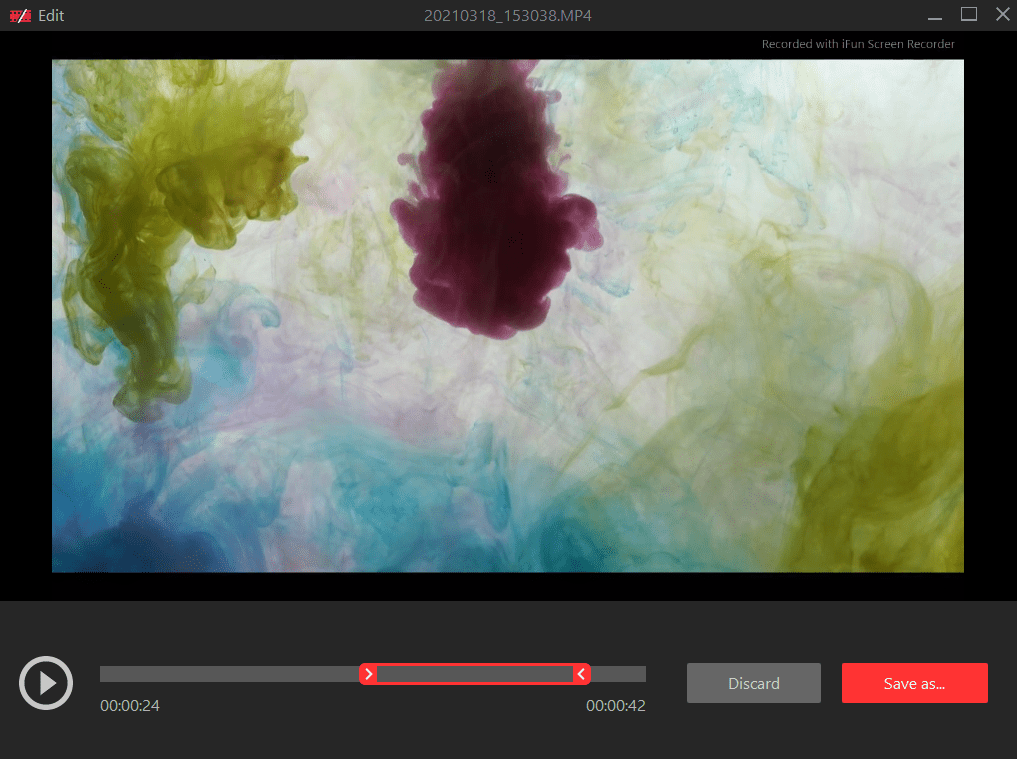 iFun Screen Recorder: Price
iFun Screen Recorder is a freeware programme. There is a free version available however; there are more improvements in the pro edition. For a single month, the premium version costs $6.49. However, the annual price is significantly lower. With a discount, it comes at just $21.49 per year. The standard price, however, was $42.99.
iFun Screen Recorder: Cons
Despite its many advantages, the iFun Screen Recorder is still expensive without a discount. During our research, we could not find any way to allow keystroke recording. Even without documenting the screen, there is no way to capture it. The video editor is rudimentary at best.
iFun Screen Recorder: Final Verdict
iFun Screen Recorder is a relatively new product on the market. There aren't many online screen recorders that are absolutely free to use on the market. Thankfully, you won't have to search far to find a screen recorder that is completely free and secure. Unlike other similar tools, it does not impose length or watermark restrictions on the free edition. As a result, we would recommend that you start by using the free edition. If you like it, you can upgrade to the premium edition. You can rely on iFun Screen Recorder if you want to know how to record screen on Windows 10.