When searching for the pinnacle of glitz, glamour, and all-round entertainment, one destination consistently steals the limelight: Las Vegas. But what keeps this desert city, often dubbed the "Entertainment Capital of the World," continuously in the spotlight? It's not just the neon glow and high-stakes tables that draw people in. Let's tour and unearth the elements that make Las Vegas an unassailable entertainment juggernaut.
A Mecca of Live Performances
Las Vegas. Just saying the name evokes images of glitzy neon lights, world-renowned performers, and show-stopping spectacles. You're barely scratching the surface if you think Vegas is just a haven for slot machines and poker tables. Take Cirque du Soleil, for example. The iconic Canadian entertainment troupe has not one but six permanent shows in Sin City.
Each is unique, whether the aquatic-themed "O" at Bellagio or the electrifying "Michael Jackson ONE" at Mandalay Bay. Then there's the Colosseum at Caesars Palace, which has played host to legends like Celine Dion, Elton John, and Mariah Carey. Unlike other cities where these acts may appear for one night, here they find a home, often for years at a stretch.
A Truly Diverse Entertainment Landscape
Vegas isn't just the bright lights of the Strip and showbiz glamour; it's a multifaceted entertainment landscape that caters to many interests. From the Neon Boneyard, a museum celebrating neon's glowing history, to the Arts District, or "18b," with its vibrant mix of galleries and installations, Vegas surprises with its cultural richness. The Bellagio Gallery of Fine Art is another eye-opener, showcasing works from Warhol to Picasso.
Think Vegas is outdated? Then you've got it all wrong. Tech innovations like the Hyperloop tests show it's forward-thinking. Meanwhile, the esports arena at Luxor is a paradise for gamers, covering a whopping 30,000 square feet and with state-of-the-art gaming tech.
And remember to consider its appeal to varied tastes. Petrolheads can head to the Shelby American Museum for an adrenaline-fueled tour of American muscle cars. Shopaholics can lose themselves in the sprawling Forum Shops at Caesars Palace, where retail therapy takes on a whole new meaning. But if nature is your sanctuary, you're in luck too. Red Rock Canyon is practically next door, offering breathtaking hikes and views and a much-needed respite from urban dazzle.
This diversity in attractions underscores the magnetic allure of Las Vegas. Whether you're a tech geek, art enthusiast, or just someone looking to escape into nature for a while, Vegas rolls out the red carpet for you, adding another layer to its claim as the Entertainment Capital of the World.
How to Enjoy the Entertainment of Vegas on a Budget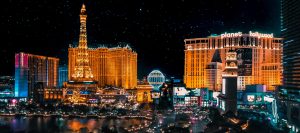 The rise of the iGaming sector has made it possible to capture a bit of Vegas from the comfort of your own home. Casino with Zimpler without Swedish license offer a way to get a feel for what's in store— from your favourite table games such as blackjack and roulette to an abundance of themed slots and even live table experiences that make you feel as if you're right there in Vegas. It's like an appetiser before the main course, prepping you for the full sensory feast you'll experience in Sin City itself.
A trip to this entertainment mecca might have you thinking you'll need to fork over a fortune but don't fret—savvy travellers can enjoy the dazzling shows, gourmet dining, and unique attractions without remortgaging their house. First up, let's talk digs. You've got options from modest hotels costing just $20 a night to luxurious suites for the more flush among us. If you're keen on saving some money, hotels off the Las Vegas Strip offer a budget-friendly and often quieter alternative.
Now, let's chat about jetting in. Timing your flights can be a game-changer. Ever thought about layovers? Sometimes, indirect flights shave off a significant sum. Sure, it might add a couple of hours to your journey, but think of the extra cash you'll have for tickets to that must-see Cirque du Soleil performance or the Blue Man Group.
And then there's the culinary scene. Who says you can't dine like a king without the royal budget? Buffets are not just an all-you-can-eat affair; they're an array of culinary delights, often for less than the price of a single restaurant meal. Not in the mood to gorge? Off-peak dining hours often feature specials that are nothing short of steals. Why pay more when you can eat like a local and save?
So, you see? You can take in the array of entertainment options—from live shows to art galleries—without busting your budget because the natural beauty of Las Vegas lies in its ability to offer an unforgettable experience for every kind of spender.